No doubt Hol Chan Marine Reserve is one of the best places in the world to experience life under the water. Though what is the best way to explore this place? Well, that is what I am here to let you know should you snorkel or dive Hol Chan Marine Reserve, and everything else you need to know!
---
Now if you are an underwater lover and have been researching the best spots to snorkel or dive in Belize no doubt you have heard about Hol Chan Marine Reserve. There is definitely a good reason that it lives up to the hype.
Though I will be the first to say the experience of snorkeling Hol Chan Marine Reserve versus diving Hol Chan Marine Reserve is certainly not equal.
You can visit Hol Chan Marine Reserve easily from either San Pedro in Ambergris Caye, or Caye Caulker. This makes it a great option for tourists to experience the incredible underwater life here.
You can choose from half-day or full-day tours, private or shared boats, sailing or motorized vessels, and more.
Backpacking Belize you will quickly find out how expensive things are here, and if this isn't something you budgeted for you will be trying everything to cut down your costs.
Though I must say if there is one thing you do in Belize, it is discover the underwater world by either snorkeling or diving. But if this is something you can only afford to do once you want to make sure you are getting the best bang for your buck and that it is actually going to be worth it.
Now no matter where you go in Belize you will be able to find a rich and diverse coral reef system that is home to hundreds of species of fish, sharks, rays, turtles, and more. So what makes Hol Chan Marine Reserve so special? And is it really worth the hype? Is this really the best spot for snorkeling or diving in Belize?
So let's get into snorkeling versus diving at Hol Chan Marine Reserve!
I have spent the money and done both in order to bring you this article, and I will give you a hint, one is far, far superior to the other, and the answer may surprise you.
Nevertheless, I will let you know why it is worth visiting Hol Chan Marine Reserve, what sealife you may find, and park fees, then finally break down whether snorkeling or diving is the best option to do here!
---
Snorkeling VS Diving Hol Chan Marine Reserve: All You NEED To Know
---
🚗 How I Book Cheap Transport In Belize: GuateGo
---
Why Visit Hol Chan Marine Reserve
If you're up for an incredible underwater adventure, you gotta check out Hol Chan Marine Reserve in Belize. It's the oldest marine reserve in Belize and covers around 18 square kilometers of coral reefs, seagrass beds, and mangrove forests.
The name Hol Chan means "little channel" in Mayan, and it refers to a gap in the barrier reef that's filled with beautiful corals and attracts all sorts of marine life.
The reserve is split into four zones, each with its own attractions and rules.
Zone A is the most popular, where you can snorkel or dive in the channel and spot colorful corals, fish, stingrays, eels, and even sharks.
Zone B is perfect for exploring seagrass beds and catching sight of turtles, manatees, and lobsters.
In Zone C, you can admire the mangrove islands and the creatures that call them home, like crabs, birds, and crocodiles.
And then there's Zone D, also known as Shark Ray Alley, where you can swim alongside friendly nurse sharks and southern stingrays.
Although most snorkeling and diving trips focus on Zones A, B, and D, each zone offers its own unique experience.
Hol Chan Marine Reserve isn't just a tourist spot, it's also a conservation area dedicated to protecting the biodiversity and health of the reef ecosystem.
By visiting Hol Chan, you're supporting the local community's efforts to preserve this natural wonder for future generations. Plus, you'll get to learn more about reef ecology and the importance of sustainable fishing practices.
If you're a lover of the ocean and its creatures, Hol Chan Marine Reserve is an absolute must-see. It's a place where you can soak in the beauty and diversity of nature in a safe and respectful way.
Trust me, the sights and sounds of Hol Chan will stay with you forever, leaving you with an even deeper appreciation for the marine environment. It's no wonder why so many people consider it their favorite spot!
---
What Animals Can Be Seen At Hol Chan Marine Reserve
Hol Chan Marine Reserve is an awesome spot to check out a bunch of cool animals in their natural homes. You can spot some amazing creatures at Hol Chan:
Corals: These aren't your regular plants, they're actually animals that form colonies of tiny polyps. They build reefs with calcium carbonate, providing homes and food for lots of other marine critters. Hol Chan has over 40 types of coral, like brain coral, elkhorn coral, and staghorn coral.
Fish: Hol Chan is home to a whopping 160 species of fish, from itsy-bitsy gobies to massive groupers. You'll see angelfish, butterflyfish, parrotfish, snappers, barracudas, and jacks. Keep an eye out for sneaky moray eels, lionfish, and seahorses chillin' among the corals.
Sharks: Sharks are the big bosses of the reef, keeping everything in balance. At Hol Chan, you'll find nurse sharks, reef sharks, and even hammerhead sharks!
Nurse sharks are totally harmless to humans and love to hang out on the seabed. Reef sharks are a bit more active and curious, but they usually keep their distance from divers. Hammerhead sharks are rare and elusive, but sometimes you'll spot 'em in deeper waters.
Rays: Rays are like the cool cousins of sharks with their flat bodies and long tails. They glide through the water using their wing-like fins and suck up prey from the sand with their mouths.
Hol Chan has two types of rays: southern stingrays and spotted eagle rays. Southern stingrays are a common sight in Shark Ray Alley, where they get fed by tour boats. Spotted eagle rays are super graceful and elegant, and you might even catch 'em jumping out of the water.
Turtles: Turtles are the reptile rockstars with their hard shell armor. They can breathe air and lay eggs on land, but they spend most of their time in the water.
Hol Chan is home to three types of turtles: green turtles, hawksbill turtles, and loggerhead turtles.
Green turtles are all about that herbivore life, munching on seagrass and algae. Hawksbill turtles are a bit endangered and have these cool beak-like mouths. Loggerhead turtles are the biggest ones with jaws that can crack shells like nobody's business.
Manatees: Manatees are like the chilled-out mammals that hang out in coastal and freshwater habitats. They have paddle-like tails and flippers, and a nice layer of fat to keep 'em cozy. They're herbivores, so they chow down on plants up to 10% of their body weight every day.
Hol Chan is home to West Indian manatees, which sadly are endangered due to habitat loss, boat accidents, and hunting. Manatees are shy and gentle creatures that you can spot in Zone B of the reserve. Although, if you wanna swim with manatees in Belize, there might be better places to do that.
---
🚗 How I Book Cheap Transport In Belize: GuateGo
---
Park Fee For Hol Chan Marine Reserve
To fully experience the incredible wonders of Hol Chan Marine Reserve, you gotta pay a park fee. But hey, it's totally worth it! The park fee is $10 US per person per day and it goes directly towards conserving this amazing marine ecosystem.
It gives you access to awesome snorkeling and diving spots, where you can explore the vibrant marine life and stunning coral formations. By chipping in, you're making a positive impact and ensuring future generations can also enjoy this natural treasure.
You can buy the park fee tickets at the reserve's office in San Pedro or from authorized tour operators.
Depending on the company you book your snorkeling or diving Hol Chan Marine Reserve with, your park fee may or may not be included.
---
Snorkeling Hol Chan Marine Reserve
Honestly, I had no idea what to expect when snorkeling at Hol Chan Marine Reserve prior to doing it. As soon as I arrived in San Pedro I simply just knew I HAD to get into that water.
Shopping around the snorkeling tours available Hol Chan was something that was brought up many times and was obviously the place to experience the marine life of Belize.
Walking along the beachfront down from my hostel Sandbar Beachfront, it was obvious a lot of places were shut for Easter. So much so that after about 10 minutes of walking I finally find 1 which is open.
Advertised out the front is 'Afternoon Snorkeling Tour from San Pedro, $60.00'. I went in and talked to the staff at Ecologic Divers who were organizing the trip, signed up, paid the fee, and got fins and a mask.
We headed off just around the corner to get petrol for the boat and purchase our park entry tickets. From there it was about a 15-minute drive to our first snorkeling stop of the day, Hol Chan Marine Park.
Though before jumping in we need to head to the floating office where we check in and they confirm our passes.
We suit up with our fins and masks and plunge into the water. Straight underneath us is a turtle munching away on some seagrass. Our guide also jumps into the water and leads us out from the grassy area to coral formations.
We spot a variety of different types of fish, from parrotfish, lionfish, spadefish, and even a resting nurse shark!
Back on board the boat we have a short drive to our second snorkeling spot of the day, Shark Ray Alley. This is less about the coral and the fish, and more about the Sharks and Rays.
As soon as we arrive they start storming towards the boat as the captain throws over pineapple and watermelon. We all jump in and I take the more cautious approach to these massive creatures.
---
Cost To Snorkel Hol Chan Marine Reserve
The average price for a snorkeling trip to Hol Chan ranges from US$45+ per adult, plus a US$10 park fee. This price may vary depending on the season, the boat, and the extras included in the package. You can also tip your guide and captain if you are satisfied with their service.
A couple of popular options include:
Amigos Del Mar: Hol Chan & Shark Ray Alley Snorkel: $75.00 per person approx 90 minutes
Island Dream Tours: Full-Day Chill Cruise- This is an all-inclusive trip that includes two snorkeling stops at Shark Ray Alley and Hol Chan Marine Reserve. You will also enjoy a relaxing time at a shallow sandbar, where you can swim, play volleyball, or just chill on the boat.
The trip also includes a delicious lunch of grilled chicken, rice and beans, coleslaw, and fresh fruit, as well as unlimited drinks from the open bar. The trip lasts from 9:00 am to 4:00 pm and costs $139 per person.
Reef Adventures: Hol Chan and Shark Ray Alley $75.00 per person
The above are pretty popular companies that are well-known to travelers. Though you may have noticed they are a little on the pricey side. If you are on a budget like me, then don't worry as you can find good details shopping around in person once you are in Belize.
---
Is It Worth It
Snorkeling at Hol Chan Marine Reserve is definitely worth it if you love marine life and want to see one of the most diverse and beautiful coral reefs in the world. Hol Chan is a protected area of the Belize Barrier Reef, the second-largest barrier reef in the world.
Snorkeling at Hol Chan is not only fun but also educational. You will learn about the history and conservation of the reserve from your guide, who will also point out the different species and formations you will see.
You will also contribute to the preservation of the reef by paying a park fee of US$10, which goes to the management and protection of the reserve.
Snorkeling at Hol Chan is also affordable and accessible relative to the price of a lot of activities in Belize. You can find many tour operators that offer snorkeling trips to Hol Chan from San Pedro, the main town on Ambergris Caye.
The trip usually lasts about 3 hours and includes two stops: one at Hol Chan Marine Reserve and one at Shark Ray Alley. Some trips may also include a stop at Mexico Rocks, another snorkeling site north of Hol Chan. You can also opt for a full-day trip that includes lunch and a visit to Caye Caulker, a nearby island with a laid-back vibe.
Both myself and everyone who I spoke to agreed this was the best snorkeling we have ever done around the world. When you get a bunch of people together from literally all around the world and they all agree this is the best, then it must be true.
---
🚗 How I Book Cheap Transport In Belize: GuateGo
---
Diving Hol Chan Marine Reserve
After having an incredible experience both times I went snorkeling at Hol Chan Marine Reserve, I knew after learning how to scuba dive in Roatan I had to come back and discover this underwater paradise deeper.
I found that it was just the dive centers in San Pedro that visited this site, rather than in Caye Caulker. Though it isn't one of their general fun dive site locations, and instead they will put together a special trip for those interested.
I booked in with Scuba School and Family Dive Center after checking out my options and comparing reviews. After spending the last few days diving with them seeing rays, nurse sharks, reef sharks, shipwrecks, and some incredible reef formations, it was time for our final dive at Hol Chan Marine Park.
This was the same price as our other dives, plus the $10.00 marine park fee.
Grabbing our tank and gear we load up the boat and grab a seat. This time we would be sticking to the interior of the reef which is much less nausea-inducing than the open ocean in the wet season.
It is a short 10-minute or so drive to get there, and I do appreciate the fact we also stopped a couple of times to pick up large pieces of rubbish which were floating.
Arriving at the reserve we check in with the office and moor up the boat. Jumping in we drop down a couple of meters to the sea floor. Where the boats are moored is super duper shallow, perfect for snorkelers, not so much for divers.
Nevertheless, we managed to spot a couple of turtles munching away on the sea grass before we head out towards the coral formations down to about 5 meters.
We swim in and out of all the rocks, getting a good view of the fish, but since the water is so shallow we are also trying to stay out of the way of fellow snorkelers, which there are plenty of.
We do come across a couple of large schools of fish before entering the channel. Basically, the current is so strong down here this portion turns into a bit of a drift dive, We all just relax and float wherever the water takes us.
Now the hard part was getting back to the boat, and swimming against the crazy strong current. Basically, we are told to swim as close as possible to the channel wall, kick our fins calmy when the water is surging out, and then when there is a slight break kick hard to move forward.
Some parts are so strong it barely feels like you are moving. To this date, this is the strongest current I have dived in.
Back in the shallower area, we navigate around the coral formations, and snorkelers on the surface to avoid getting kicked in the face. Honestly, as a diver, we had a better time at the other fun dive sites than we did at Hol Chan Marine Reserve. This is a place where snorkeling is better than diving.
---
Cost To Dive Hol Chan Marine Reserve
The average cost to dive at Hol Chan Marine Park depends on several factors, such as the type of dive, the duration of the dive, the equipment rental, the transportation, and the guide service. The average cost ranges from $50 to $70 USD per person per dive. Some factors that can affect the price are:
The type of dive: There are different types of dives available at Hol Chan Marine Park, such as reef dives, night dives, and shark ray alley dives. Each type of dive has a different price and difficulty level. Generally, you will pay a little bit more for a night dive.
The duration of the dive: The longer the dive, the more expensive it is. Most diving at Hol Chan Marine Park last for about an hour, but some may last longer or shorter depending on the depth and the conditions. Generally, because Hol Chan Marine Park is relatively shallow you will find your dive lasting about an hour.
The equipment rental: If you do not have your own diving equipment, you will need to rent it from a dive shop or a tour operator. The equipment rental may include a mask, a snorkel, a regulator, a buoyancy control device, a wetsuit, and fins. The equipment rental may cost around $10 to $20 USD per person per dive.
---
Is It Worth It
Personally, as I said I didn't find diving at Hol Chan Marine Reserve completely worth it when comparing the experience to snorkeling. It was overcrowded, you had to try to avoid getting kicked in the face by a snorkeler in the shallow areas, and in the deeper areas, the current is extremely strong.
Honestly, diving is incredible, and if you are an ocean lover it is a must. Though Belize has come excellent other diving sites which are far far better than Hpl Chan Marine Reserve. So yes, still go diving while you are in the country, but instead simply book a snorkeling experience at Hol Chan, rather than a dive.
---
Shark Ray Alley
Shark Ray Alley is another spot you will visit whether you decide to snorkel or dive at Hol Chan Marine Reserve. Though no matter which option you choose you will only be snorkeling here, not diving.
At this location where you can swim with nurse sharks and stingrays in crystal-clear water. It got its name as it was once a place where fishermen would clean their catches, and the creatures attracted to the fish guts soon became a tourist attraction.
Now, you can see dozens of nurse sharks and stingrays that are used to human presence and will approach boats in search of food. You can snorkel with them and feel their smooth skin as they glide by.
One thing to note is that 99% of snorkeling tours will feed the sharks and rays scraps to lure them in. A lot of people see this as an unethical practice as you are interfering with the natural ways of these animals. Rather than going out searching for food they now simply hang out here.
This wasn't something I really thought about until after the experience, in the moment I was in absolute awe of the creatures around me. Though I also stopped here during a rest stop during dives and they didn't feed the sea life.
Instead, we were instructed to get into the water as quickly as possible as the sharks and rays would approach the boat looking for food, but quickly leave when they realized we didn't have any.
---
Rules To Follow When Snorkeling Or Diving Hol Chan Marine Reserve
Snorkeling or diving at Hol Chan Marine Reserve is a wonderful way to explore the underwater beauty and diversity of Belize. However, it is also important to follow some rules and guidelines to ensure the safety and conservation of the marine environment and its inhabitants.
Here are some of the rules to follow when snorkeling or diving at Hol Chan Marine Reserve:
Respect the park fee: Hol Chan Marine Reserve is a protected area that requires a park fee of US$10 per person. This fee goes to the management and protection of the reserve and its resources.
You will receive a wristband that you must wear during your visit. Do not try to avoid or evade this fee, as it is essential for the sustainability of the reserve.
Follow your guide: Snorkeling or diving at Hol Chan Marine Reserve requires a licensed guide who knows the area and its regulations. Your guide will brief you on the safety procedures, the snorkeling or diving sites, and the marine life you will encounter.
Follow your guide's instructions and directions at all times, and do not wander off or stray from your group. Your guide will also help you identify and avoid any potential hazards, such as strong currents, sharp corals, or venomous creatures.
Do not touch or feed the marine life: Hol Chan Marine Reserve is home to a variety of marine life, such as fish, turtles, eels, lobsters, rays, sharks, and more. These animals are wild and should be respected and observed from a safe distance.
Do not touch, harass, chase, or feed any of the marine life, as this can cause stress, injury, or disease to them and to yourself. Feeding can also alter their natural behavior and disrupt the ecological balance of the reserve. Enjoy the marine life as they are, and do not interfere with their natural state.
Do not damage or collect anything from the reserve: Hol Chan Marine Reserve is also rich in coral formations that provide shelter and food for many marine species. These corals are fragile and take a long time to grow and recover.
Do not damage or break any of the corals by touching, kicking, standing, or anchoring on them. Do not collect any shells, rocks, plants, or animals from the reserve, as this can deplete their populations and affect their habitats. Leave nothing but bubbles, and take nothing but pictures.
Be responsible and eco-friendly: Snorkeling or diving at Hol Chan Marine Reserve is a privilege and a responsibility. Be aware of your impact on the environment and minimize it as much as possible. Use reef-safe sunscreen that does not contain chemicals that can harm the corals and marine life.
Avoid using plastic bags or bottles that can end up in the ocean and cause pollution or entanglement. Dispose of your trash properly and recycle when possible. Report any violations or problems you see to your guide or to the park authorities.
---
Where To Stay In San Pedro, Ambergris Caye
San Pedro is a popular destination for tourists who want to enjoy the beauty and diversity of Belize and is the best location to explore Hol Chan Marine Park from. It is the main town on Ambergris Caye, the largest island in the country.
Personally, I stayed at Sandbar Beachfront Hostel and had a great time. They have a comfortable air-conditioned dorm room, a decent-sized pool to relax in, a good restaurant downstairs, awesome location.
In a place with limited options, this was the best choice for me, though one thing to be aware of there isn't much of a social aspect here. There aren't any organized activities, and the only common area is the pool which limits your interactions with other people.
---
Other Things To Do In San Pedro
After you have had an amazing time taking one of the snorkeling tours from San Pedro, it's time to explore more of this paradise island. Here are some other things you can do during your stay in San Pero Belize:
Explore the Mayan Ruins: Belize is home to many ancient Mayan sites, some of which are accessible from San Pedro. You can take a day trip to visit some of the most impressive ruins, such as Lamanai, Xunantunich, or Altun Ha.
You can learn about the history and culture of the Maya civilization, admire the architecture and art of the temples and pyramids, and see some wildlife along the way. Some tours also include activities like cave tubing or zip lining for an extra dose of adventure.
Dive in the Great Blue Hole: The Great Blue Hole is a world-famous diving site that lies about 43 miles from San Pedro. It is a circular sinkhole that measures about 1,000 feet across and 400 feet deep and is surrounded by coral reefs and marine life.
Diving in the Great Blue Hole is an unforgettable experience, as you can see stalactites, stalagmites, and various species of sharks, such as bull sharks, reef sharks, and hammerheads.
Visit Caye Caulker: This is a small island near San Pedro, where you can enjoy a laid-back atmosphere, sandy beaches, and turquoise waters. You can also go snorkeling, kayaking, sailing, or fishing.
The Iguana Eco Sanctuary: The Iguana Eco Sanctuary is a unique and fascinating place to visit in San Pedro, Belize. It is a sanctuary for the endangered green iguanas, which are native to Belize and other parts of Central America.
Visit the Secret Beach: The Secret Beach is a secluded spot on the west coast of Ambergris Caye, where you can enjoy the calm and clear waters of the Caribbean Sea. The beach is not so secret anymore, as it has become a popular destination for locals and tourists alike, but it still retains its charm and beauty.
You can relax on the white sand, swim in the shallow water, or rent a paddleboard or kayak to explore the area. There are also some bars and restaurants nearby, where you can grab a drink or a bite.
---
Any Questions? Let me know in the comments!
---
LIKE IT? PIN IT!
---
Want more Belize Inspiration? Check out….
---
Disclaimer: This post contains affiliate links. So, if you click on it and purchase something, I get a small percentage at no extra cost to you. As always all opinions are my own and your support is much appreciated.
Related Posts
Find out the best hostels in Ambergris Caye and what you need to know for [...]
Ready to get out of your comfort zone and come face to face with some [...]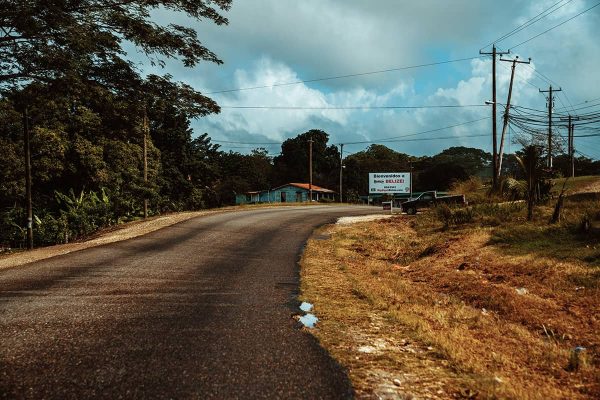 If you are looking for the perfect spot to explore in mainland Belize then there [...]