Come find out the best hostels in Caye Caulker so you can have the perfect stay in this backpacker paradise.
I will break down all the best options, so whether you are a solo backpacker, or simply want somewhere cheap to rest your head you will be able to figure out what is best.
---
One of the backpacker hotspots in Belize is Caye Caulker.
Even though this is more of an expensive country Caye Caulker is one of the cheapest destinations in Belize, with plenty of budget-friendly options for accommodation, food, and activities.
But how affordable are the best hostels in Caye Caulker and are they worth staying at?
One thing to be aware of is that hostels in Caye Caulker are generally more on the basic side than you typically find elsewhere in Central America.
They may not have air conditioning and it will just be your typical wooden bunk beds. Because of the heat, you will probably just have a sheet for a blanket as well.
Nevertheless, Caye Caulker is surrounded by turquoise waters and white sand beaches, where you can relax, swim, or sunbathe, making your visit well worth it.
The island is also home to a rich marine life, including manatees, stingrays, sharks, and turtles. I highly recommend joining a snorkeling or diving tour to discover the amazing coral reefs and underwater caves that lie off the coast of Caye Caulker.
Lastly, just note you NEED to book your accommodation here in advance as it all generally sells out no matter what season, especially the more budget-friendly options.
It can happen when you show up and there is nowhere available or perhaps you end up forking out somewhere more expensive which is not that great.
Now let's get into the best hostels in Caye Caulker.
With the help of this list, you'll be able to see what to look for when booking a hostel here, and what to expect during your stay. Ensuring you can book a bed confidently, in a decent location, and for a good price.
---
List Of The Best Hostels In Caye Caulker
---
🚗 How I Book Cheap Transport In Belize: GuateGo
---
How To Choose The Best Hostels In Caye Caulker
There are unfortunately only a handful of hostels in Caye Caulker, and most are pretty decent. However, you do need to be aware that the hostels here aren't for everyone, which is why some have negative reviews online.
I am here to divide the two options so you don't need to book a horrible hostel in Caye Caulker!
Though in all honesty, I travel in more of a glampacker style and there are absolutely zero hostels in Caye Caulker which cater exactly to this travel style.
Traveling Central America there is an excellent hostel scene where owners have built the hostels as mini resorts that you never need to leave, especially as they can organize all activities for you at affordable prices. But Caye Caulker is not the place for this.
I mean you can't go wrong with sturdy wooden bunk beds but these aren't really for me. Luckily for you, if you disagree with me, this is all you will find in hostels in Caye Caulker. Thankfully for the most part prices reflect this.
The hostels in Caye Caulker also generally have a great social atmosphere, comfortable beds, and clean bathrooms. So you don't need to worry too much, nor do you have to look far.
So when choosing the best hostels in Caye Caulker, some things I took into account are:
---
Price
The hostels in Caye Caulker offer a range of options for different types of travelers, from dorms to private rooms, from beachfront to inland, and from party to chill. The general price of hostels in Caye Caulker depends on several factors, such as the season, the location, the facilities, and the ratings.
However, the average price of a dorm bed in Caye Caulker is around $13 – $16 per night, while a private room can cost between $11 – $27 per night. Of course, these prices may vary depending on availability and demand, so it is advisable to book in advance if you want to secure a good deal.
Also if you want a dorm room with air conditioning you will be paying a little bit more, though trust me it is worth it!
---
Location
The hostels in Caye Caulker are mostly located on the southern part of the island, near the water taxi dock and the main street. This area has the most restaurants, bars, shops, and activities, making it convenient for travelers who want to explore the island and enjoy the nightlife.
There are also some hostels on the northern part of the island, which is quieter and more secluded. This area is ideal for travelers who want to relax and enjoy the natural beauty of the island. The hostels in this area are closer to the Split, a narrow channel that separates the two parts of the island and has a popular swimming spot.
In saying this these two locations are not far apart at all, only about a 10-minute walk or so away. This is even quicker with a bicycle which is a popular mode of transport in Caye Caulker.
---
Amenities
Now if I am being completely honest I did find the hostels in Caye Caulker to be lacking a bit on the amenities side of things. However, we need to remember this island is literally known for its rustic backpacker vibes.
One thing that is super important to note is that not all hostels and rooms will have air conditioning. Though they should have fans to help keep things cool. I am definitely an air conditioning queen and for some reason just booked the cheapest option in Caye Caulker. I ended up sweating in a dorm room, though luckily I was by a window and had a personal fan.
Also, those who do have air conditioning typically turn it off during the day. I guess this forces you to go out and explore, though it's still better than nothing.
Secondly, not all hostels will have hot water all of the time. Though it can be so hot here that this isn't really a big deal. One note is places such as Bellas Backpackers have the showers in a separate location outside of the bathrooms and dorm rooms.
A bonus with the hostels in Caye Caulker is that they will normally have communal kitchens for their guests to use. There are plenty of supermarkets around so cooking your own meals is a great way to keep costs down in Belize.
Unfortunately, it isn't too common with hostels in Caye Caulker, and in Belize itself, to organize social events for guests. This is always one of my favorite things about hostels and a great way to meet other travelers. Though they still will be able to help you book snorkeling tours etc. the guests won't be strictly from your hostel.
---
🚗 How I Book Cheap Transport In Belize: GuateGo
---
Overall Best Hostel In Caye Caulker – Go Slow Guesthouse
The top of the best hostels in Caye Caulker goes to Go Slow Guesthouse. This hostel is located just a few steps from the beach and offers comfortable rooms, a garden, a terrace, and barbecue facilities.
Go Slow Guesthouse has three types of rooms: double rooms with private bathrooms, bunk beds in mixed dormitories, and beds in 8-bed dormitories. The dorm room is spacious and clean, with a fan and an air conditioner that was turned on from 6 p.m. to 8 a.m.
The bathroom is also inside the room and was cleaned daily. There is also a locker for each guest to store their valuables.
The hostel has two communal kitchens, one on each floor, where guests can cook their own meals or store their food in the fridge. The kitchens are well equipped with utensils, pots, pans, plates, cups, and a stove.
One of my favorite features of the hostel was the garden, where there were several hammocks and chairs to relax and enjoy the breeze. There was also a terrace with a table and chairs, where guests could socialize or play games. The hostel also has barbecue facilities that guests can use to grill their own food or join the occasional barbecue night organized by the staff.
The hostel is located on Calle La Posa, which is one of the main streets of Caye Caulker. It is close to everything you will need on the island, such as restaurants, bars, shops, dive shops, tour operators, and a convenience store right around the corner.
Go Slow Guesthouse is also within walking distance from the famous Split, where you can swim, sunbathe, or enjoy a drink at the Lazy Lizard Bar. The hostel is also near the water taxi terminal, where you can catch a boat to Belize City or other islands.
$$
Not A Party Hostel But Social Vibe
Communal Kitchen
Air Conditioned Dorms
CHECK BEST PRICES
---
Best Hostel in Caye Caulker for Solo Travelers – Bellas Backpackers
If you are looking for a budget-friendly and laid-back hostel in Caye Caulker, Belize, you might want to check out Bella's Backpackers.
This hostel has a bohemian and friendly vibe that will make you feel like a local during your stay. You will also no doubt meet some awesome like-minded travelers. This is considered the party hostel in Caye Caulker, but I stayed here even though I enjoyed an early night and still had a great time.
The hostel is located on Crocodile Street, which is close to the main attractions of the island. You can easily walk to the Split, where you can swim, sunbathe, and enjoy the view of the Caribbean Sea.
You can also find many restaurants, bars, and shops nearby. If you stay here you need to visit Chef Juan's Kitchen for the most mind-blowing key lime pie, and there is a supermarket a minute or so walk away.
The hostel has a private beach area and a terrace that overlooks the sea. Though it is located on the mangrove side of the island where crocodiles frequent, so it isn't safe to swim here.
Bellas Backpackers has a shared kitchen, a lounge, a bar, and a barbecue area. You can cook your own meals, mingle with other travelers, or relax with a drink. The hostel also offers free Wi-Fi, free lockers, and free bikes.
The rooms are basic but clean and comfortable. You can choose from dorms or private rooms, with shared or private bathrooms. I stayed in a fan-cooled dorm room not actually realizing they have air-conditioned rooms. If you can definitely book air con as it gets super hot here! Also, the more pricey dorms also have privacy curtains on the bunks.
The staff are friendly and helpful, and they can help you arrange tours and activities on the island. The hostel also organizes evening entertainment, such as live music, karaoke, trivia nights, and movie nights. You can also join yoga classes, meditation sessions, or art workshops at the hostel.
Now there have been some negative reviews on this place, and that's fine you can't please everybody. Personally, I had a great time here, met some awesome people, and the staff enjoyed hanging out with guests.
Sure there is a bit of a party atmosphere with a lot of people drinking, and drugs being easily available. But that is pretty much the norm when traveling this part of the world.
$
Super Social Atmosphere
Air Conditioned Dorms With Privacy Curtains
Mixed Reviews Online
CHECK BEST PRICES
---
More Best Hostels In Caye Caulker
Last but not least of the list of our best hostels in Caye Caulker is Tropical Oasis Hostel. This is the perfect place to stay in Caye Caulker offering a laidback and authentic island vibe.
Tropical Oasis is a cozy and friendly hostel located just a few blocks from the Split, the popular swimming and the Lazy Lizard, the famous beach bar. You can also find restaurants, shops, snorkeling, and dive shops within walking distance.
This Hostel has five private cabanas with shared bathrooms and two dorms with eight and four beds. The cabanas are very basic, but they have a fan, a shelf, and clean bedding.
The dorm rooms at Tropical Oasis Hostel are a good option for travelers who want to meet new people and save some money. Both dorms have private lockers for your security, where you can store your valuables. The beds are comfortable and have clean sheets and pillows.
The dorms also have fans to keep you cool at night, but there is no air conditioning. The bathrooms are clean and well-maintained and have hot water and soap. The dorms are located near the outdoor kitchen and the hammock area, so you can easily access the facilities and socialize with other guests.
The best thing about Tropical Oasis Hostel is the staff. They are very helpful and friendly, and they can arrange various activities for you, such as kayak rental, fishing and snorkeling trips, and fun on the sea with kneeboards and tubes. They can also give you tips on where to go and what to do on the island.
Tropical Oasis Hostel is not a luxury resort, but it is a great place to experience the real Caye Caulker feeling. It is perfect for backpackers, solo travelers, and adventurous couples who want to meet new people and have fun on a budget.
$$
No Air Conditioning
Communal Kitchen
Chill Hammock Area
CHECK BEST PRICES
---
🚗 How I Book Cheap Transport In Belize: GuateGo
---
FAQs About Caye Caulker
Now you know where to find the best hostels in Caye Caulker let's get into what else you may want to know for your trip there.
---
Caye Caulker Or San Pedro
Belize is a popular destination for backpackers who want to enjoy the Caribbean culture, nature, and adventure. But which island should backpackers visit: Caye Caulker or San Pedro?
Vibe: Caye Caulker has a more relaxed and laid-back vibe than San Pedro. It is smaller, quieter, and less crowded. You can walk or bike around the island easily, and enjoy the motto of "go slow". San Pedro is more lively and bustling, with more nightlife, shopping, and activities. It is larger, busier, and more developed.
Cost: San Pedro is more expensive than Caye Caulker in terms of accommodation, food, drinks, and transportation. This is because San Pedro is farther from Belize City and has more resorts and luxury options. Caye Caulker is cheaper and more budget-friendly, with more hostels and local eateries. You can also save money by taking the water taxi from Belize City to Caye Caulker, which is faster and cheaper than going to San Pedro.
Activities: Both islands offer plenty of things to do for backpackers, especially water-based activities such as snorkeling, diving, kayaking, fishing, and sailing. You can access the Belize Barrier Reef and the Blue Hole from both islands, but San Pedro has more dive sites and dive shops than Caye Caulker. San Pedro also has more land-based activities such as hiking, biking, golfing, and visiting Mayan ruins.
Beauty: Both islands are beautiful in their own way, with palm trees, white sand beaches, turquoise water, and colorful houses. However, Caye Caulker is more natural and rustic, while San Pedro is more urban and modern. Caye Caulker has less development and more mangroves and wildlife. San Pedro has more buildings and infrastructure and less greenery.
---
ATMs In Caye Caulker
If you are planning to visit Caye Caulker, you may wonder about the availability and reliability of ATMs on the island. There are a few ATMs in Caye Caulker, but not all of them accept international cards or work properly.
The most reliable ATM in Caye Caulker is the Atlantic Bank ATM, which dispenses Belizean dollars and does not charge any fees. You can find it on Avenida Langosta (Middle Street).
Another ATM in Caye Caulker is the Heritage Bank ATM, which is located on Calle De Sol, next to the Caye Caulker Liquor Bin and Hibisca by Habanero. However, this ATM requires you to swipe your card to enter the ATM room, which may not work for some cards. It also dispenses Belizean dollars only.
There are also some ATMs in shops, such as the China Town Supermarket or the Caye Caulker Pharmacy. However, these ATMs are not very reliable, as they may not accept your card, run out of money, or charge high fees. They also dispense Belizean dollars only.
---
Best Things To Do In Caye Caulker
If you're looking for a tropical paradise with plenty of things to do, Caye Caulker is the place for you.
Swim With Manatees: If you want to see something truly special, you can join a manatee tour from Caye Caulker and visit the nearby Swallow Caye Wildlife Sanctuary or the Northern Lagoon, where manatees like to feed and rest.
Watch the sunset and dance at the reggae bars: Caye Caulker is also known for its vibrant nightlife, especially on the weekends. You can watch the sunset from one of the many spots on the island, such as the Split, the Iguana Reef Inn, or the Caye Caulker Water Taxi dock.
You can also join one of the sunset cruises that offer drinks, snacks, and music on board. After the sun goes down, you can head to one of the reggae bars and dance the night away with the locals and other travelers. You'll find live music, DJs, karaoke, fire shows, and more.
Snorkel or dive in the clear waters: You can join one of the many tours that offer snorkeling or diving trips to the reef, or even to the famous Great Blue Hole, a giant sinkhole that plunges to over 400 feet deep. You'll be amazed by the diversity and beauty of the underwater world.
Relax on a hammock or a bike: If you prefer to stay on land, you can still enjoy the beauty and tranquility of Caye Caulker by relaxing on a hammock or riding a bike around the island. There are plenty of places where you can rent a hammock or a bike for a few hours or a day, and just chill out on the beach, under a palm tree, or by the Split.
Shop and eat at the local markets and restaurants: Caye Caulker is not only a paradise for nature lovers, but also for foodies and shoppers. You can find a variety of local products and souvenirs at the markets and shops along the main street, such as handicrafts, jewelry, clothing, art, and more.
Feed the stingrays at Iguana Reef Inn: Another fun and unique thing to do in Caye Caulker is to feed the stingrays at Iguana Reef Inn, a hotel that has its own private beach and pier. Every evening around 5 pm, the hotel staff feeds the stingrays that gather near the shore, and you can join them for free.
You can touch and hold the stingrays as they glide through the water, and even feed them by hand. They are very gentle and friendly, and they won't sting you unless you step on them by accident.
---
🚗 How I Book Cheap Transport In Belize: GuateGo
---
How To Stay Safe In Caye Caulker
Caye Caulker is a beautiful island however, like any other destination, it also has some potential dangers and risks that travelers should be aware of.
Be careful with your hotel keys. Some thieves may try to steal your keys and use them to access your room and belongings. Make sure you stay at a hotel that has good security measures and lock your valuables in a safe or take them with you.
Caye Caulker is famous for its proximity to the Belize Barrier Reef and the Blue Hole, which offer amazing opportunities for diving and snorkeling. However, these activities also involve some risks, such as strong currents, decompression sickness, or marine life attacks. Make sure you choose a reputable diving company that has qualified instructors, well-maintained equipment, and safety protocols.
Caye Caulker is generally a safe place, but it is still advisable to avoid walking alone at night or in isolated areas. Crime rates are high in Belize, and you may encounter some harassment, robbery, or violence. Always have a buddy with you and be aware of your surroundings.
Belize has laws and penalties for drug possession and trafficking. Drugs can also harm your health and safety, especially if you don't know what you are taking or how much. If you visit Caye Caulker, you should be careful about using drugs or being involved in drug-related activities. You should also respect the local culture and environment and avoid drug or alcohol abuse.
---
So What Is The Best Hostel In Caye Caulker?
Make sure you don't miss out on this slice of paradise on your Belizean adventures. With an excellent chilled-out vibe, a great backpacker scene, and an incredible surrounding reef it is definitely worth visiting.
There is a little bit of everything here, whether you are looking to party or relax. So, with the help of the best hostels in Caye Caulker guide, I hope you have found the perfect place to stay.
Do you own or work for a hostel and want to be featured? Let us know over at [email protected]
---
Any Questions? Let me know in the comments!
---
LIKE IT? PIN IT!
---
Want more Belize Inspiration? Check out….
---
Disclaimer: This post contains affiliate links. So, if you click on it and purchase something, I get a small percentage at no extra cost to you. As always all opinions are my own and your support is much appreciated.
---
Related Posts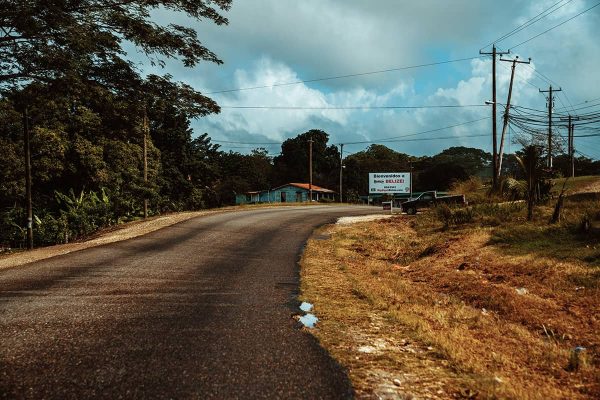 If you are looking for the perfect spot to explore in mainland Belize then there [...]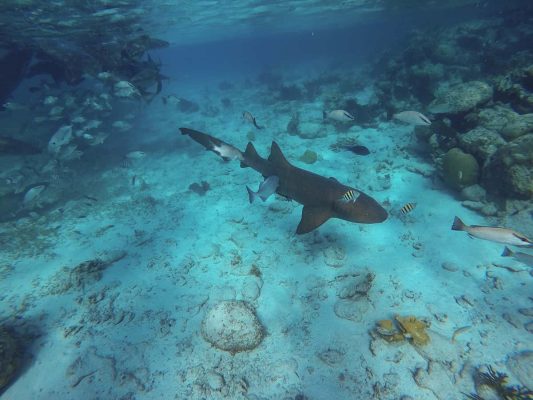 One of my favorite snorkeling spots can be found right in Belize, so of course [...]
After your time to paradise has come to an end it is time to continue [...]