Ready to get out of your comfort zone and come face to face with some incredible creatures? Then you need to check out Shark Ray Alley in Belize!
I will let you know all you need to know before visiting, such as how to get there, entry fees, what to expect, and most importantly is it safe.
---
If you happen to be backpacking Belize then no doubt you will find yourself in either Caye Caulker or the main town called San Pedro, in Ambergris Caye. These two are the most popular islands in Belize and are the gateway to exploring the underwater world here, including Shark Ray Alley.
Located as part of Hol Chan Marine Reserve this area is known for its incredible sealife and protected reef systems. Though Shark Ray Alley is less of a relaxing snorkeling spot and more of an adrenaline-pumping experience.
Dawn your snorkeling mask and chuck on those flippers as you come face-to-face with the reef sharks and southern stingrays with call Shark Ray Alley Home.
However, there are some things worth knowing before plunging yourself into the clear waters. This includes how exactly do you visit Shark Ray Alley, whether it is safe and ethical, and what to expect.
No doubt your mother will not be impressed with the photos you send home, but you will end up with an epic story to tell. So let me tell you everything you need to know about visiting Shark Ray Alley in Belize.
---
Visiting Shark Ray Alley Belize: All You NEED To Know To Survive
---
🚗 How I Book Cheap Transport In Belize: GuateGo
---
Why Visit Shark Ray Alley Belize
Shark Ray Alley is one of the most popular snorkeling destinations in Belize, and for good reasons. Here you can swim with friendly nurse sharks and stingrays that are used to human presence.
They will come close to you and even let you touch them gently. It is a unique and thrilling experience that you will never forget.
You can also see other marine life such as turtles, barracudas, groupers, snappers, and colorful reef fish, though these are not as common. The water is clear and shallow, making it easy to observe the underwater world.
Learn about the history and conservation of the Hol Chan Marine Reserve, which is the first marine reserve in Belize. Shark Ray Alley is part of this reserve, which protects the coral reef and its inhabitants from overfishing and pollution.
It is a beautiful scenic boat ride from San Pedro or Caye Caulker to Shark Ray Alley, which takes about 15 minutes. You can admire the turquoise water and the white sand beaches along the way.
While in the area you can combine your visit to Shark Ray Alley with other nearby attractions, such as Hol Chan Cut, Coral Gardens, or Caye Caulker Marine Reserve.
---
How To Visit Shark Ray Alley
The best way to visit Shark Ray Alley is by booking a snorkeling tour with a reputable operator who has a permit to enter the Hol Chan Marine Reserve. Typically the tour costs around $50.00 to $100.00 per person and includes equipment, a guide, and a park fee.
For the ultimate experience choose a day with good weather and calm sea conditions.
The best time to visit Shark Ray Alley is in the morning when the sharks and rays are more active and hungry. Avoid going during the rainy season or when there is a lot of boat traffic.
---
Shark Ray Alley Belize Excursions
As I said above the best way to visit Shark Ray Alley Belize is to do so by booking a snorkeling tour. These are available from both the main islands of Caye Caulker, and San Pedro.
Most of the time when you book a snorkeling tour to Shark Ray Alley it will also include a stop at some other nearby sites. This could include Hol Chan Marine Reserve, a chance to swim with manatees or explore the fish life at coral gardens.
---
🚗 How I Book Cheap Transport In Belize: GuateGo
---
Shark Ray Alley Snorkeling Tours From Caye Caulker
If you are looking for a snorkeling tour from Caye Caulker, here are some options that you can consider:
Salt Life Eco Tours: This company specializes in eco-friendly and sustainable snorkeling tours that respect the marine environment and the local culture.
They have experienced and certified guides who will take you to the best spots in the reef and provide you with snorkeling equipment, snacks, drinks, and lunch.
They offer two tours, a full-day Hol Chan Tour with 7 stops for $90 USD per person and a half-day Caye Caulker Marine Reserve Tour with 3 stops for $45 USD per person. Both tours include lunch, fruits, rum punch, a guide, and all park fees.
Caveman Snorkeling Tours: This company is run by a local legend named Caveman, who has over 20 years of experience in snorkeling and diving. He and his team will show you the wonders of the reef and the wildlife, as well as share stories and insights about the history and culture of Belize.
They provide you with snorkeling gear, snacks, drinks, lunch, and a complimentary rum punch. They also have a shop on Caye Caulker where you can book your tour or rent equipment.
They offer an assortment if tours including, a full-day tour with 5 stops for $90 USD per person, a manatee watch tour with 4 stops for $110 USD per person, a half-day tour with 3 stops for $45 USD per person.
---
Shark Ray Alley Snorkeling Tours From San Pedro
If you happen to be staying in San Pedro then the following Shark Ray Alley Snorkeling Tours will be a good option for you:
Amigos del Mar: They are a family-owned business established in 1984 and an SSI Diamond Dive Center and SDI resort facility. They specialize in full-service diving, instruction, snorkeling, boat charters and are ideally situated in the heart of San Pedro Town.
Their snorkeling tour to Hol Chan Marine Reserve and Shark Ray Alley costs $75 USD per person and lasts for about 2.5 hours. They provide complimentary fruits and water on board and equipment, guides, and park fees are included.
Island Dream Tours: These guys offer a full-day catamaran cruise to Shark Ray Alley, a snorkeling site where guests can swim with nurse sharks and stingrays. The tour includes drinks, snacks, lunch, and equipment, as well as visits to other attractions along the reef.
Their Snorkeling Cruise includes a full-day catamaran cruise, snorkeling at Shark Ray Alley and coral gardens, lunch at Caye Caulker, an open bar, and equipment. The price is $125 USD per person.
---
Shark Ray Alley Snorkeling Tours From Belize City
If you are looking for a snorkeling tour from Belize City you can check out: Shark/Ray Alley Snorkeling and Caye Caulker Exploration: This tour is offered by Coral Breeze Tours, a reputable operator that has a permit to enter the Hol Chan Marine Reserve. You will snorkel at two locations called Coral Gardens and Shark Ray Alley, where you will see a variety of coral formations and marine life. You will also have time to explore Caye Caulker, a laidback island with a relaxed atmosphere. The tour costs $45 USD per person and includes equipment, guide, park fee, snacks, and rum punch. It lasts for about 4 hours and departs from the Belize Tourism Village.
---
What Marine Life Is At Shark Ray Alley
Shark Ray Alley is a popular snorkeling destination in Belize, where you can encounter a variety of marine life, such as:
Nurse sharks are harmless sharks that can grow up to 3 meters long. They have a brownish-gray color and a flattened tail. They feed on fish, crustaceans, and mollusks. They are often seen in groups at Shark Ray Alley, where they are attracted by the smell of fish from the boats.
Stingrays are flat, cartilaginous fish that have one or more venomous spines on their tails. They use their spines for defense and their mouths for sucking up food from the sand. They can be found in various colors and patterns, such as spotted, striped, or plain.
They are also common at Shark Ray Alley, where they glide gracefully through the water.
Turtles are reptiles that have a hard shell covering their body. They breathe air and lay eggs on land, but spend most of their time in the water. They feed on plants, algae, jellyfish, and other animals. They can be green, brown, or black in color.
They are sometimes seen at Shark Ray Alley, but more commonly at the main snorkeling site at Hol Chan Marine Reserve.
There are also many other fish species that inhabit the coral reef near Shark Ray Alley, such as angelfish, parrotfish, snapper, grouper, barracuda, and more. They have different shapes, sizes, colors, and behaviors. They add to the diversity and beauty of the marine ecosystem.
---
Are Nurse Sharks Dangerous
Nurse sharks are not considered dangerous to humans. They are bottom-dwellers and are not known for their aggressive behavior. They are slow-moving and spend much of their time resting on the ocean floor. Like all wild animals, they should be treated with respect and left alone in their natural habitat.
However, nurse sharks can bite when provoked, and their sharp teeth can cause severe damage. They have a firm grip and have been known to latch onto swimmers and anglers.
They are also ranked fourth in documented shark bites on humans, likely due to incautious behavior by divers on account of the nurse shark's calm, sedentary nature.
---
Are Stingrays Dangerous
Stingrays are not actually dangerous unless they feel threatened or provoked. They are usually docile and peaceful animals that glide through the water. They have a barb on their tail that contains venom, which they use only for self-defense.
Most stingray injuries happen when people accidentally step on them or try to touch them.
Stingray-caused deaths are very rare. There have been only five recorded deaths in Australia since 1945 and fewer than 20 worldwide. You are more likely to be killed by a vending machine than by a stingray.
---
Can I just Watch From The Boat?
Yes, you can just watch from the boat on a snorkeling tour at Shark Ray Alley. Some tour operators offer a discounted observer option that allows non-snorkelers to remain on the boat while others are in the water.
Observers can marvel at the same coral and marine life in the crystal-clear waters as their companions. However, if you want to experience the thrill of swimming with nurse sharks and stingrays, you will need to get into the water and follow the safety instructions of your guides.
---
Is Shark Ray Alley An Ethical Animal Experience
Snorkeling Shark Ray Alley is a popular activity for tourists who want to see and interact with marine life, especially nurse sharks and stingrays. However, some people may argue that this is not an ethical animal experience.
This is because it involves feeding and attracting the animals to the boats, which may alter their natural behavior and habitat.
The feeding of sharks and rays at Shark Ray Alley started in the 1980s when fishermen would clean their catch in the area and throw the scraps overboard. This attracted the nurse sharks and stingrays, who soon learned to associate the sound of boat engines with food.
One thing to note is that a lot of tour operators still feed the animals today, while others have stopped or reduced the practice. I have visited three separate times and on two of those occasions, on snorkeling tours, they fed fruit scraps, whereas a diving company I visited with didn't feed at all.
The feeding of sharks and rays may have some negative impacts on their health and ecology. Such as making them dependent on human food, reducing their natural hunting skills, changing their migration patterns, increasing their risk of disease and parasites, and disrupting their social structure.
However, not enough research has been done to this effect at Shark Ray Alley yet.
Ultimately, whether snorkeling Shark Ray Alley is ethical or not depends on your personal values and beliefs. Some people may enjoy the opportunity to see these amazing animals up close, while others may prefer to observe them from a distance or not at all.
If you decide to snorkel at Shark Ray Alley, you should choose a reputable tour operator who follows the rules and guidelines of the reserve, minimizes the feeding of the animals, educates the visitors about marine life, and respects the environment.
You should also follow some best practices for ethical snorkeling, such as wearing reef-safe sunscreen, avoiding touching or disturbing the animals or corals, keeping a safe distance from the animals, staying with your group and guide, and disposing of your trash properly.
---
🚗 How I Book Cheap Transport In Belize: GuateGo
---
Rules To Follow At Shark Ray Alley
There are some rules to follow at Shark Ray Alley to ensure a safe and enjoyable experience for both you and the animals.
Here are some of them:
Do not touch or feed the animals. The sharks and rays are wild creatures and should be respected as such. Feeding them can alter their natural behavior and make them dependent on humans. Touching them can cause stress, injury, or infection to them or to you. Keep a safe distance and observe them with awe and admiration.
Wear appropriate gear. You will need a mask, snorkel, fins, and a life jacket to snorkel at Shark Ray Alley. The life jacket will help you float and prevent you from stepping on the coral or the animals. You can also wear a rash guard or a wet suit to protect your skin from the sun and possible stings.
Follow the instructions of your guide. Your guide will know the best spots to see the sharks and rays, as well as how to avoid disturbing them. Listen to your guide's briefing before entering the water and follow their directions at all times. They will also help you in case of any emergency or problem.
Be respectful of the environment. Shark Ray Alley is part of the Hol Chan Marine Reserve, a protected area that aims to conserve the biodiversity and beauty of the reef. Do not litter, damage, or collect anything from the water.
---
My Experience At Shark Ray Alley
As I said I have actually visited Shark Ray Alley three times, that is how awesome it is, and unlike anything I have personally done before. Two of those trips were as part of snorkeling tours and the third was a quick stop in between diving in San Pedro.
Though I will talk about my first visit to Shark Ray Alley which was as part of a snorkeling tour from San Pedro in Ambergris Caye. It was an Easter Sunday and my only free day on the island. Luckily enough I found a family who was willing to take one extra on their tour.
Heading off we first explore the incredible sea life of Hol Chan Marine Reserve. Snorkeling between the corals and making friends with plenty of fish. Though before heading back to San Pedro we had one more stop to make, this was Shark Ray Alley.
It's a quick 5-minute drive between the two locations and as soon as we arrive it's like we became a magnet as the local nurse sharks and sting rays came flocking to our little boat.
I hesitantly look over the boat to see at least 6 nurse sharks pressed up against the side of the boat while the driver chucks over the rinds of watermelon and pineapples.
We are reassured they are not hungry to eat us and are advised to gently lower ourselves into the water with as minimal splashing as possible. This is simply because splashing generally means an injured animal aka an easy target.
With a small splash, each of us jumps in, though I decide to hang back a couple of meters from the literal pile of sharks so as not to get caught in the chaos.
The sharks and sting rays swim around us as more fruit scraps are thrown around them until we run out. Though before this happens a young boy who was part of the family on the tour decides he wants to touch the sharks.
Suddenly he is caught in the mess of sharks piling up and under him and luckily the boat captain is watching and scoops him up and out of the water. This could have gone so bad, especially if this happened out of reach of the boat.
With the excited atmosphere quickly deflated we head back on board with plenty of pictures and memories, some good and some bad.
I do think Shark Ray Alley is definitely worth doing, though you need to do it with an ethical tour operator who doesn't bait the animals as mine did. It is also important they are experienced and will comprehensively run through safety and rules with their guests.
---
What To Pack When Visiting Shark Ray Alley Belize
If you are planning to visit this amazing place, here are some tips on what to pack:
Snorkeling mask and snorkel. You can rent them from the tour operators, but it is better to bring your own for comfort and hygiene reasons. Make sure they fit well and are in good condition.
Rash guard or wetsuit. The water temperature at Shark Ray Alley is usually around 26°C, which is comfortable for most people, but you may get cold after a while. A rash guard or wetsuit can help you stay warm and also protect you from sunburn and jellyfish stings.
Waterproof camera or GoPro. You will want to capture the amazing sights of Shark Ray Alley, so bring a camera that can withstand water and has a good battery life. You can also buy waterproof cases for your phone or tablet, but make sure they are compatible and secure.
Hat, sunglasses, and sunscreen. The sun can be very strong in Belize, especially on the water, so protect yourself from sun damage and heatstroke by wearing a hat, sunglasses, and sunscreen. Choose a sunscreen that is reef-safe and biodegradable, as some chemicals can harm the coral and marine life.
Towel and dry clothes. After your snorkeling adventure, you will need to dry off and change into something comfortable. Bring a towel that is quick-drying and lightweight, and a set of dry clothes that are suitable for the weather and the activities you plan to do afterward.
Water bottle and snacks. Snorkeling can be tiring and dehydrating, so make sure you drink plenty of water and eat some snacks to replenish your energy. Bring a reusable water bottle that you can fill up before you leave, and some snacks that are easy to carry and eat, such as granola bars, nuts, or fruit.
---
🚗 How I Book Cheap Transport In Belize: GuateGo
---
FAQs About Shark Ray Alley Belize
How Deep Is The Shark Ray Alley In Belize?
Honestly, the water at Shark Ray Alley is more on the shallow side, though you probably won't be able to touch the bottom. Generally, it is about 2.5 meters deep, giving enough clearance for the sharks and rays swimming beneath you.
What Sharks Are In Shark Ray Alley Belize?
The most common sharks at Shark Ray Alley are Nurse Sharks and Reef Sharks.
Can You Dive Shark Ray Alley?
Technically yes you could, though there are much cooler dive sites around Ambergris Caye and Caye Caulker. Shark Ray Alley is too shallow for diving and there isn't much to see apart from the sharks and rays.
Is It Safe To Swim With Sharks In Belize?
Yes, it is safe to swim with sharks in Belize as long as you follow the rules given by your guides. Luckily nurse sharks are pretty relaxed and known as the puppy dogs of the sea, but listening to your guide will make sure everything goes smoothly.
Where To Stay In Belize
Once you are in Belize City your best bet will be taking a ferry to either Ambergris Caye or Caye Caulker. These are both paradise islands that are well worth visiting during your stay.
Caye Caulker: Caye Caulker is a small island in Belize, located about 32 kilometers northeast of Belize City and 8 kilometers south of Ambergris Caye. The island's motto is "Go Slow", which reflects its relaxed and friendly atmosphere.
The main mode of transportation on the island is by bicycle, golf cart, or foot. The island's main village is Caye Caulker Village, which has many restaurants, bars, shops, and accommodations for visitors.
Caye Caulker is a paradise for water lovers, as it has easy access to the Belize Barrier Reef, a UNESCO World Heritage Site that hosts a variety of marine life, including sharks, rays, turtles, and fish.
Ambergris Caye: Ambergris Caye is the largest and most popular island in Belize, located in the Caribbean Sea near the Belize Barrier Reef. The island's main town is San Pedro, which offers a variety of restaurants, bars, shops, and activities for visitors.
Ambergris Caye is a paradise for water lovers, as it has many options for snorkeling, diving, fishing, sailing, kayaking, and parasailing.
Some of the attractions on or near the island include the Hol Chan Marine Reserve, where you can swim with sharks and rays, the Mexico Rocks, where you can see colorful corals and fish, and the Great Blue Hole, a spectacular sinkhole that is one of the world's top diving sites.
---
Any Questions? Let me know in the comments!
---
LIKE IT? PIN IT!
---
Want more Belize Inspiration? Check out….
---
Disclaimer: This post contains affiliate links. So, if you click on it and purchase something, I get a small percentage at no extra cost to you. As always all opinions are my own and your support is much appreciated.
Related Posts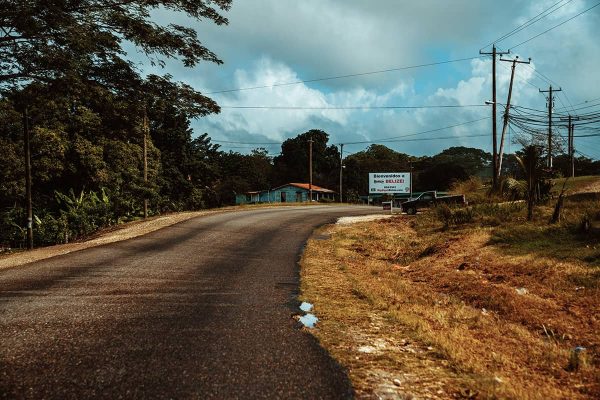 If you are looking for the perfect spot to explore in mainland Belize then there [...]
Find out the best hostels in Ambergris Caye and what you need to know for [...]
Come find out all you need to know about visiting the Green Iguana Conservation Project [...]