Come find out all you need to know about visiting the Green Iguana Conservation Project in San Ignacio. I will let you know what you can expect, how to get there, the entry fee, is it ethical and so much more!
---
If you are an animal lover like myself, whether that is the scaley, fluffy, or slippery kind, you need to visit the Green Iguana Conservation Project in San Ignacio, Belize.
This quaint little border town is surrounded by lush jungle and therefore a plethora of animals who call it home. This includes the impressive Iguanas which you will no doubt become well acquainted with while backpacking Belize.
The Green Iguana Conservation Project is an initiative that aims to protect and care for the endangered green iguana species in Belize. By supporting them you will have the opportunity to learn about and interact with the iguanas they are breeding and rehabilitating.
No doubt this place is much more than just a simple tourist attraction. It is one of the many conservation projects in the country that aim to protect and rehabilitate these iguanas.
Being one of the most popular things to do here in San Ignacio I knew I definitely had to check it out. After visiting the Iguana Sanctuary in San Pedro which was very much a hands-off, unguided experience I honestly wasn't too sure what to expect here prior to visiting.
Nevertheless, it was very much a completely different experience, in both good and bad ways. Though I won't spoil the details too quickly, but I will definitely be answering the question of whether the Green Iguana Conservation Project is ethical.
In this post, I will tell you everything you need to know about visiting the Green Iguana Conservation Project, including how to get there, entry fees, the best time to visit, and my experience. Ultimately allowing you to make the most out of your trip to San Ignacio and contribute to supporting the local population of iguanas.
The Green Iguana Conservation Project In San Ignacio: Top Tips For Visiting
---
🚗 How I Book Cheap Transport In Belize: GuateGo
---
Iguanas In Belize
Iguanas are fascinating creatures that can be found in many parts of Belize. They are large, green lizards that have a long tail, a crest of spines along their back, and a flap of skin under their chin called a dewlap.
Iguanas are herbivorous, meaning they eat mostly plants, such as leaves, flowers, and fruits.
These creatures are not only interesting to observe, but also important for the ecosystem and the culture of Belize. Iguanas help disperse seeds and pollinate flowers, contributing to the biodiversity and health of the forests.
They also provide food and income for some people, who hunt them for their meat and eggs or raise them in farms. Iguanas are considered a delicacy in Belize and are often cooked in soups or stews. Some people also keep iguanas as pets, although this requires a special permit and care.
Iguanas face many threats in Belize, such as habitat loss, poaching, predation, and invasive species. Some of these threats are caused by human activities, such as deforestation, agriculture, and development.
They are also hunted by animals like hawks, snakes, dogs, and cats. In addition, iguanas have to compete with an introduced species called the black spiny-tailed iguana, which is more aggressive and adaptable than the native green iguana.
Fortunately, there are some efforts to conserve and protect the iguanas of Belize, such as the Green Iguana Conservation Project which we will talk about further down below.
---
What Is The Green Iguana Conservation Project
The Green Iguana Conservation Project is a project that aims to conserve and protect the green iguana which was started in 1996.
The project collects 'at-risk' eggs from the wild and incubates them at the facility. The hatchlings are then reared for two years and released into protected areas before they reach sexual maturity.
Located at the San Ignacio Resort Hotel, the Green Iguana Conservation Project is where visitors can interact with the green iguanas and learn about their life cycle, habitat, diet, and threats. They also run an Adopt-an-Iguana program and an Iguana Kids Club, which help raise funds for the project and provide scholarships for local students.
Visitors can join a guided tour that takes place every hour from 8:00 a.m. to 4:00 p.m. daily. The tour lasts for 45 minutes and costs $11.25 per person. During the tour, visitors can hold and mingle with the adorable iguanas while learning about the incubation, hatching, rearing, and releasing process.
---
🚗 How I Book Cheap Transport In Belize: GuateGo
---
How To Get To The Green Iguana Conservation Project
The Green Iguana Conservation Project is located in the swanky San Ignacio Resort Hotel. Once you arrive just head through the doors and a staff member will greet you and show you where you can pay the entry fee. The lobby of the hotel is calm and cool, the perfect place to wait for the tour to start.
To get to the Green Iguana Conservation Project from San Ignacio town you have a few options:
By car: If you have your own car or a rental car, you can drive to the project site in less than 10 minutes. The project is located on the right side of the Western Highway, just before you cross the Macal River bridge.
By taxi: You can also take a taxi from anywhere in San Ignacio to the project site, which costs about $2 USD and takes about 5 minutes. You can ask any taxi driver to take you to the San Ignacio Resort Hotel.
By foot: If you are feeling adventurous, you can also walk to the project site from San Ignacio town. It is about 2 km from the town center to the hotel, which takes about 25 minutes on foot. Just note that it's quite an uphill walk, which can be pretty exhausting in the heat.
Personally, I decided to visit early morning before the heat had reached its peak and walked there. I felt completely safe walking through San Ignacio as a solo female traveler, though there is quite a hill to climb before you reach the San Ignacio Resort Hotel.
Make sure to bring plenty of water to keep hydrated!
---
Entry Fee To The Green Iguana Conservation Project In San Ignacio
The entry fee to the Green Iguana Conservation Project is $11.25 USD per person, which includes a guided tour of the facility and a chance to interact with the iguanas.
---
Opening Hours Of The Green Iguana Conservation Project
The tour is offered daily from 8 am to 4 pm, and it leaves every hour on the hour. The duration of the tour is about 45 minutes, and it is suitable for all ages and fitness levels. You can only visit as part of a tour since the enclosures are open and you will be interacting with the Iguanas.
---
How Long To Spend At The Green Iguana Conservation Project
As I said before you will be on a tour which takes 45 minutes and you don't have the opportunity to go around by yourself. Therefore it is pretty easy to know how long exactly you will spend here.
Personally, this did feel like the perfect amount of time. It wasn't rushed at all, nor did it drag on long enough for us to get bored. In typical Belizean fashion, the guide was great with some awesome stories and jokes.
Once you are done exploring the Green Iguana Conservation Project you can actually visit the Medicinal Trail which starts and finishes at the San Ignacio Resort Hotel.
On this tour, you will learn about the plants and herbs that have been used by the Maya and other locals for centuries to treat various ailments and conditions. You will also get to taste some of the teas made from these plants and enjoy their benefits.
---
🚗 How I Book Cheap Transport In Belize: GuateGo
---
Is The Green Iguana Conservation Project Ethical?
The Green Iguana Conservation Project has been praised for its educational and conservation efforts, as well as for its positive impact on the local community.
They offer the Adopt-an-Iguana Program and the Iguana Kids Club, which raise funds to support the project and provide scholarships for students. The project also releases the iguanas into their natural habitat when they reach a certain age and size, ensuring their survival and genetic diversity.
However, some ethical issues have been raised about the project as well. Some critics argue that the project is exploiting the iguanas for tourism and profit and that it is not respecting their natural behavior and welfare.
They claim that the project is exposing the iguanas to stress, disease, and injury by handling them frequently and keeping them in captivity. There are also questions regarding the effectiveness of the release program. Since there is no evidence that the released iguanas can adapt to the wild and avoid predators and poachers.
Personally, it's no doubt the guides here really do care about the iguanas and put a lot of effort into breeding and rehabilitating them. Though I am not the biggest fan when it comes to hands-on experiences, including holding iguanas which is offered here.
Though they did say that since COVID they have stopped visitors handling the small iguanas since the germs can get passed to them. Ideally, this would have been stopped with all iguanas, but it definitely is a move in the right direction.
I must also say that coming to Central America there is definitely a popularity in animal tourism, which often leads to animal exploitation. Compared to a lot of other places in this region, yes I would say it definitely leans towards a more ethical experience. Though if you were to look at it with a wider lens comparing it to invitives in first world countries there are some improvements that can be made.
Nevertheless, I do believe you can visit the Green Iguana Conservation Project and sleep well knowing you didn't contribute to the exploration of animals. Instead, your entry fee was put towards an initiative that is doing its best with the resources they are given.
---
My Experience At The Green Iguana Conservation Project In San Ignacio
So I had one free day in San Ignacio which would use to explore the best things to do here in the town. Coming up with a little itinerary I decided my first stop would be the Green Iguana Conservation Project.
Having visited the San Pedro Iguana Eco Sanctuary where it was basically just a walking track among the local iguana residents I wasn't too sure what to expect here. Though having heard it be THE thing to do in San Ignacio I had to give it a go.
I headed off after a delicious breakfast at Pop's Restaurant for some fry jacks, scrambled eggs, and beans. The staff are lovely and it has an American meets Belizean diner kind of feel.
With a feel belly and my water bottle in tow, it's time to hit the pavement. It is a short 5 to 10-minute walk out of the center of town until I am met with a concerningly steep hill. Nevertheless, I have the time, and with the encouragement of a few locals walking downhill, I eventually make it up to the steps of the San Ignacio Resort Hotel.
I wander in and am greeted by a staff member who takes me to the desk where I pay my entry fee. I grab a seat while I wait for the next tour to start and chat with other travelers who will also be joining.
Soon enough our guide walks in and takes us down a small path leading to the Iguana enclosure where they are housed. We wash our hands to prevent germs from getting passed on to the iguanas and enter through the gate to the so-called 'San Iggy Hotel'.
There is one main large room which houses a few different iguanas and then it splits off into different areas where they are kept according to age.
We stay in the main room while our guide gives us a bit of a lesson about their residents and why they are here, including one who I missing an arm. Surprisingly enough once the iguanas are realized they often try to come back and we hear a scuffle outside where another is trying to break in.
Life is good for the iguanas here with plenty of food, water, and sunshine to bask in. We move to one of the smaller rooms with the younger iguanas and are told they no longer allow visitors to pick these ones up because of the risk that COVID-19 could be passed on.
I much prefer to have a hands-off experience so this doesn't bother me at all instead we simply observe these small creatures you often don't see in the wild. After that, it's back to the big boys for some feeding time and pets. Though it was midday they had already had plenty of food at this point and weren't overly bothered about getting more.
---
What To Pack For Your Visit
Now you know all about the Green Iguana Conservation Project in San Ignacio, let's get into what you should bring with you for your visit:
Clothing: Belize has a tropical climate, so you will want to pack light and breathable clothing that can protect you from the sun and insects. You may also want to bring a hat, sunglasses, and sunscreen for extra protection.
Camera: You will definitely want to capture some memorable moments with the iguanas, so don't forget to bring your camera or smartphone. Make sure you have enough battery and memory space for your device, as well as a waterproof case or bag in case of rain.
Water: You might also want to bring some water and snacks with you, as it can get super hot. The tour can take up to an hour, depending on how much time you spend observing and interacting with the iguanas.
Donation: The Green Iguana Conservation Project is a non-profit organization that relies on donations from visitors and supporters to fund its operations and activities. If you want to support the project and its mission, you can make a donation of any amount when you visit.
Curiosity: The most important thing to pack for your visit to the Green Iguana Conservation Project is your curiosity and enthusiasm. The project is not only a fun and interactive attraction, but also an educational and informative one.
---
Where To Stay In San Ignacio?
San Ignacio is a popular destination for budget travelers who want to experience the natural and cultural wonders of Belize. There are many options for cheap and cheerful accommodation in San Ignacio, ranging from hostels and guesthouses to campsites and eco-lodges.
Personally, I stayed at Bellas Backpackers. After having such a good stay at their Caye Caulker location and making a lot of new friends I was excited for the same experience in San Ignacio. Though surprisingly the location here is a lot more quiet than on the island.
I was actually the only person in my dorm for all 3 nights of my stay. On average there were about 4 to 6 people staying in the property each night.
Nevertheless, the small number of people actually made for quite a homely feel. At night we would all hang out in the kitchen, discuss travel plans, and cook up a yummy meal.
If you are looking for a more social stay Old House Hostel is actually where the majority of backpackers in San Ignacio stay. I met a couple of travelers who were staying there are they said it was super busy, so the complete opposite of my hostel experience in San Ignacio.
A chill family-style hostel in the center of town. Dorms start at $12.00 per night.

BOOK NOW

The most popular hostel in the town. Dorm rooms start from $12.00 per night.

BOOK NOW

Another lovely hostel in a great central location. Dorms here start for around $12.00 per night.

BOOK NOW

A beautiful countryside farm stay for a unique experience. Private rooms here start at $60.00 per night.

BOOK NOW
---
Things To Do In San Ignacio
San Ignacio is a town in Belize that offers a variety of attractions and activities for travelers who want to experience the natural and cultural wonders of the country. Here are some of the best things to do in San Ignacio:
Visit the Xunantunich Ruins: These are ancient Maya ruins that date back to the 7th century AD. You can climb the El Castillo pyramid, which is the second tallest structure in Belize, and enjoy panoramic views of the surrounding jungle and river. You can also see impressive carvings and sculptures that depict Maya gods and rulers.
Explore the ATM Cave (Actun Tunichil Muknal): This is one of the most adventurous and fascinating things to do in San Ignacio. The ATM Cave is a sacred site where the Maya performed rituals and sacrifices. You can see pottery, bones, and even a crystal skeleton inside the cave.
You will need to hike, swim, and crawl to reach the cave, so be prepared for a challenging but rewarding experience.
Walk along the Macal River: The Macal River is a scenic and tranquil river that flows through San Ignacio. You can walk along the riverbank and enjoy the views of the forest, birds, and wildlife. You can also rent a canoe or kayak and paddle along the river, or join a tubing tour for some fun and relaxation.
Visit the Cahal Pech Archaeological Reserve: This is another ancient Maya site that is located on a hill overlooking San Ignacio. Cahal Pech means "Place of Ticks" in Maya, but don't let that deter you from visiting this impressive site.
You can see several temples, palaces, plazas, and ball courts that date back to 1200 BC. You can also visit the museum that displays artifacts and information about the site.
Take a day trip to the mighty Tikal Mayan Ruins: Tikal is one of the most famous and impressive Maya sites in Guatemala, and it is only a two-hour drive from San Ignacio. You can cross the border with a tour or on your own and explore this UNESCO World Heritage Site.
You can see hundreds of structures, including pyramids, temples, palaces, and stelae that span over six centuries of Maya history. You can also spot wildlife such as monkeys, toucans, and coatis in the surrounding jungle.
Discover the ancient ruins of Caracol: Caracol is another Maya site that is located in the Chiquibul Forest Reserve, about two hours from San Ignacio. Caracol was once one of the largest and most powerful Maya cities in Belize, with over 35,000 buildings and 140,000 inhabitants.
You can see the Caana pyramid, which is the tallest structure in Belize at 43 meters, as well as other temples, tombs, altars, and carvings.
Visit the San Ignacio Market: The San Ignacio Market is a lively and colorful market that takes place every Saturday in downtown San Ignacio. You can find fresh fruits and vegetables, spices, crafts, clothing, souvenirs, and more at this market. You can also sample local dishes such as rice and beans, tamales, salbutes, pupusas, and more.
---
Any Questions? Let me know in the comments!
---
LIKE IT? PIN IT!
---
Want more Belize Inspiration? Check out….
---
Disclaimer: This post contains affiliate links. So, if you click on it and purchase something, I get a small percentage at no extra cost to you. As always all opinions are my own and your support is much appreciated.
Related Posts
Find out all you need to know to have the ultimate bucketlist experience: Swim with [...]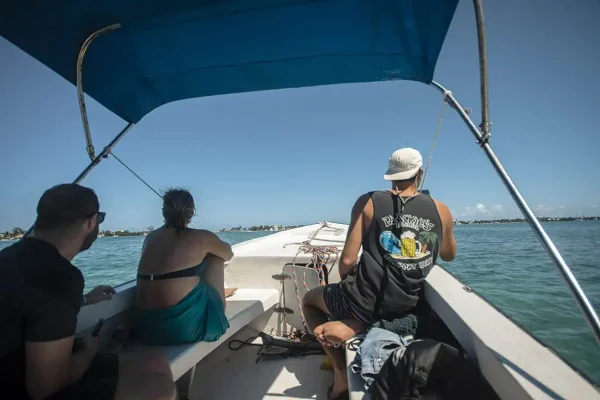 If you happen to be visiting Caye Caulker then no doubt you need to discover [...]
Come find out all the top tips for backpacking Caye Caulker. This is definitely a [...]