Now if you are exploring the country of Belize no doubt you need to hit up the two idyllic islands of San Pedro and Caye Caulker. They both have their highlights whether that is swimming with manatees, checking out the local iguanas, or diving, though how exactly do you travel from San Pedro to Caye Caulker?
---
Both San Pedro, the main town of Ambergris Caye, and Caye Caulker are popular destinations with travelers exploring the incredible country of Belize. If you are like me and want to visit all the highlights and make the most out of your stay then you will be checking out both of these spots.
Luckily enough it is pretty damn easy to travel from San Pedro to Caye Caulker!
San Pedro has a vibrant and lively atmosphere, with plenty of restaurants, bars, shops, and activities to choose from. You can snorkel or dive at Hol Chan Marine Reserve, visit Secret Beach, or explore downtown San Pedro.
This is definitely more popular with American tourists, honeymooners, families, and a bit of an older age group. Though don't let this put you off, it is definitely possible to backpack San Pedro!
In contrast, Caye Caulker is a smaller and more laid-back island than Ambergris Caye. It has a motto of "Go Slow", which reflects its relaxed and friendly attitude.
It is also known for its natural beauty and charm, with sandy streets, wooden houses, coconut trees, and turquoise water. You can relax at The Split, snorkel or dive at Coral Gardens, or visit the Red Flower Gallery.
How exactly do you travel from San Pedro to Caye Caulker?
Well as I said it is super easy to travel from San Pedro to Caye Caulker. Honestly, it involves very minimal planning, so once you read this article you will be sweet to go. This is because I will let you know everything you may need such as booking tickets, how long it takes, should you take the ferry or a plane and so much more!
| | | | |
| --- | --- | --- | --- |
| | Time | Cost | Highlight |
| Ferry | 30 Minutes | $21 | Cheaper Option |
| Fly | 5 Minutes | from $57 | Quick Journey |
---
San Pedro To Caye Caulker: The Best Ways To Travel Explained
---
🚗 How I Book Cheap Transport In Guatemala: GuateGo
---
San Pedro To Caye Caulker Distance
The distance from San Pedro to Caye Caulker is about 21 kilometers or 13 miles, depending on the mode of transportation. As you can see they are pretty damn close together so no matter what type of transport you decide, it won't be a long journey.
---
San Pedro To Caye Caulker Travel Time
Another factor to consider when traveling from San Pedro to Caye Caulker is the travel time for different transport methods. Here are the average travel times for some of the most popular transport methods:
Ferry: The ferry ride takes about 30 minutes and departs every hour from 6:00 a.m. to 6:00 p.m. This is no doubt the most popular way to travel from San Pedro to Caye Caulker.
Plane: This is the fastest and most convenient option, as it only takes about 5 minutes to fly from one island to another. Though one thing to remember this is only the air time, you will need to still account for check-in time, and go through security.
As you can see, the travel time varies depending on the transport method you choose. You should weigh the pros and cons of each option and decide which one suits your budget, time, and preference.
---
Ferry From San Pedro To Caye Caulker
If you are looking for a way to escape the hustle and bustle of San Pedro, Belize, you might want to consider taking a ferry ride to Caye Caulker, a small island that offers a laid-back atmosphere and stunning natural beauty.
As I said before, Caye Caulker is only about 22 km away from San Pedro, and you can easily reach it by taking one of the many ferries that operate daily.
The ferry ride from San Pedro to Caye Caulker takes about 30 to 45 minutes, depending on the weather and the speed of the boat.
Some ferries might charge extra for large or heavy bags, so check with your ferry company before you board. You should also keep your valuables with you at all times and not leave them unattended on the ferry.
One of the best parts of taking a ferry ride from San Pedro to Caye Caulker is enjoying the spectacular views of the Caribbean Sea and the surrounding islands. You can admire the turquoise water, the white sand beaches, the coral reefs, and the marine life along the way.
You can also feel the refreshing breeze on your face and hair as you cruise along. If you are lucky, you might even spot some dolphins, turtles, or rays in the water. You can take pictures or videos of the scenery but don't forget to put down your device once in a while and just soak in the moment.
Taking a ferry ride from San Pedro to Caye Caulker is also a great opportunity to meet new people and make friends. You can chat with fellow travelers or locals on board and learn more about their stories and cultures.
You can also ask for tips or recommendations on what to do or see in Caye Caulker or San Pedro. However, you should also be respectful of others' privacy and personal space. Don't be too loud or intrusive, and don't bother anyone who seems busy or uninterested.
You should also follow the rules and regulations of the ferry company and the crew members, such as wearing a life jacket, staying seated during the ride, not smoking or drinking alcohol on board, etc.
---
How To Book Tickets
There are several ferry companies that offer services between San Pedro and Caye Caulker, such as Ocean Ferry, Belize Sea Shuttle, and Water Jets International.
Each company has its own schedule, price, and amenities, so you should compare them and choose the one that suits your needs and budget.
Tickets can be booked online over at GuateGo. Prices start from $21.00 no matter which platform you decide to purchase through.
To avoid disappointment and hassle, it is advisable to book your ferry ticket in advance, especially during peak seasons or holidays. You can also buy your ticket at the ferry terminals in San Pedro or Caye Caulker, but you might have to wait in line or risk missing your preferred departure time.
Booking in advance also allows you to secure a seat on the ferry, as some ferries have limited capacity and might get full quickly. Though in all honesty there are regular departures.
---
Where Does The Ferry Drop You Off
The ferry terminal in Caye Caulker is located on the west side of the island, near the main village and the split. The split is a narrow channel that divides the island into two parts, and it is also a popular spot for swimming, sunbathing, and drinking at the Lazy Lizard bar.
It is easy to find, as it is marked by a large sign that says "San Pedro Belize Express Water Taxi" or "Ocean Ferry Belize", depending on which company you use. You can also see the colorful boats docked at the pier.
The ferry terminal is within walking distance of most hotels, restaurants, shops, and attractions on the island. You can also rent a bike or a golf cart from one of the many rental places nearby, or take a taxi if you have a lot of luggage or need to go to the north or south end of the island.
The taxi fare is usually around $5 USD per person, and you can find them waiting outside the terminal or call them on your phone.
---
My Experience Taking The Ferry From San Pedro To Caye Caulker
Now I only had 2 nights each in San Pedro and Caye Caulker so to make the most out of my time I decided to catch the midday ferry from San Pedro to Caye Caulker. This would allow the perfect time from check out at my hostel in San Pedro, the ferry travel time, and check in at my hostel in Caye Caulker.
I decided to purchase my ferry tickets the morning of, and not having cell phone data in Belize I just wandered over to what I presumed was the same company I traveled from Belize City to San Pedro with. Instead, I stopped just short of that building and purchased from Ocean Ferry Belize.
The first thing I noticed was how cheap it seemed to be compared with my first trip from the mainland, and what I had read about online. Instead of the $20.00 or so I am expecting I am charged just $9.00.
Now I have no idea why/who/what/how it was so affordable, but yes. They did ask for my passport when purchasing my ticket, but this isn't something I carry around casually so I told the lady I didn't have it and to just charge me the typical tourist price. Exchanging $9.00 for my ticket I was equally chuffed and confused.
Nevertheless, I wandered back a couple of hours later with my backpack on ready to hit the high seas, well at least for 30 minutes. It does take about 20 minutes or so for the boat to arrive, but soon enough we jump on with bags in tow.
I grab a seat at the back with a great view behind us. Surprisingly the ferry is more on the empty side which means we can all chill out and not have to worry about getting too close and sweating on our neighbour.
It is quite an uneventful but beautiful ride. We pass by Hol Chan Marine Park, Shark Ray Alley, and the Northern Part of Caye Caulker which for the most part is pretty abandoned.
Pulling up to the pier we grab our bags and jump off ready to explore this next slice of paradise. Though to my surprise this so-called relaxing backpacker island is absolutely chaos filled with locals from the mainland visiting for easter. Unbeknownst to me I have visited the 'quiet' island on its busiest time of year.
---
🚗 How I Book Cheap Transport In Guatemala: GuateGo
---
Flying From San Pedro To Caye Caulker
If you are looking for a quick and easy way to travel from San Pedro, the largest town on Ambergris Caye, to Caye Caulker, a smaller island with a laid-back vibe, you might want to consider flying.
Flying from San Pedro to Caye Caulker is a convenient and scenic option that will save you time and hassle, as well as give you a bird's eye view of the stunning Caribbean Sea and the Belize Barrier Reef.
There is only one airline that offers flights between San Pedro and Caye Caulker, and that is Maya Island Air. Maya Island Air is a Belizean airline that operates domestic flights within Belize, as well as regional flights to Mexico, Guatemala, and Honduras.
Maya Island Air has a fleet of small planes that can accommodate up to 19 passengers, and it flies to 11 destinations in Belize, including San Pedro and Caye Caulker.
You can book your flight online through the website of Maya Island Air or through third-party platforms like Expedia. You should book your flight as early as possible, especially during peak seasons or holidays, as the flights might get full or more expensive.
The flight from San Pedro to Caye Caulker takes about 5 minutes, and it costs between $57 and $60 USD for a one-way ticket, depending on the date and time of your departure. The flight schedule varies depending on the season and the demand, but generally, there are several departures and arrivals every day between 6:30 a.m. and 5:30 p.m.
---
FAQs About Traveling From San Pedro To Caye Caulker
How many days to spend in Caye Caulker? The recommended minimum stay in Caye Caulker is at least 3 days. Though in saying this most backpackers end up staying here for about a week. Instead, I decided to split my time between the two islands, and perhaps you are as well since you are reading this article on how to travel from San Pedro to Caye Caulker.
Nevertheless, three days will allow you to see the main highlights of the town and its surroundings, such as the snorkeling tours, checking out the split, and more. It is a nice quaint island which is a good place to chill out for a few days.
How far in advance do I need to book tickets? If you happen to be on a tight itinerary then I would recommend booking tickets in advance, this is especially so if you plan on flying as this does sell out.
However if instead you are planning on taking the ferry this isn't 100% necessary. If it is busy you may find yourself having to wait for the next boat. Personally, I just booked my tickets for a particular time on the morning of my journey.
---
🚗 How I Book Cheap Transport In Guatemala: GuateGo
---
Where To Stay In Caye Caulker
Caye Caulker is a pretty small island so you should have no problem staying in a decent location. It's pretty popular to get around by bicycle or simply walking.
Personally, I stayed at Bellas Backpackers in Caye Caulker. This is essentially the only hostel on the island, and I had an awesome stay. They have also upgraded since my last visit adding air conditioning to more of their dorm rooms (which is very much needed).
Though I will say it does have mixed reviews online, I think the majority of this is travelers who are not used to staying in hostels and are just booking it because of the price. Though generally facilities in a hostel can be a little bit average and the mark lower because of this.
Honestly, it had a great vibe, I made plenty of friends and it was perfect for what I needed. The showers are in a separate building, not all windows have curtains, and your blanket is essentially just a sheet. If you want something a bit nicer then it is worth spending a little bit more money for a stay you will enjoy.
Bellas Backpackers Caye Caulker

The most popular hostel on the islands. Rooms start from $14.00 for a dorm and make sure to upgrade if you want air-con.

BOOK NOW

The best hostel in Caye Caulker, and a popular choice for travelers. Dorms start from $21.00 per night.

BOOK NOW

A comfortable stay for travelers who want a private room. The rooms here start from $40.00 per night.

BOOK NOW

Blue Wave Guesthouse Caye Caulker

An excellent choice if you want a bit more privacy. Fan-cooled rooms here start from $30.00 per night.

BOOK NOW
---
Things To Do In Caye Caulker
If you're looking for a tropical paradise with plenty of things to do, Caye Caulker is the place for you. Here are some of the best things to do in Caye Caulker:
Shop and eat at the local markets and restaurants: Caye Caulker is not only a paradise for nature lovers, but also for foodies and shoppers. You can find a variety of local products and souvenirs at the markets and shops along the main street, such as handicrafts, jewelry, clothing, art, and more.
You can also taste some of the delicious Belizean cuisines at restaurants and street stalls, such as lobster, conch, rice and beans, fry jacks, stew chicken, and more.
Snorkel or dive in the clear waters: You can join one of the many tours that offer snorkeling or diving trips to the reef, or even to the famous Great Blue Hole, a giant sinkhole that plunges to over 400 feet deep. You'll be amazed by the diversity and beauty of the underwater world.
Swim With Manatees: One of the most amazing experiences you can have in Caye Caulker is swimming with manatees. Manatees are gentle and curious marine mammals that live in the warm waters of Belize. You can book a tour with a local operator and enjoy the chance to see these majestic creatures up close.
Watch the sunset and dance at the reggae bars: Caye Caulker is also known for its vibrant nightlife, especially on the weekends. You can watch the sunset from one of the many spots on the island, such as the Split, the Iguana Reef Inn, or the Caye Caulker Water Taxi dock.
You can also join one of the sunset cruises that offer drinks, snacks, and music on board. After the sun goes down, you can head to one of the reggae bars and dance the night away with the locals and other travelers. You'll find live music, DJs, karaoke, fire shows, and more.
Feed the stingrays at Iguana Reef Inn: Another fun and unique thing to do in Caye Caulker is to feed the stingrays at Iguana Reef Inn, a hotel that has its own private beach and pier. Every evening around 5 p.m., the hotel staff feeds the stingrays that gather near the shore, and you can join them for free.
You can touch and hold the stingrays as they glide through the water, and even feed them by hand. They are very gentle and friendly, and they won't sting you unless you step on them by accident.
---
Any Questions? Let me know in the comments!
---
LIKE IT? PIN IT!
---
Want more Belize Inspiration? Check out….
---
Disclaimer: This post contains affiliate links. So, if you click on it and purchase something, I get a small percentage at no extra cost to you. As always all opinions are my own and your support is much appreciated.
Related Posts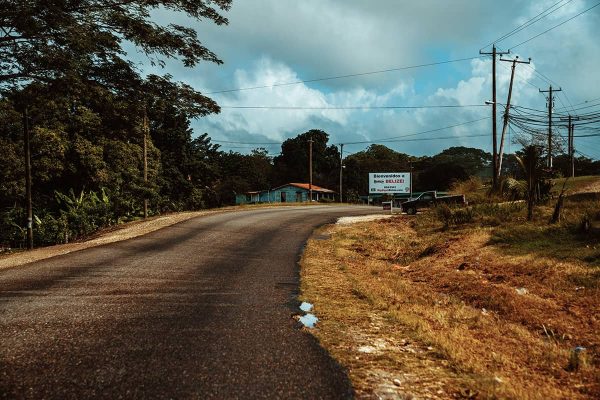 If you are looking for the perfect spot to explore in mainland Belize then there [...]
Come find out all the top tips for backpacking Caye Caulker. This is definitely a [...]
Now if you are exploring the country of Belize no doubt you need to hit [...]