Come check out all you need to know on the Iguana Eco Sanctuary in San Pedro, Ambergris Caye. I will tell you everything about visiting including how to get there, entry fees, what to expect, and whether it is ethical. 
---
If you are looking for a unique experience in San Pedro, Belize, and something landside why not visit the Iguana Eco Sanctuary?
Here you will have the opportunity to get up close and personal with one of the most fascinating creatures on the planet, as well as learn, feed, and interact with the local iguanas.
The Iguana Eco Sanctuary is more than just a tourist attraction. It is also a conservation project that aims to protect and rehabilitate the endangered green iguana, which faces many threats from habitat loss, hunting, and predators.
As Ambergris Caye is such a small island, especially in the main town of San Pedro with tourism taking over it is easy to see how their habitat quickly turns into concrete buildings.
I will say that the Iguana Eco Sanctuary is more on the basic side when it comes to tourist attractions on the island. During the times I have visited, I haven't actually seen anyone working there.
Though you very quickly can spot all the iguanas, on the paths, eating their food or up in the surrounding mangrove forest. It's a nice way to break up activities during the day.
In this post, I will tell you everything you need to know about visiting the Iguana Eco Sanctuary, including how to get there, entry fees, the best time to visit,  and my experience. Ultimately allowing you to make the most out of your trip in San Pedro and contribute to supporting the work these guys are doing for the iguanas.
---
The Iguana Eco Sanctuary In San Pedro: All You Need To Know
---
How I Book Cheap Transport In Belize: GuateGo
---
Iguanas In Belize
Iguanas are amazing reptiles that can be found in many parts of the world, but especially in Central and South America. Belize is a country that has a rich diversity of wildlife, including three main types of iguanas, the green iguana, the black spiny-tailed iguana, and the blue iguana.
The green iguana is the most common and widespread species, and it can grow up to six feet long. It is also known as a bamboo chicken, guana, or garobo, because its meat and eggs are considered a delicacy in Belize.
The black spiny-tailed iguana is an introduced species that is native to Mexico and Central America. It is smaller than the green iguana but faster and more aggressive. It can also change its color from black to gray or brown depending on the temperature.
The blue iguana is a rare and endangered species that is endemic to Belize. It has a distinctive blue color that becomes more intense during the breeding season. It is also the largest species of iguana, reaching up to seven feet long.
---
What Is The Iguana Eco Sanctuary
Eco Iguana Sanctuary Foundation is run by Calvin Young, who is also known as the Iguana Whisperer. He has a passion for these creatures and has rescued many of them from poachers, hunters, and pet traders.
The park is home to hundreds of iguanas, mostly green iguanas, but also some black spiny-tailed iguanas and blue iguanas. The iguanas are free to roam around the park, and visitors can get up close and personal with them. They are very friendly and curious and love to pose for photos.
The park also has a small museum that displays information about the biology, ecology, and history of iguanas. Visitors can learn about the different types of iguanas, their habitats, their diets, their behaviors, their threats, and their importance to the environment.
The park also offers guided tours that explain more about the mission and vision of the foundation, and how they are working to protect and preserve these amazing animals.
---
How I Book Cheap Transport In Belize: GuateGo
---
How To Get To The Iguana Eco Sanctuary
The Eco Iguana Sanctuary is located just around the bend from the main gas station in downtown San Pedro. It is a surprising plot of wild wetland, surrounded by mangroves and filled with the sounds of nature.
To get to the Iguana Eco Sanctuary, you have a few options:
You can take a taxi from anywhere in San Pedro Town. The taxi fare is around $5 USD and the ride takes about 10 minutes. You can ask the driver to drop you off at Jew Fish Street, where the sanctuary is located.
You can rent a golf cart or a bicycle and drive yourself to the sanctuary. The golf cart rental is around $25 USD per day and the bicycle rental is around $10 USD per day. You can follow the signs along Coconut Drive and turn left at Jew Fish Street. The sanctuary is at the end of the street.
You can walk to the sanctuary if you are staying nearby. It is about 2 km from the town center and it takes about 25 minutes to walk. You can enjoy the scenic views of the lagoon and the wildlife along the way.
Personally, I was staying about a 10-minute walk away from the Iguana Eco Corner so it was an easy walk for me. Though the heat can be brutal here so make sure to wear a hat and bring some water.
---
Entry Fee To The Iguana Eco Sanctuary
The entrance fee to the Iguana Eco Sanctuary is $10 per person and it is meant to include a guided tour and a chance to feed the iguanas.
Though personally when I have visited there hasn't been anyone around to offer such as service. Instead, it is more of a hands-off experience, which I prefer for ethical reasons, where you walk yourself around the boardwalks and admire the incredible creatures.
If you are looking for an Iguana Sanctuary which provides guided tours and more chances to interact with the Iguanas I can recommend the Belize Iguana Project in San Ignacio.
You can also make a donation to support their work and adopt an iguana for a year.
---
Opening Hours Of The Iguana Eco Sanctuary
The Iguana Eco Sanctuary is open every day from 8:00 AM to 4:30 PM.
I personally recommend visiting earlier in the day around 10 am. This will not only allow you to beat the crazy hot sun here, but the Iguanas are also always feed in the morning. Instead of having to spot them up in the mangroves, they will all be down on the ground enjoying their breakfast.
---
How Long To Spend At The Iguana Eco Sanctuary
Honestly, it doesn't take too long to explore the Iguana Eco Sanctuary in San Pedro. It isn't too large of a place, so once you have walked the trails and met the iguanas you will be right back at the start.
You can spend as much time as you want at the sanctuary, but we recommend an hour to fully enjoy the experience.
It was quite cool visiting in the morning during their breakfast feeding as they were all quite active and venturing up and down to mangroves to come to the various feeding spots.
Just enjoy walking along the handmade trail through the ecosystem, check out the views in the marina, and observe the different types of iguanas and their behaviors.
---
How I Book Cheap Transport In Belize: GuateGo
---
My Experience At The Iguana Eco Sanctuary
So I have visited the Iguana Eco Sanctuary a couple of times, though I will speak about my first visit when I was backpacking San Pedro solo.
I did have a bit of trouble finding this place, though I didn't have a sim card and instead was relying on maps.me which took me into the petrol station, which is at the back of the park, rather than the entry. As I didn't have data on my phone I headed back to my hostel, got the correct directions, and headed up before my morning ferry from San Pedro to Caye Caulker for a second try.
Luckily this time was much more successful as I walked a short distance on a sandy road around the corner the welcome sign seemed to pop out from nowhere.
Entering the Iguana Eco Sanctuary I pay my entry fee and notice it seems like the breakfast foods have recently been distributed. Pilled up in certain spots is an assortment of vegetables.
I don't spot them at first, but as soon as there is a bit of movement from an iguana my eyes focus in on it, then I quickly realize just how many others there are around me as well!
I wander along the walkways in the sanctuary, looking up at the mangroves spotting the iguanas, as well as being patient when one is blocking the path. I am not in any rush so I just wait for them to wander along and head to one of the feeding spots.
I quite liked visiting here, it was for sure a sanctuary, and even though some people may be disappointed they didn't get a tour, or a photo holding an iguana I was completely okay like this. I enjoyed simply witnessing them in their habitat and admiring them from a distance.
---
What To Pack For Your Visit
Now you know all about the Iguana Eco Sanctuary in San Pedro, let's get into what you should bring with you for your visit:
Suitable Clothing: Since the sanctuary is located on the lagoon side of the island, you'll want to bring some light and breathable clothing that can protect you from the sun and insects. Long-sleeved shirts, long pants, and a hat are recommended. You can also bring some insect repellent to keep the mosquitoes away.
Comfortable Shoes: You'll also need some comfortable shoes that can handle dirt paths and wooden bridges. Hiking shoes, hiking sandals, or trail runners are good options. Avoid flip-flops or open-toed shoes as they might not be suitable for the terrain.
Camera: Don't forget to bring your camera and some extra batteries or a power bank. You'll want to capture the beautiful scenery and the amazing iguanas that you'll see along the way. The sanctuary is home to more than 200 green and black spiny-tailed iguanas, some of which are very friendly and will pose for photos with you.
Water: You might also want to bring some water and snacks with you, as there are no shops or restaurants near the sanctuary. The tour can take up to an hour, depending on how much time you spend observing and interacting with the iguanas.
---
Where To Stay In San Pedro, Ambergris Caye
San Pedro is a popular destination for tourists who want to enjoy the beauty and diversity of Belize and is the best location to explore Hol Chan Marine Park from.  It is the main town on Ambergris Caye, the largest island in the country.
Personally, I stayed at Sandbar Beachfront Hostel and had a great time. They have a comfortable air-conditioned dorm room, a decent-sized pool to relax in, a good restaurant downstairs, awesome location.
In a place with limited options, this was the best choice for me, though one thing to be aware of there isn't much of a social aspect here. There aren't any organized activities, and the only common area is the pool which limits your interactions with other people.
---
Other Things To Do In San Pedro
After you have had an amazing time taking one of the snorkeling tours from San Pedro, it's time to explore more of this paradise island. Here are some other things you can do during your stay in San Pero Belize:
Explore the Mayan Ruins: Belize is home to many ancient Mayan sites, some of which are accessible from San Pedro. You can take a day trip to visit some of the most impressive ruins, such as Lamanai, Xunantunich, or Altun Ha.
You can learn about the history and culture of the Maya civilization, admire the architecture and art of the temples and pyramids, and see some wildlife along the way. Some tours also include activities like cave tubing or zip lining for an extra dose of adventure.
Dive in the Great Blue Hole: The Great Blue Hole is a world-famous diving site that lies about 43 miles from San Pedro. It is a circular sinkhole that measures about 1,000 feet across and 400 feet deep and is surrounded by coral reefs and marine life. Diving in the Great Blue Hole is an unforgettable experience, as you can see stalactites, stalagmites, and various species of sharks, such as bull sharks, reef sharks, and hammerheads.
Visit Caye Caulker: This is a small island near San Pedro, where you can enjoy a laid-back atmosphere, sandy beaches, and turquoise waters. You can also go snorkeling, kayaking, sailing, or fishing.
Visit the Secret Beach: The Secret Beach is a secluded spot on the west coast of Ambergris Caye, where you can enjoy the calm and clear waters of the Caribbean Sea. The beach is not so secret anymore, as it has become a popular destination for locals and tourists alike, but it still retains its charm and beauty.
You can relax on the white sand, swim in the shallow water, or rent a paddleboard or kayak to explore the area. There are also some bars and restaurants nearby, where you can grab a drink or a bite.
---
Any Questions? Let me know in the comments!
---
LIKE IT? PIN IT!
---
Want more Belize Inspiration? Check out….
---
Disclaimer: This post contains affiliate links. So, if you click on it and purchase something, I get a small percentage at no extra cost to you. As always all opinions are my own and your support is much appreciated.
Related Posts
If you are a keen scuba diver and are traveling Belize then you need to [...]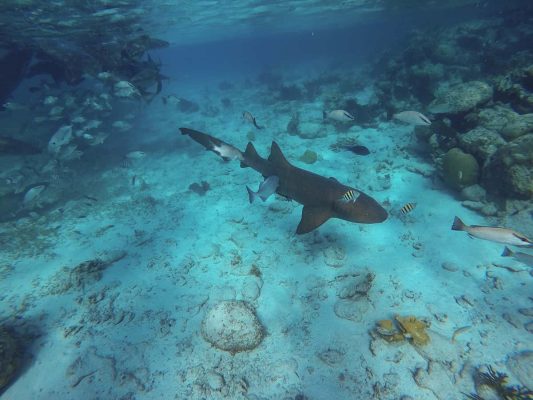 One of my favorite snorkeling spots can be found right in Belize, so of course [...]
If you are an ocean lover and perhaps are thinking of taking a scenic flight, [...]