A Monday meant school and if that's not bad enough the schedule had changed so now we had morning classes, 8.30am-12.30pm. Getting up so early was a difficult task, but I was only a little late. Surprisingly school goes quick and after five hours of Spanish, with me pronouncing everything incredibly wrong, the second to last day at Intercultura was over. It was different having the afternoons free. I headed back home for lunch and a rest before tonight's plans went underway.
 For some reason Mondays seemed to be a party night. We met up at a local Nacho Bar in Heredia for some pre drinking. This is where I spotted a red bull fridge and my night took a blurry turn… "two red bull vodkas and two imperials por favour". At the bar there was a pool table where I somehow managed to sink two balls at once. Though, this win was quickly followed by a loss. I managed to knock over a friends drink which of course had just been opened. The drinks had obviously started to hit us all so in that moment we jump onto the bus to drive to San Jose. The smell hit us quick, someone had obviously been smoking weed on the bus, wonderful.
The reason we were going out on a Monday was to see a band play, and no, not just any band it turned out to be one of the most famous bands from Costa Rica. Though, being in a drunken blur I don't remember their name. The music was great; everyone was jumping, dancing and probably twerking, such good vibes. From there I somehow got back home to the homestay in Heredia. But of course not without a mandatory drunken McDonalds stop through the drive thru in a taxi.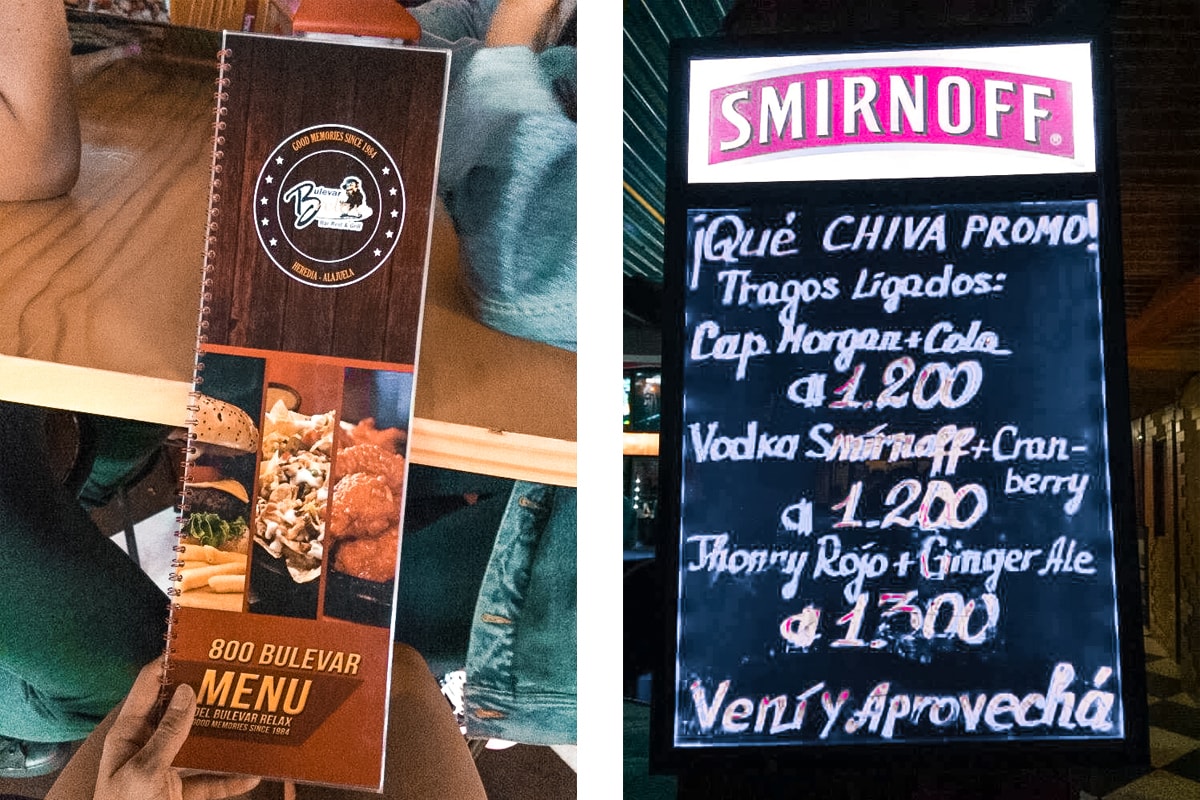 Graduation day…
Today was the final day of Spanish school at Intercultura. I know it may not seem it but I had learned quite a lot. It was also the final day at our homestay so with the bags packed it was time to walk up that horrible hill in the heat. As soon as I arrived at school I ditched the bag in the dance studio and prepared to say goodbye to all the teachers we had all spent numerous hours with over the past week. There was a small 'graduating' ceremony. Everyone received a certificate even with only a weeks' worth of knowledge. To celebrate this and our first week in Costa Rica coming to an end a group of us went to the neighbouring 'Chicken House' and got decent burgers, chips and a drink for $4.    
That night we were staying at Hotel America. It is located uptown so after more climbing we arrived in a comfortable air conditioned room. I finally had my first hot water shower in over a week. This was after being scared to try change temperature after I was electrocuted. Everyone had one last mandatory thing to do before letting loose for the evening… an introduction on level five was a meeting for each of the volunteer project groups. Here is where I meet Wade, our leader. He is an awesome Canadian guy. I also figured out who else is part of the Ostional volunteer group.
After sitting down for the past hour we were itching to get out and explore. We became your typical tourists. Wandering the streets, marvelling at each new experience. Considering we would all be spending the next two weeks in a small village with no ATM, the group and I hit up the local Bank of America. Each taking out $500 cash.
Soon enough it is time for dinner. We are walking single file tripping, falling and jumping over the poorly made footpath in the rain. Once we arrive at the small restaurant the only one of us who can speak Spanish asks the owner whether or not they can cater for the twenty of us. He insist it will be fine while doing a happy dance, knowing the gringos would be spending a lot. With limited translation skills I order the one thing on the menu I know is vegetarian, a margarita pizza.
We wait a couple hours while everyone receives their food. Then it was time to go back to the hotel for drinks. Us girls shoot into the supermarket for vodka. Then decided to take a taxi back to the hotel leaving the boys to walk in the rain. After a couple drinks and a few rounds of 'never have I ever' we headed to level five for some drinking games.
Up here is the most amazing view over the city at night, absolutely magical. On top of that, some vodkas and decent beats we were all set for a good evening. We played games, smoked, drunk, star gazed, got crazy and even more drunk.