Today is a travel day. We head to our final buffet breakfast before boarding the bus to our last destination on this adventure, Samara. A mere two hours away we quickly arrive next to the Pacific Ocean and are given a quick tour of the town before settling into our accommodation.
The Samara Beach Hotel is fairly basic but has all that we need, comfortable beds and a beautiful pool. The girls and I decide to grab lunch at a vegan café, Samara Organics, getting a burger and blueberry banana smoothie. All of which goes down excellently.
We then wonder aimlessly around all the souvenir stores purchasing a couple dresses for that evening and a beautiful crystal necklace for $8. Spending the afternoon shopping and killing time, the sun begins to set and we head to the local restaurant, Gusto Beach, for dinner and happy hour. Never have I ever seen a restaurant so amazing. Right on the beach, lit with fairy lights and covered in white and purple draping. With the mango daiquiris flowing and delicious guacamole being shared it makes for a spectacular evening. Even though we get a bit tipsy, it is a Thursday, so we head back and get a decent night sleep preparing for Friday and Saturday.
First full day in Samara
Grabbing an average breakfast at our average hotel we make our way down to the beach for some morning sea kayaking. I am paired with the guy who I travelled to Costa Rica with, and, who is also my ex. Let's just say to get to fully know someone you need to be put in a challenging scenario together. Eventually we reach an island after struggling against the wind for the past half hour. Here, we have some fruit, feed iguanas and tan, though because of the turning weather it is cut short. We paddle in a straight line towards the shore where a large truck takes us the rest of the way back.
For lunch my friends and I go to Luv Burger. It is a wonderfully vegan/ vegetarian café hidden away from the main road. I order a veggie burger and coconut water and everyone thoroughly enjoys their meals. Including those who love meat.
That afternoon is surfing lessons, something I have never done before. I found it difficult to stand up due to my bad ankle. But, I did actually manage to a couple times, I love the water. After falling off a lot I stay behind and photograph the other half of the ISV group before making my way to sunset yoga. We all mellow out, listening to the ocean and the wind. With the sand underneath us, palm trees swaying in the breeze and the sky turning a lovely shade of pink. It was such a beautiful evening and I even managed to do a headstand.
That evening everyone goes out to dinner at a local steakhouse. Though, since I am vegetarian I just order mushrooms. Service there was extremely slow, but the litre margarita I shared with a friend took the edge off. Afterwards we go to the Mexican bar just in time to catch the $1 tequila specials ending. A couple shots later a group of guys start sending over shots so we try them with salt and lemon, cinnamon and orange and pineapple and salt. Oh and I highly recommend trying the cinnamon and orange combination.
Next, it's time for the reggae bar down at the beach. Though, before we get there we are pulled up by the immigration police who demand to see our passports. This goes on for half an hour, as they police demand more and more information. Later than expected we arrive at the reggae bar. It's time for dancing and drinking. Being just a chill night I head home, though not before buying street food and feeding the stray animals.
Last day in Samara
 Today was a free day, perfect for a sleep in. Waking up for another average breakfast we fill our stomachs then go for a casual stroll to the shops, buying a few final items for our last day in Samara. For lunch we grab a pizza from the plaza across the road and then a lazy swim in the pool. The afternoon is spent relaxing around, finally being able to just chill after a full on two weeks.
[spacer height="1px"]
That evening we head back to our favourite restaurant, Gusto Beach, for one of the girls Birthday, ordering 2 for 1 cocktails and guacamole. After many mango daiquiris and some gnocchi we head off to a pool party down the road at one of the hostels. It was lame, lame music, lame people and lame drinks. As a result everyone decides to go to the bar opposite our hotel. Though, only a few actually make it, the rest to nap away their food babies instead.
The girls and I gossip while playing darts and listening to some really gangster music. Eventually the crowds build up and the rest of the ISV group comes back. We all get dancing with stray dogs walking between our legs.
Next it is back to Gusto Beach where a latin/jazz/reggae band is playing. We dance beneath the moon light with sand under our feet in front of the whole restaurant. Then to finish the night off we walk our way down to the beach where there is a bonfire. We share booze, durries, joints and life stories with people from all around the world before walking back home under the starry sky. A wonderful way to spend the last night exploring Costa Rica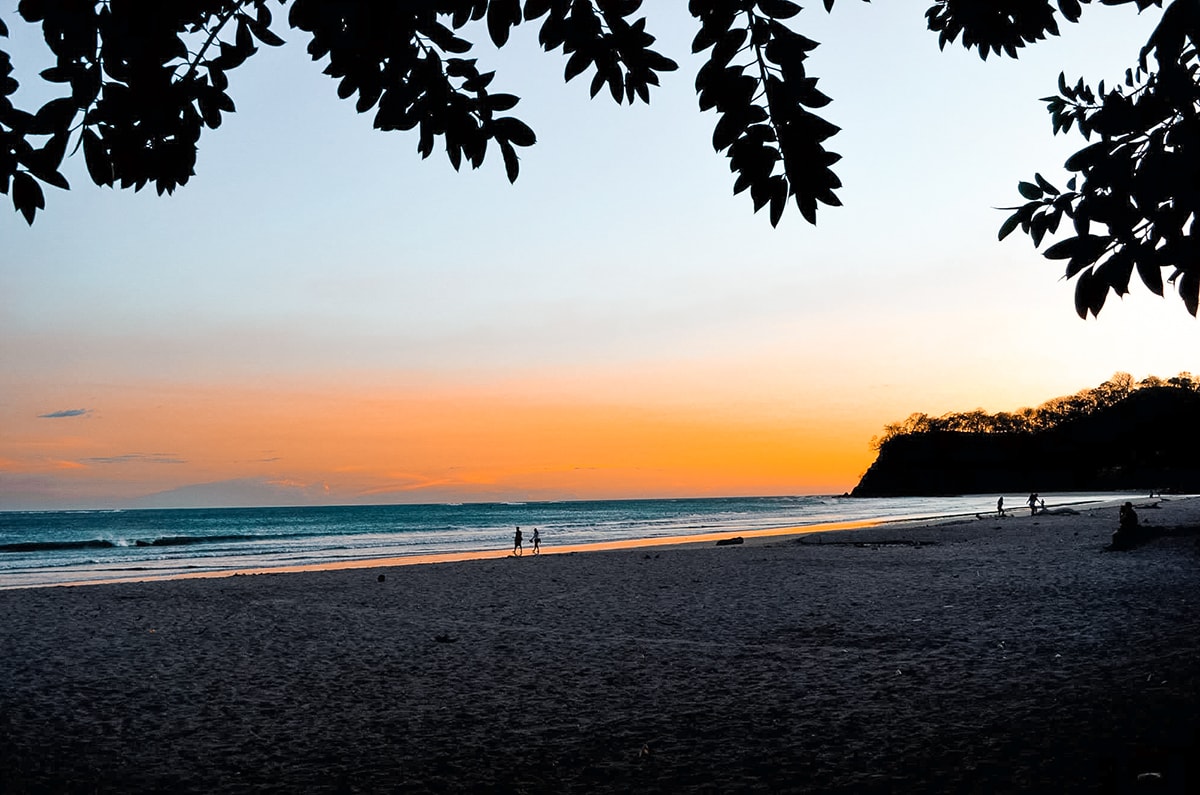 LIKE IT? PIN IT!