All you need to know about going on a crazy adventure with Raro Buggy Tours. I will be giving you all the information you need to know such as costs, what to pack, and what to expect!
---
No doubt one of the most popular things to do in Rarotonga is to go on a Raro Buggy Tour. Though I was always skeptical of this. I mean yes you get covered in mud, but what else does it involve and why do so many people do it?! Well after finally doing literally everything else to do in Rarotonga I decided to book on with Raro Buggy Tours to see what all the hype is about.
Well, it did turn out to be a pretty good time. With a mixture of history, culture, and speed all thrown together into a fun-fueled few hours. I may have had cruel thoughts that next time we are here I definitely need to bring my mother along. It starts off quite chilled and relaxing. Though by the end of the adventure you will seem like a completely different person than who started.
Now let's get into my experience with Raro Buggy Tours and decide whether it is actually worth it. I will let you know prices, what to expect, what to pack, and more in this guide.
---
Exploring With Raro Buggy Tours In Rarotonga
---
Why Go On A Raro Buggy Tours
Now imagine whirling around Rarotonga in an open-aired buggy, the wind is blowing in your hair and you can smell the sea breeze. Suddenly a wave of brown sludge comes flying over you. Welcome to Raro Buggy Tours
Being one of the most popular things to do in Rarotonga I was expecting your generic Rarotonga tour. Think coconut demonstrations and a few basic facts are thrown in there. Though our guide was incredible. He took us to important historic parts of the island I didn't even know existed. We learned so much in the few hours and he was also open to us asking questions about what we were curious about.
Ultimately this adventure with Raro Buggy Tours was the perfect mix of learning about the history and culture of the island as well as absolutely messy speedy fun. Honestly, I thought I would be a bit bored in the passenger seat so made my partner promise me to swap seats halfway through. Though when the time came I was having such an amazing time I was happy being the passenger.
---
Cost Of The Raro Buggy Tour
You can have your own buggy for $125.00 or you can share a buggy with a friend for $150.00 ($75.00 each). If you choose to share a buggy you can always swap drivers halfway through like we planned.
This can be booked either in advance or once in Rarotonga at your hotel. Personally, I recommend the second option. As being an introverted millennial I tried booking online first and the process was just such a hassle. After booking online you were then sent an email where you had to print off, fill in, and send back a credit card authorization form. Personally, I would much rather use an online secure portal than sending information like that via email. Plus I was already on the island and didn't have access to a printer.
Therefore I actually went to my hotel reception and booked the tour through them. I paid the hotel and they gave the funds to Raro Buggy Tours. To me, this was a much secure payment method.
Alternatively, you can head to Muri Beach Club Hotel and book direct with them as they oversee the tours.
---
Starting Our Raro Buggy Tour
Heading to Wigmore's Superstore we meet our guide for today. This is during the New Zealand Cook Islands bubble times, actually just a couple of weeks after it had opened. The other family who was booked on for the tour canceled last minute so it would be a private tour today. This makes me a bit hesitant. Unfortunately, I am pretty introverted so I don't like the pressure of having to make conversation.
Luckily the wonderful guide is super friendly. Then he instructs us to follow him in our car to the starting point just outside the old Sheraton Hotel. Parking up, it is a gorgeous day. The sun is shining and there are no clouds in sight. Considering this is meant to be quite a muddy experience I wasn't too sure how this would go.
Next up we are introduced to our ride. An incredible open-aired buggy jeep-style vehicle. Honestly, this is pretty damn close to the car of my dreams. James takes the wheel while I jump into the passenger side. I mean if we are going to swap I want the part where I can drive like a maniac and get covered in mud right.
---
Adventuring Inland
We drive, following behind our guide, to the inner circle road around Rarotonga. This piece of paradise is a lot quieter than the main road and truly feels like a step-back in type. The lush jungle overhangs while we pass by domesticated pigs, dogs, and chickens on the local properties.
We eventually come to a stop at what we are told is an ancient site. I won't go into too much detail as I probably won't tell it correctly, or as well as our guide did. But on this overgrown land was where many bodies were dumped during the days when the tribes around the island would fight. We had no idea about this history and all the wars that went on.
It was peaceful standing there. Though knowing the past it was obvious it hadn't always been this way. Supposedly the river that runs through here used to run red from the blood of the dead.
We were also provided with the opportunity to ask basically anything we wanted. The Cook Islands nearly seems like a second home to us so we were curious how things were when the borders were completely shut down. It's obvious people have had to upskill and diversify their income streams. Though this seems to have brought about a lot more entrepreneurship on the island. There are so many new food trucks opened up around the island and young people reaching for their dreams.
---
Visiting The Sheraton
After heading back towards the main road we enter the grounds of the old Sheraton Hotel. Contrary to the name it wasn't actually associated with the worldwide brand. Instead, the supposed 7-star hotel's name was chosen as a symbol status to encourage bookings.
Nowadays this eyesore is a great contrast from the small style homely hotels and hotels that currently dot the island. I mean zoom in on a map of Rarotonga, it's hard to miss. This place was and still is the cause of great debate. Even though it was only months out from opening when the building stopped, there was still a lot of work to go which would've changed the entire tourism industry of Rarotonga.
There was still a road to be built behind the back of the resort. Actually, the portion out the front would be re-routed behind. This would be to make room for a man-made beach-style pool overlooking the ocean.
Many locals weren't paid for their work at the hotel. So when word got out that the building had stopped and that they had run out of money everything inside was fair game. Fully furnished rooms were stripped, beds, televisions, air conditioning units, even marble counters were gone.
There is so much history, and questionable business practices surrounding this property. The lease will run out within my lifetime so it'll be interesting to see what becomes of this place then. Currently, it is open only for these buggy tours, paintball, and laser tag.
---
Getting Muddy
After an interesting tour around the Old Sheraton, we head down an overgrown path to the back of the property. Here we are greeted with a driving course and big puddles. I am surprised to see these puddles due to the fact that it hasn't rained in like a week here. Though the hose soon gives away the secret. Nevertheless, this was a positive thing as this is known for being a highlight when venturing with Raro Buggy Tours.
I let James continue driving, just to see what it is like. He whizzes around the corners, sliding in the mud. We splash through the puddles and waves of brown dirty water come flying over the front and straight at us. I make a mental note to keep my mouth closed for the next time.
We continue around and around the courses in various directions. Because we are the only ones driving today we don't have to go in a set route and worry about crashing into someone else.
Next, I am given the opportunity to swap and give driving a go. I am hesitant because honestly, I am having the time of my life in the passenger seat. Thank god I had those little handlebars to hold onto for dear life. I give driving ago, surprisingly in a more sensible manner. Though obviously, this is a little too slow through the puddles as the buggy comes to a stop as I got the engine too wet. Luckily our guide quickly fixes it and I jump back into the passenger seat.
---
Wigmore's Waterfall
Since we are now a muddy mess it is time to clean up. We head to a nearby viewpoint before driving off to the famous Wigmore Waterfall. This was surprisingly my first visit there so I honestly had no idea what to expect.
It is quite a journey from the main road up into the mountainous interior of the island. The temperature is hot but we are soon covered by the overhead jungle shadowing us. As we pull up this looks like absolute paradise.
A man-made piece of paradise with clear water and a small trickle down the rockface. The water is cold. Though being a kiwi this is the type of temperature I am used to swimming in. I dive in headfirst and while a brown cloud dissipates into the water around me. Scrubbing my face, hair, and every inch I try to clean off as much as I can.
After enjoying a bit of a refresh we head back to the Sheraton to say goodbye. We are now semi-clean, though we are certainly a few shades darker from the mud. Before heading back to our resort we run into the ocean, completely clothed. Probably looking crazy to people nearby, though this was the perfect ending to a fun tour.
---
What To Pack
There are some things it's best to take along with you on your Raro Buggy Tour to make the most out of your experience:
Camera: Of course you can't forget the camera. You will want to capture all these incredible memories! Be aware if it is raining bring a waterproof camera or a waterproof bag to store your camera in!
Covered Shoes: To keep your feet safe you will need to bring with you some covered-in shoes. Sneakers are a good option.
Sunblock: Let's avoid looking like a lobster and bring a reef-safe sunblock along with you!
Sunglasses: It'll definitely be worth bringing sunglasses along with you. The sun shining off the sea can be super bright so protect your eyes by bringing along a pair of sunglasses.
Drivers License: You will need to bring your driver's license in order to drive the buggy. They do check this at the start of the tour.
Towel: I would recommend bringing a towel for your swim at Wigmore's Waterfall.
Old Clothes: Because you will get super muddy, no matter the weather, you are best to wear old clothes. In all honesty, our clothes didn't stain though we didn't have access to a proper washing machine in Rarotonga so we basically had to pack everything away after it had dried out.
---
Where To Stay In Rarotonga
There are plenty of options when it comes to accommodation in Rarotonga. From small hostels, apartments on the beach, luxury resorts, and everything in between.
Though just be aware that even 5-star resorts in Rarotonga don't actually look too great so adjust your expectations accordingly. This is an island with limited resources and seems to be a few years behind New Zealand, which is again, a few years behind the rest of Oceania. As a result, rooms can look quite dated, think floral prints from the '70s, though that's just the atheistic on the island.
Find the best hotels in the area
---
Things To Do While In Rarotonga
One great thing about Rarotonga is that is it basically impossible to get bored during your stay! There is such a wide variety of things to do and beautiful sights you will constantly be out exploring.
Also, for a more extensive list be sure to check out my post on the Best Things To Do In Rarotonga.
Beach Hop: Now you cannot go to Rarotonga and miss out on exploring the incredible ocean life and this can easily be done on a budget, if not for free. Basically, no matter where you are staying on the island the ocean is just a walk away. Do what I did and bring your own snorkel, or hire your own from a few dollars a day. Honestly, you could spend hours exploring the underwater life and corals (pro tip: the best snorkeling spot is Aroa Marine Reserve behind The Rarotongan beach resort or in front of Fruits of Rarotonga). Make sure to check out the best beaches in Rarotonga.
Aitutaki Day Tour: If you are looking for a once-in-a-lifetime experience definitely think about booking the Aitutaki Day Tour. Though it is pricey, 100% worth it. It still has some of the best beaches I have ever seen.
Cultural Show: A more tame activity is checking out one of the evening cultural shows. These are a magnificent insight into the Cook Island culture with extremely impressive performances involving dance and fire. A buffet dinner is also included with both western and local favorites.
Across Island Hike: One of the most popular things to do is do the Across Island Hike and visit The Needle. This will take you right into the interior of the mountainous island with some amazing ocean views.
Raro Buggy Tours:
I have always wanted to do the buggy tour as there is such hype so I booked it in on my most recent trip. I remember saying at the start to my partner that we must swap halfway so I get some fun. Though when that time came I was enjoying it so much I was happy to stay a passenger!
Swimming With Sea Turtles: No matter what your budget is swimming with sea turtles is one activity I recommend to everyone visiting Rarotonga. This experience will have you swimming alongside these majestic beauties. I did this with Ariki Adventures and cannot recommend this enough. As an alternative, they also offer a lagoon safari which I recently did. This is suitable for all ages and is safe for those who are not the most confident swimmers.
Lagoon cruise: More of a family-friendly activity is the lagoon cruise. There are a couple of companies you can book with, though we went with Koka Lagoon Cruises. It is a perfect way to get into the Cook Island spirit. With plenty of performances, snorkeling, entertainment, and a delicious lunch it is the ideal way to spend half a day.
---
LIKE IT? PIN IT!
---
Want more Cook Islands inspiration? Check out….
---
Disclaimer: This post contains affiliate links. So, if you click on it and purchase something, I get a small percentage at no extra cost to you. As always all opinions are my own and your support is much appreciated.
Related Posts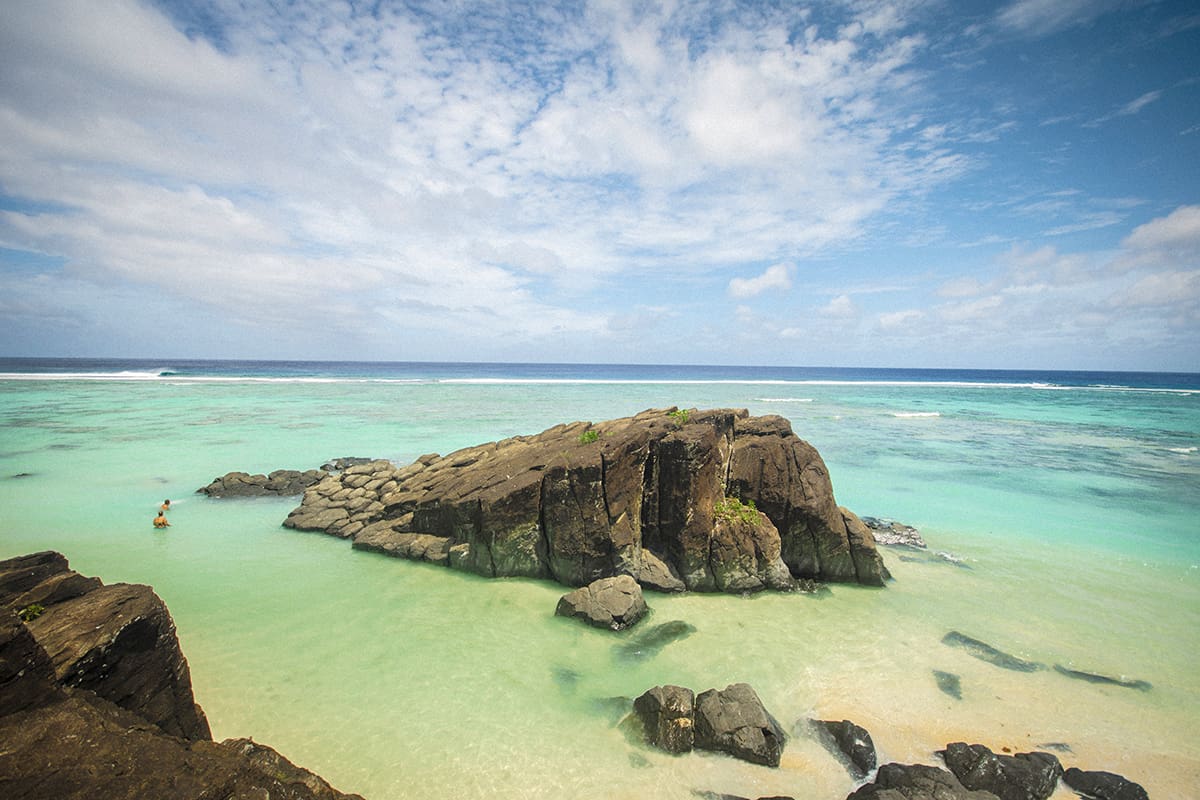 Want to explore the best beaches in Rarotonga? From my favorite beaches, the best snorkeling [...]
Come check out the absolute best things to do in Rarotonga for the ultimate holiday. [...]
2 Comments
Find out everything you need to know about going on a Lagoon Cruise in Rarotonga [...]
12 Comments