Find out all you need to know about seeing a cultural show in Rarotonga with Te Vara Nui. I will be giving you all the information you need to know such as how to book, costs and what to expect.
---
If you are truly wanting to learn and experience the best The Cook Islands has to offer why not go along to one of the cultural shows in Rarotonga. Watch some incredible dancing and have a delicious local meal. Though you'll quickly realize there are a few different options to choose from. So how do you know which is best? Well, I booked with Te Vara Nui Village and will be letting you know all about my experience with them.
It was easy enough to book and provide us with a fantastic evening. With shows held three nights per week and set in an amazing garden, you will regret it if you don't go!
You can opt to do the cultural village tour or the overwater night show & buffet dinner, or even better book the combo extravaganza and do both! With friendly staff, a gorgeous location, and some impressive entertainment it is a great way to spend an evening.
---
Experience A Cultural Show In Rarotonga With Te Vara Nui
---
Why Do A Cultural Show In Rarotonga
I highly recommend doing a cultural show in Rarotonga. This will provide you which more of an appreciation for the culture and the amazing history of this island. The whole thing was utterly impressive from the choreography, delicious foods, and friendly hospitality.
What I really enjoyed about going through Te Vara Nui than other companies is that we also did a village tour. This encompassed us being shown through the various thatched buildings, each one dedicated to a particular skill or part of their history.
We left with a lot more appreciation and understanding of the culture from when we started. The whole experience came together to not just provide some evening entertainment, but provide knowledge of the history.
Te Vara Nui provides a fun evening for the family or a romantic dinner with a show. No matter who you are traveling with you will find yourself in awe of the spectacular performance and delicious food.
---
How To Book
If you are wanting to book a cultural show in Rarotonga definitely check out Te Vara Nui. You can either book tickets directly on their website or when you are in Rarotonga. If you'd like to wait until you are on the island you should be able to book through your hotel, or you can call Te Vara Nui and book tickets then.
Be aware that if you don't book in advance then you may miss out on the chance to visit. They often get booked up especially in the busy periods such as School Holidays when everyone is traveling.
---
How Much Is Te Vara Nui
They offer 3 different experiences which you can choose from:
The Village Tour: The Village tour costs $55.00 for an adult and $35.00 for a child aged between 6 to 11 years of age. Children aged 5 and under and free to bring along.
Overwater Show and Buffet Dinner: The Overwater Show and Dinner costs $115.00 for an adult and $55.00 for a child aged between 6 to 11 years of age. Children aged 5 and under are free. They also offer deals for families.
Combo Of Both: The Combo ticket includes both the village tour and overwater show and buffet dinner at a discounted rate. For an adult, the cost is $135.00, and a child aged between 6 to 11 years of age costs $65.00. They also offer family packages for the combo.
---
Arriving At Te Vara Nui
Jumping off the minivan and heading into the lobby there is a dampness in the air. This is thanks to a large thunderstorm that passed less than an hour ago. Though, luckily the facilities are all undercover. One of the friendly staff greet us with shell necklaces and directs us inside where we line up and check-in.
A complimentary drink is provided and we take in the beautiful view of the pond, as well as the surrounding restaurants. We sip away as all the guests arrive for the cultural village tour.
Soon with everybody checked in a loud thundering noise comes from the middle of the room. A man is standing there introducing himself to the crowd in his traditional flax-woven clothing.
---
The Village Tour
We follow him outside and through to a large gate, the beginning of the cultural tour. Through that gate, we enter a building and learn about the history of Rarotonga and the other Motus in the Cook Islands.
Then it's on to learning about the marae, which is extremely different from the New Zealand version. Afterward, we discover local medicine and its uses. Next, we follow one of the gentlemen into another building where we are shown the local boats and how they navigated the seas back in the day. Lastly, it's time to learn about clothing and how it is made. More volunteers are needed and we all have a good laugh, but not before one more demonstration on coconuts and the importance they have in the Cook Islands.
---
Buffet Dinner
After the interesting cultural village tour and having gained a whole new appreciation to the Cook Islands culture it is time for the buffet dinner portion of the evening. With darkness setting upon us, we are sat in our preallocated seats and mingle among our diner mates.
Drinks are ordered including the ever-so-popular cocktails to get the evening going. Soon enough dinner is served and each table is brought up one by one. There is an amazing selection, even for fussy vegetarian eaters like me.
Each dish is labeled with its name, whether it is vegetarian, vegan, gluten-free, and if it is a local dish or not. Having a buffet provides the perfect opportunity to try new foods.
A soup is also on offer which tames the hungry stomachs of those who have to wait a little longer for their table to be called. Everything you would imagine is available. Including the local favorites of poke and orange salad is available, to the western favorites of scallop potatoes and even sushi!
Also if you have children, do not worry, there are plenty of options for them.
---
Overwater Cultural Show In Rarotonga
As people begin to full up after their second and third helping the lights begin to dim for the overwater show. Seats are taken on the front of the restaurant overlooking the pond and the anticipation grows among the crowds.
Soon the live band starts playing. One of the local legends is told and shown through the dances of the performers. Both on the stage and on the surrounding water their amazing moves captivate both the crowds and their cameras.
Men with fire sticks dance around the stage while lighting some of the candles. The women hypnotize the audience with their hips. Each segment of the show is finished with a massive cheer from the crowd.
After the amazing overwater show, the dessert is served. Which is good because all that clapping has worked up an appetite. A delicious spread of a variety of dishes is set on the buffet tables. From fresh fruit like papaya and watermelon to chocolate cakes and tiramisu.
It is the perfect way to end the evening and fulfills my sweet tooth cravings. While this is going on the dancers come around to the restaurants to interact with the guests. They show off their moves up close and personal while our cameras keep snapping.
Once the electric moods start to die down as people prepare to depart we head off into the wet Rarotongan night. This experience has truly opened my eyes to the Cook Islands culture. Especially, providing me with a greater opportunity to understand the history.
---
Is Te Vara Nui Worth It
The price is quite a bit of money. Though I must say it is worth it. In exchange, you receive a buffet dinner featuring both local and Western favorites. As well as a top professional performance which will leave you amazed.
No matter who you are traveling with this is the perfect activity. It keeps both children entertained, and no doubt practicing some of those dance moves later when you are trying to sleep. Also if you are on a honeymoon the dark lighting creates a romantic atmosphere.
---
Where To Stay In Rarotonga
There are plenty of options when it comes to accommodation in Rarotonga. From small hostels, apartments on the beach, luxury resorts, and everything in between.
Though just be aware that even 5-star resorts in Rarotonga don't actually look too great so adjust your expectations accordingly. This is an island with limited resources and seems to be a few years behind New Zealand, which is again, a few years behind the rest of Oceania. As a result, rooms can look quite dated, think floral prints from the '70s, though that's just the atheistic on the island.
Find the best hotels in the area
---
Things To Do While In Rarotonga
One great thing about Rarotonga is that is it basically impossible to get bored during your stay! There is such a wide variety of things to do and beautiful sights you will constantly be out exploring.
Also, for a more extensive list be sure to check out my post on the Best Things To Do In Rarotonga.
Swimming With Sea Turtles: No matter what your budget is swimming with sea turtles is one activity I recommend to everyone visiting Rarotonga. This experience will have you swimming alongside these majestic beauties. I did this with Ariki Adventures and cannot recommend this enough. As an alternative, they also offer a lagoon safari which I recently did. This is suitable for all ages and is safe for those who are not the most confident swimmers.
Aitutaki Day Tour: If you are looking for a once-in-a-lifetime experience definitely think about booking the Aitutaki Day Tour. Though it is pricey, 100% worth it. It still has some of the best beaches I have ever seen.
Raro Buggy Tours:
I have always wanted to do the buggy tour as there is such hype so I booked it in on my most recent trip. I remember saying at the start to my partner that we must swap halfway so I get some fun. Though when that time came I was enjoying it so much I was happy to stay a passenger!
Beach Hop: Now you cannot go to Rarotonga and miss out on exploring the incredible ocean life and this can easily be done on a budget, if not for free. Basically, no matter where you are staying on the island the ocean is just a walk away. Do what I did and bring your own snorkel, or hire your own from a few dollars a day. Honestly, you could spend hours exploring the underwater life and corals (pro tip: the best snorkeling spot is Aroa Marine Reserve behind The Rarotongan beach resort or in front of Fruits of Rarotonga)
Lagoon cruise: More of a family-friendly activity is the lagoon cruise. There are a couple of companies you can book with, though we went with Koka Lagoon Cruises. It is a perfect way to get into the Cook Island spirit. With plenty of performances, snorkeling, entertainment, and a delicious lunch it is the ideal way to spend half a day.
Across Island Hike:
One of the most popular things to do is do the Across Island Hike and visit The Needle. This will take you right into the interior of the mountainous island with some amazing ocean views.
Quad Biking: If you are a bit of an adrenaline junkie then quad biking is perfect for you! Head right into the inland area and among the jungle. Explore off the beaten track and get some of the best views of the famous needle which stands high over Rarotonga.
---
LIKE IT? PIN IT!
---
Want more Cook Islands inspiration? Check out….
---
Disclaimer: This post contains affiliate links. So, if you click on it and purchase something, I get a small percentage at no extra cost to you. As always all opinions are my own and your support is much appreciated.
Backpackers Wanderlust was a guest on the Combo Extravaganza Tour with Te Vara Nui Village while in The Cook Islands, however, as always, all opinions are my own.
Related Posts
All you need to know about going on a crazy adventure with Raro Buggy Tours. [...]
Find out all you need to know about going on the Aitutaki Day Tour with [...]
18 Comments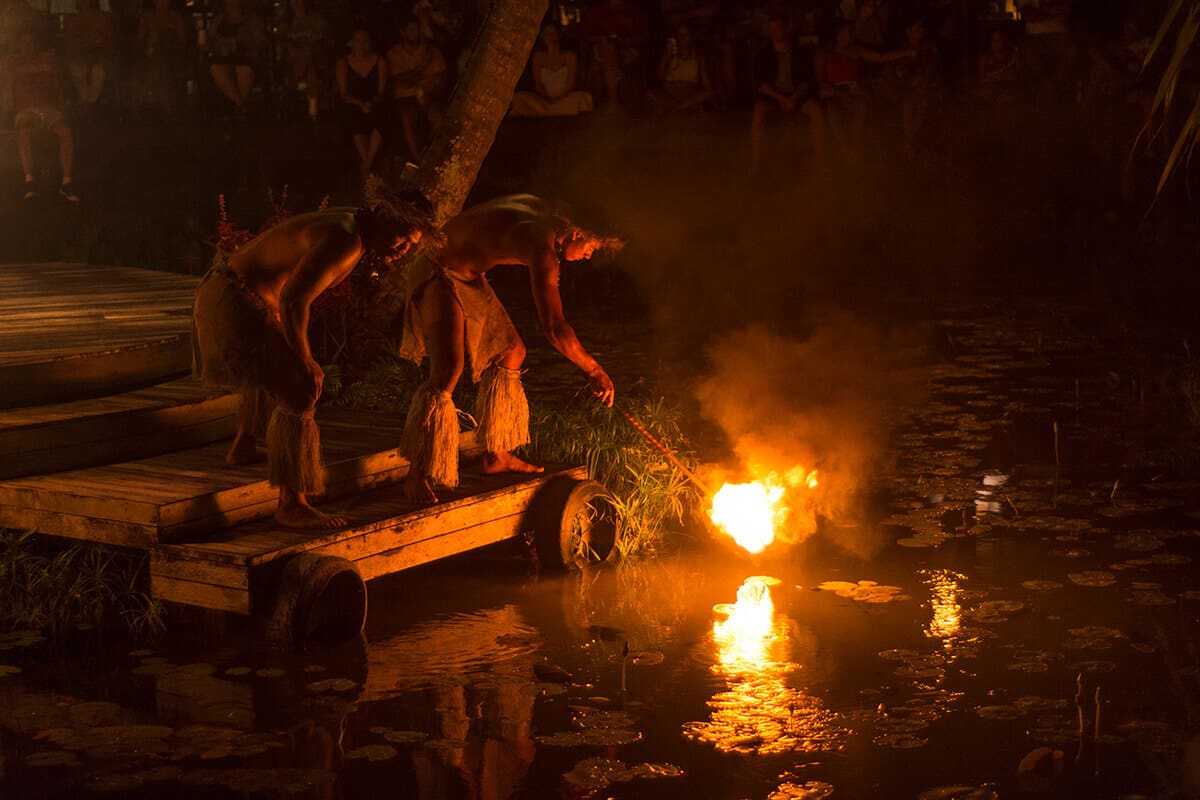 Find out all you need to know about seeing a cultural show in Rarotonga with [...]
47 Comments