Find out everything you need to know about car rental in Rarotonga. I will be giving you all the information you need to know such as whether it is worth it to hire a car in Rarotonga, road rules, insurance, and costs.
---
If you are wanting the ultimate holiday experience in Rarotonga, but are wanting to hire a car this post is for you. Even though it is a super small island doing a car rental in Rarotonga is just so easy. It's a chilled-back atmosphere there so you don't want to be stressing about how you are going to get from point A to point B.
Though there are some things you will want to know so you have a worry-free experience. I mean we have all heard about shady rental car places which charge you an arm and a leg for damages that the car already had! Luckily the people of Rarotonga are friendly and things like that rarely happen there. Nevertheless, you will want to continue reading this car hire in Rarotonga guide to find out everything you need to know.
Though before we get into those nitty-gritty details imagine this. You're driving around in paradise, the sun is out, the palm trees are swaying and you have the freedom to explore as little or as much as you like. Feel like popping over to the other side of the island for a sunset beer? Done. Want to grab a meal from your favorite restaurant? It's only a short drive away.
So now I have gotten you all excited for your Rarotongan adventures let's get into it. Read on to find out why it is worth hiring a car in Rarotonga, prices, companies, types of cars, road rules and so much more!
---
Car Rental In Rarotonga: All You Need To Know About Car Hire In Rarotonga
---
Why Get A Car In Rarotonga
It is definitely worthwhile to hire a car in Rarotonga. Unless you are planning to stay completely at your resort and eat all meals at the onsite restaurant you will probably want to explore the other parts of the island. Even if this sounds like you I would highly recommend reconsidering! Rarotonga is an amazing place, it has many incredible beaches, delicious restaurants, and awesome activities to check out!
Sure you could use the bus to get around Rarotonga. Though the one downside is that you will be stuck to quite a strict schedule. There are also minimal departures on the weekend which can make it difficult and long to travel around. Alternatively though could hire a scooter in Rarotonga, this will give you freedom, and it's a cheaper alternative. Though you better hope for no rain and be prepared to go through the hassle of getting your tourist scooter license.
Hiring a car will allow you to have a smooth holiday where you can do whatever you please with minimal limitations. I have visited Rarotonga and traveled around by bus, scooter, and car, and I must say having a car was definitely the easiest. We could just pop do the road for our morning coffee no matter if it was pouring rain. We didn't have to constantly avoid potholes holding on for dear life. It simply provided us the freedom to do whatever we liked whenever we liked.
---
How Much Is Car Rental In Rarotonga
Depending on what company you choose to do your car rental in Rarotonga, will decide the rate you are charged. There are also additional charges you may like to add to your rental such as airport pick up/ drop off or insurance.
Though on average you can expect to pay around $60.00 per day for your car hire in Rarotonga. If you are traveling with a group of people this can work out relatively cheaply when split between everyone.
On top of this if you want to pick up / drop off your car at the Airport this is an additional charge of around $40.00 for both. As many hotels and resorts around the island typically charge $30.00 per person each way for an airport transfer this works out relatively cheap.
Car insurance will bump up this price even more. For comprehensive coverage, you can add an extra $20.00 per day to your car rental total. Though this means the car hire company won't put a hold on your credit card as you are completely covered. Just be sure to read the terms and conditions, but I will explain more about that later. If you have car insurance included in your travel insurance then you won't need to worry about purchasing additional insurance through the rental company. Though be prepared for them to put a hold on your credit card for a particular amount, typically $1500.00, to act as a sort of bond in case of damages.
Overall you should expect to pay somewhere between $300.00 to $500.00 for a 7-day car rental in Rarotonga.
---
Where To Hire A Car In Rarotonga
There are plenty of places where you can hire a car in Rarotonga. Personally, I have only used Polynesian Rentals as I hired a scooter through them previously with minimal issues.
Polynesian Hire is a reputable company with seven different branches around the island. This makes returning or picking up your car super easy, no matter where you are staying! They also have branches next to The Rarotongan Resort and The Edgewater Resort, both of which are top picks for travelers.
They may not be the cheapest option on the island. Though I managed to pick up my car from them at 1 am in the morning with no after-hour charges. What awesome customer service. The team is always helpful and even on a Sunday when the majority of the island is at church you will be able to get in touch if you are in trouble. I have used them both with their own comprehensive insurance plan and organizing insurance separately through my travel insurance when booking their cheapest car option available. Neither time did I have any issues whatsoever. Alternatively, I have heard very good things about
Sweet As Car Rental
.
---
What Type Of Car To Hire
There is an assortment of cars you can hire in Rarotonga and that all changes depending on the agency you rent with. You can find cheaper options as well as a few luxury holiday options which you may want to splurge on.
The cheaper options typically include Toyota Ractis or Suzuki Swift type of cars. These are your cheap and affordable compact 4-door cars that can fit a family, but you may struggle to fit your luggage in as well. This is what the majority of people in Rarotonga hire. It was interesting visiting shortly after the New Zealand bubble opened and seeing thousands of these cars parked up in fields unused due to the fall of tourism over that period.
For more luxury options you can get Jeeps or a Convertible. The ultimate holiday mode type of transport. Though be aware you will pay a lot more to travel around the island in such a style.
You are also able to hire large vehicles such as 16-seater vans and 8-seater minivans. These of course are a bit more pricey. Though if you are traveling in a large group you can easily split the costs to make it an affordable option.
---
Driving In Rarotonga
It is relatively straightforward to drive around Rarotonga. There is only one main road where you will find the majority of restaurants, attractions, and hotels all situated. It takes around 50 minutes to travel around the circular road which is 32 kilometers in diameter and has some incredible views. This means it is pretty hard to get lost.
The speed limit here is also 50kmph and drops lower around schools during certain hours. This speed perfectly represents what it's like to travel around Rarotonga. No one is in a rush they are just enjoying the incredible views. Around Muri Beach, you will see the speed limit drop to 30kmph and 40kmph in busy towns.
Road rules are relatively the same as in New Zealand and Australia. So much so that I managed to pass my tourist scooter license with no studying of the Rarotonga road rules.
You will need to drive on the left hand side of the road here in the Cook Islands. To make things easy there are absolutely no traffic lights on the island. Though you will find two roundabouts in the main township of Avarua.
---
What License Do I Need
Travelers in Rarotonga are only able to drive the same class of vehicle they are allowed to on their license from their home country. Therefore if your license only allows you to drive a car, the same rules are applied here in the Cook Islands.
You are able to drive around Rarotonga on this license for up to 6 months before you will need to apply for a local one. Though obviously it is expired, suspended, or disqualified you will no longer be entitled to drive using it.
If your license isn't in English you are best to get an international driver's license from your home country.
---
Do I Need Car Insurance
It will definitely be best to have some sort of car insurance with hiring a car in Rarotonga. Though be aware that many rentals include a standard insurance option with the fees. With this, it drops the excess to around $1500.00 to $2000.00 in case of an accident.
Nevertheless, you are on holiday and you probably don't plan on spending that much. Though no matter where you are in the world accidents happen. It's unlikely your car will be broken into, though more so that a tree may fall onto your car or the windscreen cracks from a stone chip.
Many car rental companies in Rarotonga have the option of an additional comprehensive insurance policy. This is around an extra $20.00 per day and will drop your excess to $0.00. They will cover you for all accidents unless specified in the terms and conditions.
You may instead organize a travel insurance which covers car hire. This is perfectly fine too. Though be aware they are unlikely to provide a $0.00 excess for car rental. The rental company will put a hold on your credit card for the excess amount per their standard insurance. In case of an accident, they will hold onto this amount and you will need to organize a refund with your insurance company.
---
Car Rental Terms & Conditions
Even if you do buy comprehensive insurance with your chosen car rental in Rarotonga there are certain things you need to be aware of.
The first major thing is that often it is listed in the terms and conditions that insurance will not cover you on unsealed roads. Be aware this does include the road to the popular Wigmore Waterfall.
Next off is coconut trees. If a coconut falls on your car because you parked underneath a coconut tree it is likely this is not covered by comprehensive insurance. This comes down to a common sense thing, unfortunately, even though it may not be obvious to everyone.
---
Where To Stay In Rarotonga
There are plenty of options when it comes to accommodation in Rarotonga. From small hostels, apartments on the beach, luxury resorts, and everything in between.
Though just be aware that even 5-star resorts in Rarotonga don't actually look too great so adjust your expectations accordingly. This is an island with limited resources and seems to be a few years behind New Zealand, which is again, a few years behind the rest of Oceania. As a result, rooms can look quite dated, think floral prints from the '70s, though that's just the atheistic on the island.
Find the best hotels in the area
---
Things To Do While In Rarotonga
One great thing about Rarotonga is that is it basically impossible to get bored during your stay! There is such a wide variety of things to do and beautiful sights you will constantly be out exploring.
Also, for a more extensive list be sure to check out my post on the Best Things To Do In Rarotonga.
Across Island Hike: One of the most popular things to do is do the Across Island Hike and visit The Needle. This will take you right into the interior of the mountainous island with some amazing ocean views.
Lagoon cruise: More of a family-friendly activity is the lagoon cruise. There are a couple of companies you can book with, though we went with Koka Lagoon Cruises. It is a perfect way to get into the Cook Island spirit. With plenty of performances, snorkeling, entertainment, and a delicious lunch it is the ideal way to spend half a day.
Beach Hop: Now you cannot go to Rarotonga and miss out on exploring the incredible ocean life and this can easily be done on a budget, if not for free. Basically, no matter where you are staying on the island the ocean is just a walk away. Do what I did and bring your own snorkel, or hire your own for a few dollars a day. Honestly, you could spend hours exploring the underwater life and corals (pro tip: the best snorkeling spot is Aroa Marine Reserve behind The Rarotongan beach resort or in front of Fruits of Rarotonga)
Swimming With Sea Turtles: No matter what your budget is swimming with sea turtles is one activity I recommend to everyone visiting Rarotonga. This experience will have you swimming alongside these majestic beauties. I did this with Ariki Adventures and cannot recommend this enough. As an alternative, they also offer a lagoon safari which I recently did. This is suitable for all ages and is safe for those who are not the most confident swimmers.
Aitutaki Day Tour:
If you are looking for a once-in-a-lifetime experience definitely think about booking the
Aitutaki Day Tour.
Though it is pricey, 100% worth it. It still has some of the best beaches I have ever seen.
Raro Buggy Tours: I have always wanted to do the buggy tour as there is such hype so I booked it on my most recent trip. I remember saying to my partner that we must swap halfway so I get some fun. Though when that time came I was enjoying it so much that I was happy to stay a passenger!
Quad Biking: If you are a bit of an adrenaline junkie then quad biking is perfect for you! Head right into the inland area and among the jungle. Explore off the beaten track and get some of the best views of the famous needle standing high over Rarotonga.
Cultural Show: A more tame activity is checking out one of the evening cultural shows. These are magnificent insights into the Cook Island culture with extremely impressive performances involving dance and fire. A buffet dinner is also included with both Western and local favorites.
---
LIKE IT? PIN IT!
---
Want more Cook Islands inspiration? Check out….
---
Disclaimer: This post contains affiliate links. So, if you click on it and purchase something, I get a small percentage at no extra cost to you. As always all opinions are my own and your support is much appreciated.
Related Posts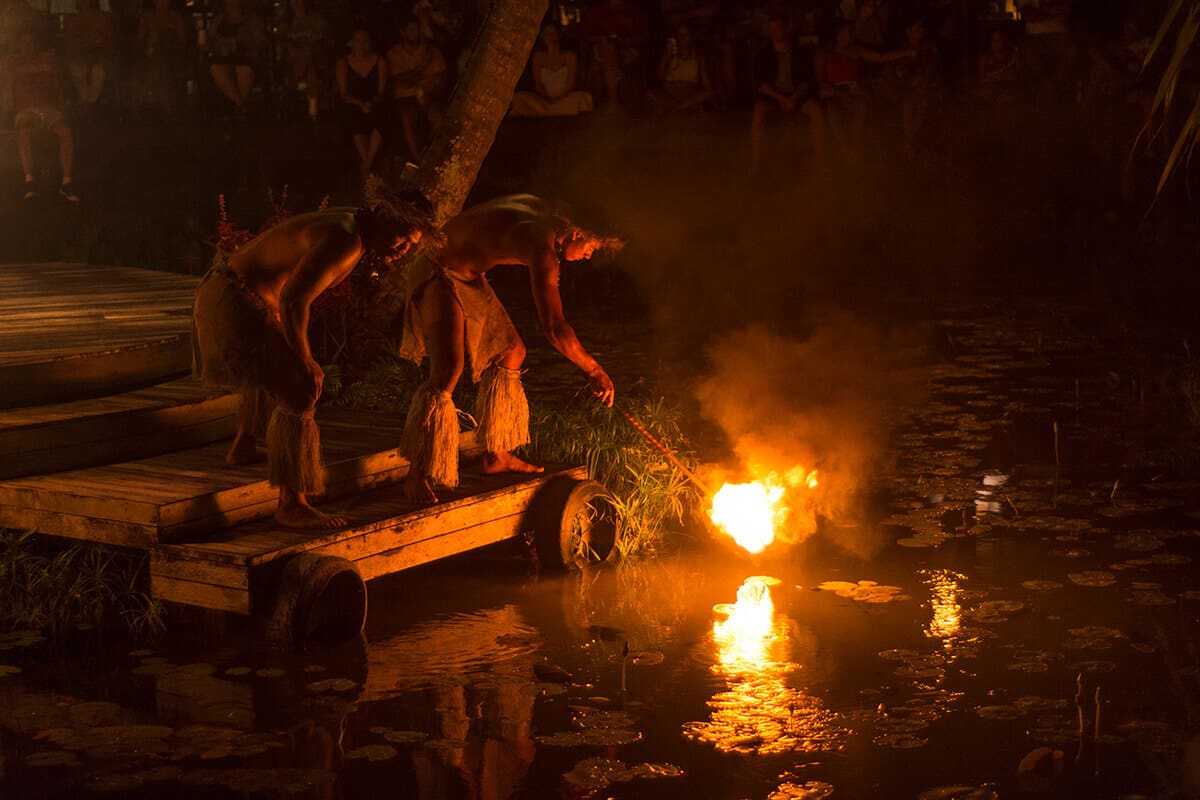 Find out all you need to know about seeing a cultural show in Rarotonga with [...]
47 Comments
Learn all you need to know about backpacking Rarotonga on a budget while in The [...]
7 Comments
Come check out the absolute best things to do in Rarotonga for the ultimate holiday. [...]
2 Comments