Come check out the absolute best things to do in Rarotonga for the ultimate holiday. From exploring inland, checking out some amazing beaches, getting your adrenaline going, and even exploring underwater on a sea scooter!
---
Rarotonga is the ultimate holiday destination for many travelers in Australia and New Zealand. It is a truly chilled island with a much more laid-back way of life.
Nevertheless, there are plenty of best things to do in Rarotonga for the ultimate holiday. No matter whether you enjoy relaxing beachside or getting your adrenaline pumping, there are plenty of things to do in Rarotonga to keep you entertained.
Rarotonga is a popular holiday destination for a variety of travelers. From young families and backpackers to romantic couple getaways you will find everyone in this gorgeous place.
The island caters perfectly to these people with such a variety of amazing attractions and activities to keep you busy throughout the day.
I have actually visited The Cook Islands three different times now throughout my travels and have done basically every activity there is to do in Rarotonga.
The most recent visit was just a couple of weeks after the New Zealand and Cook Island bubble opened. Therefore you know this content is up to date and relevant for your planning.
So let's get into this list of the 30 best things to do in Rarotonga. From swimming with turtles, going on a buggy tour, having a burger the size of your face, checking out some epic viewpoints and so much more!
Please be aware this list is in no particular order.
---
The 30 Best Things To Do In Rarotonga For The Ultimate Holiday
---
1. Swimming With Turtles
Swimming with turtles is a bucket list item that very few get to experience and a must-do when planning the best things to do in Rarotonga. You can tick this one off with ease while heading out for a swim with Ariki Adventures.
They will take you out on their sea scooters where turtles can be found enjoying their days in one of the trenches located within the reef walls.
Though, please don't go looking for it yourself. The currents are incredibly strong and in an unfamiliar environment puts you at risk. The crew at Ariki Adventures will always put your safety first to make this adventure one you will never forget.
I had an incredible time and highly recommend this to anyone visiting Rarotonga.
---
2. Lagoon Cruise
A cruise of the pristine lagoon is another must-do while you are in Rarotonga. With Koka Lagoon Cruises you can swim in the crystal clear waters and explore alongside the marine life.
They will take you out to visit their 'mate' Roger and see some of the best snorkeling opportunities around the island of Rarotonga.
Prepare yourself for a day of laughter and amazing sing-alongs. One of my favorite parts of the Cook Island culture is how hospitable and friendly everyone is and the crew at Koka Lagoon Cruises is the perfect example of this.
Including a delicious buffet lunch, how could you say no? This is the perfect family-friendly activity that will keep everyone entertained.
---
3. Eat A Palace Burger
Now whether you are looking for a place to fill that neverending pit in your stomach, or perhaps you simply want to see if it is real. You need to head to Palace Takeaways to try their impressive Palace Burger.
The size of this will leave you in awe. Think multiple patties, bacon, coleslaw, eggs, and salad all put together to create a burger the size of your head! This is a popular thing to do here in Rarotonga and the following photo displays just how big it truly is.
---
4. Check Out The Needle
While in Rarotonga you will find yourself looking out towards the sea. Though to the surprise of many, the best sight is actually when you venture inland to The Needle. This rock jutting out of the interior of the island is a must-see sight when in Rarotonga.
If you are brave enough hike the across inland trek for the ultimate view. This is a popular activity for travelers and one of the best things to do in Rarotonga. Though, if you are not so keen on that, download the phone app maps.me and drive. On it, you will find plenty of viewpoints pinned from previous users.
---
5. Quad Biking
If you are looking for a little bit of an adrenaline rush there is no better way to achieve this than zooming through mud puddles! Exploring the mountainous inland Rarotonga with Raro Quad Tours is the perfect morning and is a top thing to do here in Rarotonga.
The views all around are absolutely amazing of the towering cliffs are. It is honestly a whole new side of Rarotonga that not many visitors manage to see.
You will share so many laughs and it is the perfect change from relaxed island life! Oh, and you even get a delicious sandwich from the mooring fish cafe at the end of the tour! I loved our quad biking adventure in the rain and it was awesome seeing the mountainous interior of the island.
---
6. Day Tour To Aitutaki
You know those gorgeous desktop screen savers of the perfect white island sandy beaches with coconut trees, welcome to Aitutaki. Thanks to Air Rarotonga getting there is super easy with their day tour which includes a quick 40-minute flight over the blue pacific ocean.
On arrival, you will get a tour of the perfect town and then the part you have all been waiting for, to jump on the Vaka Cruise and explore the amazing lagoon.
No doubt this is the best snorkeling and it has the clearest water I have ever seen. I will not spoil the surprises for you but trust me if you have the money it is 100% worth it. This is no doubt the best thing to do in Rarotonga and I had such an amazing experience.
---
7. Have Lunch At The Mooring Fish Cafe
When you are in Rarotonga you must visit the Mooring Fish Cafe for lunch. This beautiful beachside spot is in the fishing club area of Muri Beach. This means you will see fishermen coming back and forth all day with their goodies.
As a result, they have the freshest fish sandwiches you will find. These fish sandwiches have become super well-known around the island and are a must-try for any travelers on their holiday. This is one of the best cafes in Rarotonga and they also have vegetarian options as well.
---
8. Cultural Show
You must spend an evening at Te Vara Nui Village which is in the most amazing location in the popular Muri Beach. If you are wanting to discover more about the beautiful culture in the Cook Islands and have an extremely entertaining evening I highly recommend booking yourself in for their combo extravaganza tour.
You will leave with a whole new appreciation for the island, a new understanding of the people, and some awesome dance moves to share with your friends back home.
Watch the beautiful overwater dance whilst enjoying a delicious buffet meal. I had a great evening at Te Vara Nui and it is one of the best things to do in Rarotonga.
---
9. Explore By Scooter
Rarotonga is so much more than the circular road which runs around the island. Having a scooter allows you to get off the beaten track and explore at your own pace. Go beach hopping with your snorkel and fins or adventure along the dirt tracks heading inland.
We spent so many days just riding on our scooter stopping wherever our heart desired. If we were only taking the bus we would not be able to pull over and watch the sunset on the horizon.
Just make sure you have your scooter license which you can find all about on how to drive a scooter in Rarotonga and get your tourist license.
---
10. Punaga Nui Market
On a Saturday morning, you can find the locals and visitors mingling together at the Punanga Nui Markets. Held each Saturday between 8 am and 12 pm this is the perfect place to pick up your Rarotonga souvenirs, a good breakfast treat, and a gorgeous flower crown.
With performances held on the stage as well as many picturesque cottage-like stalls for me this was Instagram heaven! There are also some permanent cafes here where you can grab a meal any day of the week.
---
11. Raro Buggy Tour
Going on an adventure with Raro Buggy Tours is another must-do thing in Rarotonga. It is the perfect few hours where you will venture inland, learn about the history and culture, as well as of course get super muddy!
Being one of the most popular things to do in Rarotonga I was expecting your generic Rarotonga tour. Think coconut demonstrations and a few basic facts are thrown in there. Though our guide was incredible.
Honestly, I thought I would be a bit bored in the passenger seat so made my partner promise me to swap seats halfway through. Though when the time came I was having such an amazing time I was happy being the passenger.
---
12. Breakfast At LBV
One of my favorite breakfast spots to eat at in Rarotonga is known at LBV or Le Bon Vivant. Not only is it located in a gorgeous garden with chickens freely roaming, but the food here is delicious as well.
I highly recommend you try out one of their fresh donuts. These come in such flavors as jam and lemon curd. I am also a sucker for their big breakfast. The food, drinks, and team here are all great!
---
13. Hike In Rarotonga
Of course, there is the popular cross-island trek which I mentioned before. Though there is an assortment of hikes you can do in the mountainous interior of Rarotonga. This is one of the best things to do in Rarotonga and will work off that huge burger from Palace Takeaways.
A popular choice is the Raemaru trek. This is a lot easier than the cross-island trek and a lot shorter as well just being 90 minutes return. The hardest part is a 15-meter rock climb at the top to the viewpoint. This is well signposted and you do not need a guide to complete it.
---
14. Snorkel At Titikaveka Beach
Snorkeling at Titikaveka Beach is one of the best things to do in Rarotonga and is honestly one of my personal favorites as well. Just park up opposite fruits of Rarotonga and take the plunge into the waters.
It can be a bit murky in the shadows unless it is a super calm day. Therefore you will want to swim out a bit for excellent views. Here you can also find the coral canyons. These are huge coral formations you can swim in and out of.
If you are the most confident swimmer you can also do a Lagoon Sea Scooter Discovery here. I did this on my most recent trip and we had an awesome time.
---
15. Muri Beach Night Market
The Muri Night Markets is a popular evening hang-out spot for travelers. Here is where you can get some delicious food and support the locals.
There are numerous stalls selling literally everything you could ever want, food-wise. Whether that is sweet savory or perhaps something in between. Try some local food such as Ika Mata just how the people who live here prepare it.
There is a huge seating area here and it is a great way to meet other people.
---
16. Pig Out At Villi's Burgers
You cannot go to Rarotonga without grabbing a bite to eat at the popular Villi's Burgers. This delicious spot specializes in you guessed it, burgers. Though these ones here are covered in the famous Villi's sauce which is a must-try.
They are currently located next to KAPS Matavera on the east coast and are closed on Mondays. Be aware if you do not like onion ask to leave it off your burger as they can seriously pack it on.
---
17. Swim At Black Rock Beach
Black Rock Beach is named after the huge black rock which rises from the ocean on the left-hand side. There is an excellent viewpoint here just before you get to Black Rock Beach traveling clockwise (you will see the cars all pulled in).
Make sure you check this out during your trip as it is one of the best things to do in Rarotonga. For the ultimate Instagram pic get someone to take a pic of you from the viewpoint while you run down to the shallow mermaid-like pools around the black rock!
I found this a great beach just for simply swimming. Though the water can be quite murky when it comes to snorkeling. There are some large rock formations under the water providing a home for corals and fish.
Though the currents here can be quite strong and visibility poor so I personally would save snorkeling for another beach.
---
18. Go Kayaking
Around Muri Beach, you have an assortment of Motus (islands) that you can kayak to. There are plenty of places to hire these from on Muri Beach.
Koromiri is the best one Motus to check out. From Muri Beach, it is a quick paddle, and then bam, you're in paradise. Just make sure you swim on the part facing towards Muri Beach. The back area of the island is rocky, and wavey, and has a population of stonefish.
I have explored a few different Motus by kayak and definitely recommend Koromiri. A lot of the other ones that are completely inhabited are absolutely swarming with sandflies and mosquitos. So much so that you will find yourself running back in the water to duck for cover.
---
19. Wigmore's Waterfall
For a different way to cool off definitely, head to Wigmore's Waterfall. This is for sure at the top of my personal list of the best things to do in Rarotonga.
You will see the entrance shortly after driving past the Sheraton when traveling anti-clockwise around the island. Sometimes you will need to pay a fee to go up, and sometimes not. Nevertheless, some of the money goes towards the SPCA to support them in looking after the animals.
At the top of this road, you will find the impressive Wigmore's Waterfall. The water here is much cooler than the ocean. Though this makes it super refreshing after a long day of exploring. Just remember to bring some bug spray with you because the mosquitos here are on a whole other level.
---
20. Evening At Charlies
For the perfect evening alongside other travelers and locals definitely head to Charlies along Titikaveka Beach. This is the ultimate hangout for a chill time with delicious drinks.
They have a decent menu as well as happy hour. Though in all honesty, I recommend simply coming here for dinner and drinks with a good atmosphere. They often have live music playing and it is just an all-around good time.
It's not club vibes but more of just a good time with good music in an incredible setting.
---
21. See The Sheraton Hotel
You cannot come to Rarotonga without being in absolute awe of the huge falling apart Sheraton Hotel which takes up a huge amount of space. Contrary to the name it wasn't actually associated with the worldwide brand.
Instead, the supposed 7-star hotel's name was chosen as a symbol status to encourage bookings.
Nowadays this eyesore is a great contrast from the small style homely hotels and hotels that currently dot the island. This place was and still is the cause of great debate.
Even though it was only months out from opening when the building stopped, there was still a lot of work to go which would've changed the entire tourism industry of Rarotonga.
Many locals weren't paid for their work at the hotel. So when word got out that the building had stopped and that they had run out of money everything inside was fair game. Fully furnished rooms were stripped, and beds, televisions, air conditioning units, and even marble counters were gone.
There was still a road to be built behind the back of the resort. Actually, the portion out the front would be re-routed behind. This would be to make room for a man-made beach-style pool overlooking the ocean.
There is so much history, and questionable business practices surrounding this property. The lease will run out within my lifetime so it'll be interesting to see what becomes of this place then. Currently, it is open only for buggy tours, paintball, and laser tag.
---
22. Watch Sunset
There is no better way to finish off a perfect day in Rarotonga than by enjoying the sunset on the beach. The sunset is on the West island of the island so this is where you will get the best views.
Nevertheless, the sky around the whole island generally turns a beautiful shade of red and you will get a decent view. Though on the Western side, you will see the sun drop below the horizon and put on a show so it is extra special.
---
23. Snorkel At The Aro'a Marine Reserve
Aroa is my personal favorite beach in Rarotonga, so much so I actually booked the Rarotongan Resort on my recent trip. This resort looks straight over this beach and I couldn't imagine a better holiday.
Nevertheless, Aroa Beach is an absolute paradise. Imagine clear blue waters, a white sandy beach, and the best snorkeling in Rarotonga.
For the best snorkeling in Rarotonga bring along a mask and some flippers. You will need to swim out a bit to come across the coral formations, but once you get there it is great.
This area is actually a marine reserve so it is protected under the law. Personally, I have seen moray eels, pufferfish, lionfish and so much more in the reef here.
However you do not need to be staying in the Rarotongan Resort to visit. Heading anti-clockwise around the island there is a small parking area just before you hit the resort. This is the best place to pull in and enjoy paradise.
---
24. Cocktails On The Beach
You can not go past spending some time on the beach enjoying a delicious cocktail. I mean this is one of the best things to do in Rarotonga. Who doesn't want to listen to the waves splashing on the shore while enjoying a fresh pina colada.
One of my favorite spots to grab a cocktail from is Captain Andy's at the Rarotongan Resort. Happy hour is between 5 pm to 6 pm where there are set cocktails for only $12.00. There are some delicious bar snacks and an epic seating area over the ocean.
---
25. Coffee From Love Cafe
If you are a coffee lover I highly recommend checking out Love Cafe. This is a gorgeous little coffee shack just up past Matavera Pre-School. I discovered Love Cafe as a random one-off stop in research for good coffee and damn I am so happy to have found it!
There is a decent seating area set up with a few tables and umbrellas helping keep the hot sun off.
The ladies who run it are absolutely lovely and there is always a resident chicken roaming around. They have some delicious home-baked food options as well as toasted sandwiches. Just a few easy options to give you enough energy to start the day.
---
26. Check Out The Planes Taking Off
If you love plane watching or traveling there is an epic viewpoint in Rarotonga where you can watch the planes land or take off depending on the wind direction. This is opposite Super Browns.
Though if you do not know where this is no stress. When driving around the island you will quickly spot it. Traveling clockwise it is just before you hit Avarua where the road opens up to the sea.
You can find the flight arrival and departure times online at The Cook Islands Airport website. Grab an ice cream from next door and get ready to do some plane spotting.
---
27. Avana Passage Viewpoint
There is a little-known viewpoint down the end of Kaireva Drive in Muri Beach. You are best to park on the road and walk down to it. Down here there is a loop track you can walk around and there is an excellent view over to the Avana Passage.
Make sure to wear decent shoes and the rocks are so sharp here. Enjoy watching the quiet lagoon in contrast to the wavey dark ocean. Be aware this aware is not safe for swimming as the currents and extremely strong.
---
28. Go Coconut Crab Hunting
This may perhaps be my partner's favorite pastime so of course, I had to add it to this list of the best things to do in Rarotonga. Coconut grabs can be a rare site in Rarotonga and should be considered endangered. As the name suggests a large part of their diet consists of coconuts.
The best way to spot one is at night. Sometimes if you are super lucky you will be able to see them up the top of the shoreline at the beaches. There are also plenty of other crabs and marine life to see at night. We have only seen 1 coconut crab during our 3 trips to Rarotonga.
---
29. Enjoy Ice Cream On The Beach
After a swim at Black Rock Beach head over to the Nikao Social Centre, just make sure you do not park under a coconut tree!  Here you will find an assortment of food trucks serving up lots of delicious foods and sweets.
Though my favorite has to be Be Fruitful. They serve up real fruit ice creams as well as smoothies. They offer some flavors: strawberry, mango, dragonfruit, soursop, raspberry & white chocolate, snickers, and kit kat. How delicious do they sound!
---
30. Party Bus
The famous Raro Pub Crawl Party Bus is of course one of the best things to do in Rarotonga if you want to check out the nightlife here. This is one of the coolest ways to party here and meet other people.
As with any good pub crawl, you will visit a few different bars and end up at Rehab. Expect a fun guide, great music, and funny games. It operates  Monday, Wednesday, Friday, and Saturday and you will be picked up and dropped off anywhere along the main road.
---
Where To Stay In Rarotonga
There are plenty of options when it comes to accommodation in Rarotonga. From small hostels, apartments on the beach, luxury resorts, and everything in between.
However just be aware that even 5-star resorts in Rarotonga don't actually look too great, so adjust your expectations accordingly. This is an island with limited resources and seems to be a few years behind New Zealand, which is again, a few years behind the rest of Oceania.
As a result, rooms can look quite dated, think floral prints from the '70s, though that's just the atheistic on the island.
Find the best hotels in the area
---
LIKE IT? PIN IT!
---
Want more Cook Islands inspiration? Check out….
---
Disclaimer: This post contains affiliate links. So, if you click on it and purchase something, I get a small percentage at no extra cost to you. As always all opinions are my own and your support is much appreciated.
I was a guest with Ariki Adventures, Koka Lagoon Cruises, Raro Quad Tours, Air Rarotonga, and Te Vara Nui Village while in Rarotonga. All opinions are my own throughout these articles.
Related Posts
Find out everything you need to know about car rental in Rarotonga. I will be [...]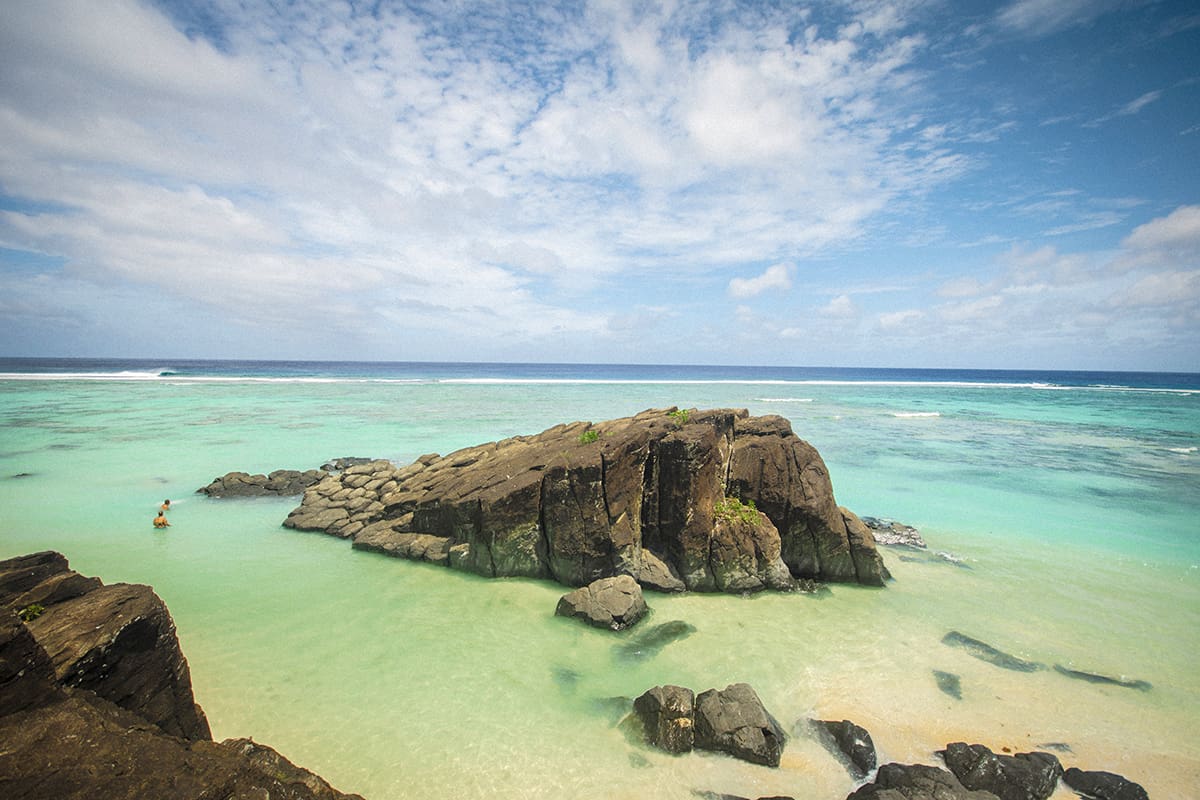 Want to explore the best beaches in Rarotonga? From my favorite beaches, the best snorkeling [...]
All you need to know about exploring Rarotonga with Raro Quad Tours. I will be [...]