Exploring Dala Township definitely is one of the highlights when visiting Yangon, Myanmar.
Located across the Yangon River, life there is completely opposite to the busy city center. Rather than modern skyscrapers and colonial buildings, there are colorful fishing boats and houses which can only really be described as shacks.
While in Yangon I stayed at the Backpackers Bed & Breakfast for $10 per night. The room booked was a four bedroom dorm and it was no doubt my favorite hostel in all of South East Asia. With ridiculously comfortable beds, curtains around the bunks, delicious breakfast included and an amazing city view it was the perfect place to relax after a busy day of exploring Yangon, Myanmar.
The Other Side Of Yangon, Dala Township
Where To Stay In Yangon?
Prices starting at $10.00 per night including breakfast in a luxurious dormitory room.

BOOK NOW

Super affordable with prices starting from $7.00 per night including a delicious breakfast.

BOOK NOW

Prices starting at $25.00 per night for a private single room including breakfast.

BOOK NOW

Prices starting at $30.00 per night for a private room including breakfast.

BOOK NOW
Getting from Downtown Yangon to Dala Township
To get to Dala head to the Pansodan Ferry Terminal in downtown Yangon. Once inside that building, you will be ushered into a ticket desk for foreigners. The fee for the ferry is $2.20 / 3000 kyat return and the boat runs every 10 minutes, so you don't have to wait long for the next one.
Outside the terminal building and down a wooden ramp is where the ferry docks. Jump on, not literally like I had to as it was pulling away. Though, this did lead to some very impressed locals clapping and high-fiving me.
On board, you will very likely be pestered by small children selling food to feed the seagulls, (for some reason here people get really excited about feeding birds). Just make polite conversation and advise them that you aren't interested. These kids should be in school rather than working so please don't contribute to this by purchasing anything. The ferry ride will be your first insight as to what daily life is like there.
The trip takes approximately five minutes. Once the boat is docked everybody makes a mad dash to depart. This is where you will be bombarded by hawkers.
According to other online resources, Dala is notorious for scams. There are also messages in the ferry terminal building advising of this. To take a tour walk away from the dock and up towards the township. Here is a less manic environment where you can haggle with the rickshaw, tuktuk or taxi drivers.
Finding a tour of Dala Township
The price around the town for a one and a half hour to two-hour tour should be approximately $2.20 / 3000 kyat each for two people, $4.40 / 6000 kyat total. As we had a group of four we managed to haggle this price down to $1.50 / 2000 kyat each, $5.90 / 8000 kyat total.
The gentleman in charge found us a tuktuk and we made sure he relayed the agreed pricing onto the drive. Though, this was after he tried to convince us there was no tuktuks and that we should hire separate rickshaws. Luckily, soon enough a handful of tuktuks drove past and he gave in.
What to see in Dala
---
Pagodas
Heading out of the main township the first stop for us was a local pagoda there. This was definitely not as stunning as the Shwedagon Pagoda in the city center. Though, it was still alright to look at for a couple of minutes. There were a few stray dogs hanging around which seemed quite angry so best to keep a distance.
The Fishing Village
Next stop was at the local fishing village. If you stay by the river in Yangon you will see colorful small boats driving back and forth all day. The fishing village is where a lot of them dock.
We went down the concrete wharf to the edge of the extremely murky river and watched as all the locals hoped in and out of the boats, returning from a days work in the city.  Though, the water of all shades of brown just makes the beautiful colored boats stand out more.
The fishing village is lined with locals homes on each side, which barely any walls and no doors or windows you are given a literal glimpse into their lives. The rubbish collects all around us, though, the majority of Yangon seems to be like this. Liter just fulls the streets, peoples yards, its normal here.
See the local way of life
After this, we headed further away from the river to a small local village to watch the sunset.
There were so many children here just completely fascinated by us tourists. It is highly unlikely these kids go to school and instead spend their days working for their parents.
The houses are small like the majority in Dala, the same size as us in the Western world would consider sheds. Made from scrap materials and plants with front yards full of rubbish.
Dala is said to be a place where people are blissfully unaware of their poverty. This statement is something which I consider very true as everyone smiles and seems happy about their lives.
The Local Market
Onwards to the last stop, the local markets. Set up alongside both sides of a dirt road the market is very welcoming and has a great atmosphere. People crowd the sidewalks eating dinner off small plastic chairs and tables.
We converse with the locals and they even give us free fruit and vegetables and refused to accept any money that we pulled out. This is something which sticks with me as even though we had ten of thousand of dollars collectively, they were the ones who felt like providing for us and refused our money. We ended up buying a bunch of flowers from a lady a couple of stalls down and gave them to those kind ladies.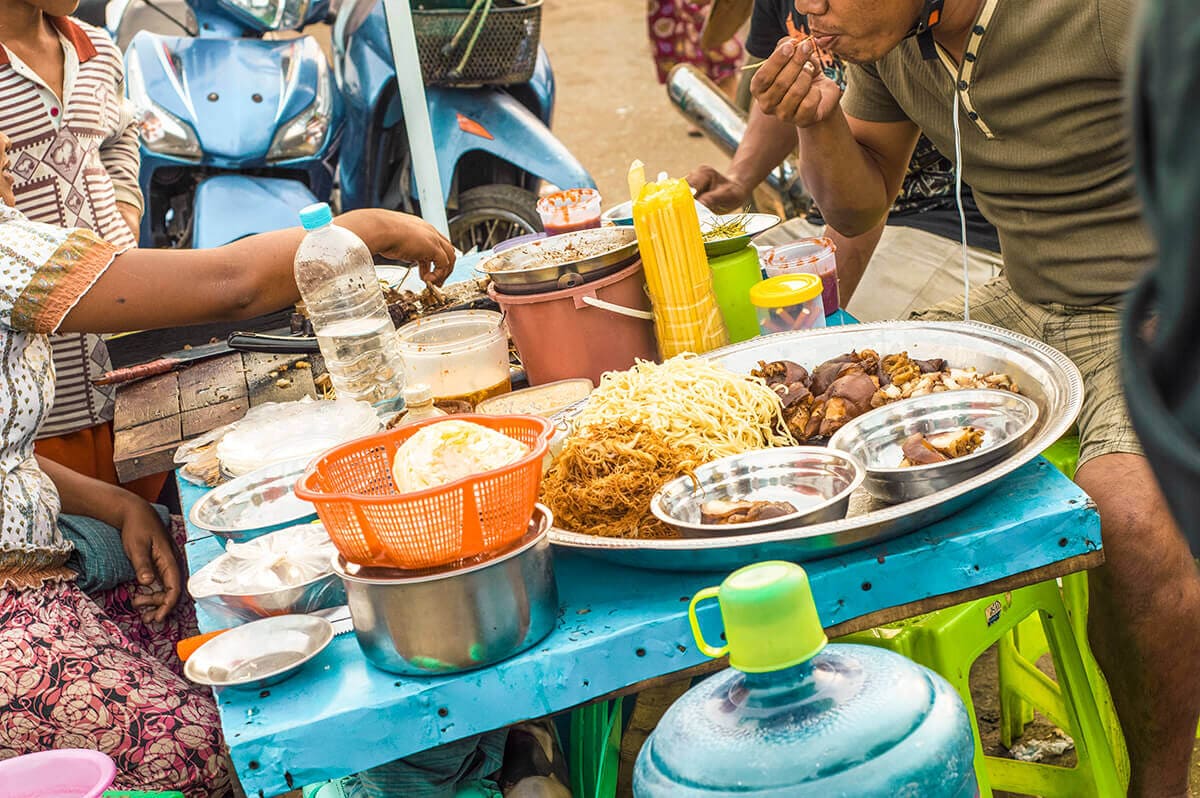 Leaving Dala Township
After the market place, it was time to head back to the ferry terminal. We paid the driver with no issues and left some flowers for him to give to his wife.
At the ferry, we show our return tickets, and this time, jump onto a boat that is still connected to the dock.  With darkness setting in and a small patch of red sunset in the sky, we head back across the Yangon River to downtown.
The boat is even busier as before as we meet the same school kids as the first trip. It is now 9pm and they are still working. As the boat departs locals throw food for the swarming seagulls and moths became extremely attracted to the light.
Dala Township Scams
Visiting Dala Township is definitely one of the highlights from Yangon, Myanmar. Though, there appears to be some uncertainty about visiting as a result of the scams.
The majority of these scams are about the tuk tuk prices and tours. Though, as long as you go in knowledgeable about prices, confident and willing to negotiate with a smile then it can turn into a really good time. More recently people are talking about making friends with a local at popular tourist spots and being invited to their home village of Dala. They will tour them around and try to convince them to give money to the hurricane destroyed village where their parents live. At the end, they will demand extra money for the tour as well. Be extremely cautious of this.
To avoid being scammed my number one recommendation is to either just simply walk around Dala. It is a small place and distances between locations are not far. Use Maps.Me to preplan a route. Though, if it is too hot many tour companies offer a guided bicycle tour of Dala Township in Yangon. Also, a quick google search will give plenty of options, and no doubt this is the safest choice.
---
Any Questions? Let me know in the comments!
---
LIKE IT? PIN IT!
Want more Yangon inspiration? Check out….
Disclaimer: This post contains affiliate links. So, if you click on it and purchase something, I get a small percentage at no extra cost to you. As always all opinions are my own and your support is much appreciated.