What To Do In Yangon, Myanmar
---
Arriving in Yangon life there can be fairly chaotic, though it is one of my favorite cities full of charm and amazing experiences. I have put together this list of what to do in Yangon to help you during your visit. From visiting the most beautiful temple to exploring a whole other side of life you will certainly be spoiled for choice of things to do in Yangon.
---
Where To Stay In Yangon?
Yangon is a sprawling city with numerous suburbs, so it can be difficult for first timers to figure out exactly where to stay. I recommend booking your accommodation in the more downtown Yangon area as this will keep you close to a lot of amazing attractions and restaurants will be just a short walk away. Here are my top picks for the backpackers travel guide to Yangon:
Prices starting at $12.00 per night including breakfast in a luxurious dormitory room.

BOOK NOW

Super affordable with prices from $7.00 per night including a delicious breakfast.

BOOK NOW

Prices starting at $25.00 per night for a private single room including breakfast.

BOOK NOW

Prices starting at $30.00 per night for a private room including breakfast.

BOOK NOW
1. Yangon Circle Train
If you are wondering what to do in Yangon, the Yangon Circle Train is a must! Departing from the Yangon Central Railway Station the circle train costs a mere $0.15/ 200 kyat.
The journey will take at least three hours completing a circular route around the city. Just sit back and watch the world go by and feel the wind through your hair. There are plenty of opportunities to purchase things whether on the train itself or at the market stop. Riding the Yangon Circle Train provides a great insight into the daily life of the Burmese people.
---
2. Bogyoke Aung San Market (Scott Market)
Bogyoke Market is located in Central Yangon and is the perfect way to pass a few hours shopping around when looking for things to do in Yangon. The large colonial building is home to the markets which extend across a couple of stories.
Selling everything from food, fresh juice, jewelry, clothing and artwork you can certainly get lost among the numerous stalls. Occasionally the salespeople can be pushy but a firm no will usually get your feelings across, just don't raise your voice or get angry.
---
3. Dala Township
Dala Township is across the Yangon River and is complete contrast to the busy city life. Take the 10 minute ferry across for a small $2.20 / 3000 kyat return ticket.
Once in Dala Township haggle with the drivers to take you on a tour. They should show you around a pagoda, the fishing village, the markets and a maybe another village. It is really interesting seeing how people live here with minimal belongings and without things we would consider necessary to our day to day lives.
---
4. Shwedagon Pagoda
This beautiful Pagoda is a necessary part to any visit in Yangon. A short walk from downtown this remarkable pagoda will become a highlight of your visit.
There is a  $6.00 / 8000 kyat entrance fee. though, I somehow got around paying this and did not realize there was a fee until talking to people later in the day. So it is possible to avoid paying, just do so at your own discretion.
Check out Been Around The Globes Top Travel Tips For Myanmar
[spacer height="10px"]Check Out: THE COST OF TRAVELING MYANMAR
---
5. Explore the Colonial Buildings
Yangon is full colonial buildings. On every street there will be beautiful buildings with amazing architecture standing around you. Though, many are very run down which I personally think adds to the aesthetic.
My personal favorite is the Ministers Building which is currently in the process of being restored.


---
6. Kandawgi Lake
Kandawgi Lake is a short walk away from Shwedagon Pagoda north of downtown Yangon. Otherwise known as the Royal Lake.
The majority of photos of it will show the famous Karaweik icon. Around the lake is also Kandawgi Nature Park as well as Yangon Zoological Gardens.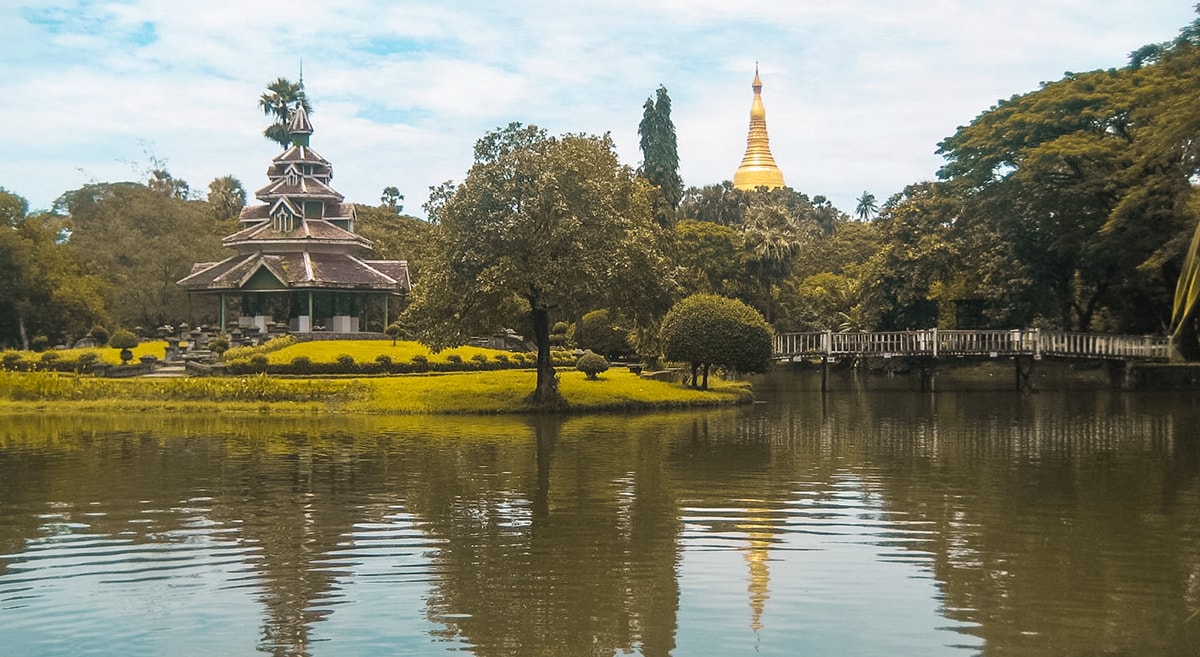 ---
7. Eating in Yangon
From street food to delicious restaurants Yangon is full of different eating options and will satisfy the fussiest of eaters. Many of the street food vendors here sell barbecued meats, though being vegetarian I just stuck with the occasional bag of freshly cut watermelon.
I highly recommend a visit to 999 Shan Noodle where you can get a delicious bowl of noodles for $1.50 and Golden Duck for yummy fried rice and the cheapest bottles of whisky you will ever see! If your budget stretches a little further check out Rangoon Tea House. The samosas are delicious, though this is a very western/hipster eatery and the prices reflect this.
---
8. People Watch
The streets of Yangon are chaotic to say the least. With crowds everywhere, cars zooming past and vendors selling a variety on the footpath.
Life here is unlike any other. Go for a simple walk and take all these sites in, from the monks in orange to the people huddled in sitting meals under make-shift gazebos.
LIKE IT? PIN IT!
Want more Yangon inspiration? Check out….
Photo credit: "Yangon, Myanmar" (CC BY 2.0) by GregWalters