The Ultimate Backpacking Yangon Travel Guide in Myanmar
Myanmar is an extremely up and coming country in the South East Asian backpacking trail and Yangon is one of the main hubs for international flights. This city is full of history and amazing sights. Though, if this is your first time visiting Myanmar the experience can be quite overwhelming which is why reading about backpacking Yangon can be extremely helpful. With a culture and customs unlike anywhere I have ever visited, it was the first city I solo traveled in and I loved every moment.
In this backpacking Yangon travel guide I will let you in on all the top things to do in Yangon, where to sleep, eat and more!
---
---
How Many Days To Spend In Yangon?
I spent a total of four days in Yangon and managed to see many of the top sites in the city at a slow pace. Though, I would recommend spending three days and then head off somewhere quieter as it is a very polluted place which does take a toll on your body.
Further down in this backpacking Yangon travel guide I will let you know the best things to see in this amazing city!
---
How I Book Cheap Transport In Myanmar: 12Go Asia
---
Cost Per Day To Travel In Yangon
When in Myanmar I spent $26.30 per day as a solo traveler. Accommodation will likely be your biggest expense in Myanmar, though if you book places which includes breakfast this can cut down the amount you spend on food, ultimately evening out your budget.
You can check out in post on How Much It Costs To Travel In Myanmar for more information.
---
Where To Stay In Yangon?
Yangon is a sprawling city with numerous suburbs, so it can be difficult for first timers to figure out exactly where to stay. I recommend booking your accommodation in the more downtown Yangon area as this will keep you close to a lot of amazing attractions and restaurants will be just a short walk away. Here are my top picks for the backpackers travel guide to Yangon:
Prices starting at $12.00 per night including breakfast in a luxurious dormitory room.

BOOK NOW

Super affordable with prices from $7.00 per night including a delicious breakfast.

BOOK NOW

Prices starting at $25.00 per night for a private single room including breakfast.

BOOK NOW

Prices starting at $30.00 per night for a private room including breakfast.

BOOK NOW
Getting Around Yangon
Getting From Yangon Airport To Downtown Yangon
The best way to get from the Airport to your accommodation is definitely using one of the Airport Taxis. These are government taxis with fixed rates which will take you straight to the door to your hostel.
To get to Backpackers Bed and Breakfast, which is where I stayed in Yangon cost $6.00 / 8000 kyat. I just booked it at the desk outside immigration, they gave me a ticket and then walked me over to the taxi. Most importantly they checked with the driver that they knew where my hostel was.
Yangon was my first stop in the country, so beforehand I read various things to know about Myanmar posts. This meant I knew how to easily get from the airport to the city, sights I wanted to see and scams to watch out for.
Traveling Within Yangon
There are plenty of options to travel internally within Yangon. The easiest and cheapest way would definitely be by taking a bicycle rickshaw which are very easy to find. Alternatively there are taxis which will cost a bit more. As always when traveling anywhere in the world, make sure you and the driver agree on a price before getting into your ride. This will assist you from getting scammed, even if you are a first time traveler.
There is a local bus system which is extremely cheap and if you are looking for an adventure this could be the perfect option for you. Though, from what I have heard it is a difficult system to figure out and unless you speak Burmese it is unlike you will end up in your expected location. Therefore for this travel guide to Yangon I recommend not taking the bus to travel internally.
---
Where To Eat & Drink In Yangon
From local street stalls to shack like eateries and western restaurants Yangon has a wide variety of foodie options. These are my top picks, all tested and tried, for the backpackers travel guide to Yangon:
Cheap Food In Yangon
One of the best options is no doubt 999 Shan Noodle House. The food is absolutely delicious and the restaurant is full of people, both tourists and locals. Only costing around $1.50 / 2000 kyat I highly recommend trying it out for lunch.
For dinner my go to option was always Golden Duck Restaurant. It is a popular restaurant with amazing food. For a meal of Japanese tofu, fried rice and a soda, you will only pay $5.10 / 7000 kyat. Plus they have some of the cheapest rum I have ever seen, a one liter bottle of straight Burmese rum costs just $2.00 / 2500 kyat!
Western Food In Yangon
If you are missing a taste of the western world head to Rangoon Tea House. This is the most modern building I have seen in Yangon with a beautifully decorated and hipster vibe. Though, unfortunately this place is pricey. A meal of samosas and watermelon juice cost me $5.00 / 7000 kyat.
Supermarket In Yangon
On Pansodan Street, up from the Rangoon Tea House is a small supermarket. It is not marked on google maps, though it is on the left side of the road between Anawarhta Road and Merchant Road. From memory it is in or under a samsung building. This supermarket in downtown Yangon is the perfect place to find cheap food to eat back at the hostel.
Local Dishes You Must Try
If you are looking at trying something new I highly recommend checking out Miss Filatelista's Yangon Travel Guide where she includes all the local dishes you need to try!
---
Things To Do In Yangon
Yangon is full of amazing activities and attractions which will keep you busy for days. Whether you enjoy a spot of shopping, experiencing a different religion and want to see a slower pace of life outside the city there are plenty of things to do in Yangon.
Dala Township
Dala Township is just across the Yangon River, though it is a complete contrast to the busy city life. Take the short 10 minute ferry across for a small $2.20 / 3000 kyat return ticket.
Once in Dala Township haggle with the drivers to take you on a tour of the area. They should show you around a pagoda, the fishing village, the markets and a maybe another village. It is really interesting seeing how people live here with extremely minimal belongings and without things you and I would consider necessary.
Shwedagon Pagoda
The beautiful Shwedagon Pagoda is a necessary part to any visit in Yangon and will likely be a highlight of your stay. It is definitely my number one recommendation in this travel guide to Yangon.
There is a  $6.00 / 8000 kyat entrance fee. Though, I somehow got around paying this and did not realize there was a fee until talking to people later in the day. So it is possible to avoid paying, just do so at your own discretion.
Yangon Circle Train
The Yangon Circle Train is a must when visiting Yangon! Departing from the Yangon Central Railway Station it is easy to access, and even better, the circle train costs a mere $0.15/ 200 kyat.
The route will take at least three hours to complete and it will take you in a circular route around the city. You can just sit back and watch the world go by. There are plenty of opportunities to purchase food, whether that is on the train itself or at the market stop. Taking the Yangon Circle Train provides a great insight into the daily life of the Burmese people.
Bogyoke Aung San Market (Scott Market)
Bogyoke Market is located in Central Yangon and the ultimate place to shop when exploring Yangon. The large colonial building is home to the many assortment of markets which extend across multiple stories.
At Bogyoke Market you can find everything from food, fresh juice, jewelry, clothing and artwork. Be aware, sometimes the salespeople can be pushy but a firm no will usually get your feelings across.
Kandawgi Lake
Kandawgi Lake is located in Downtown Yangon and is just a short walk away from Shwedagon Pagoda. It is otherwise known as the Royal Lake and is a popular site with visitors exploring Yangon.
The majority of photos you will see of Kandawgi Lake will show the famous Karaweik icon. Around the lake is also Kandawgi Nature Park as well as Yangon Zoological Gardens.
Test your general knowledge of Asia with this Flags of Asia Quiz!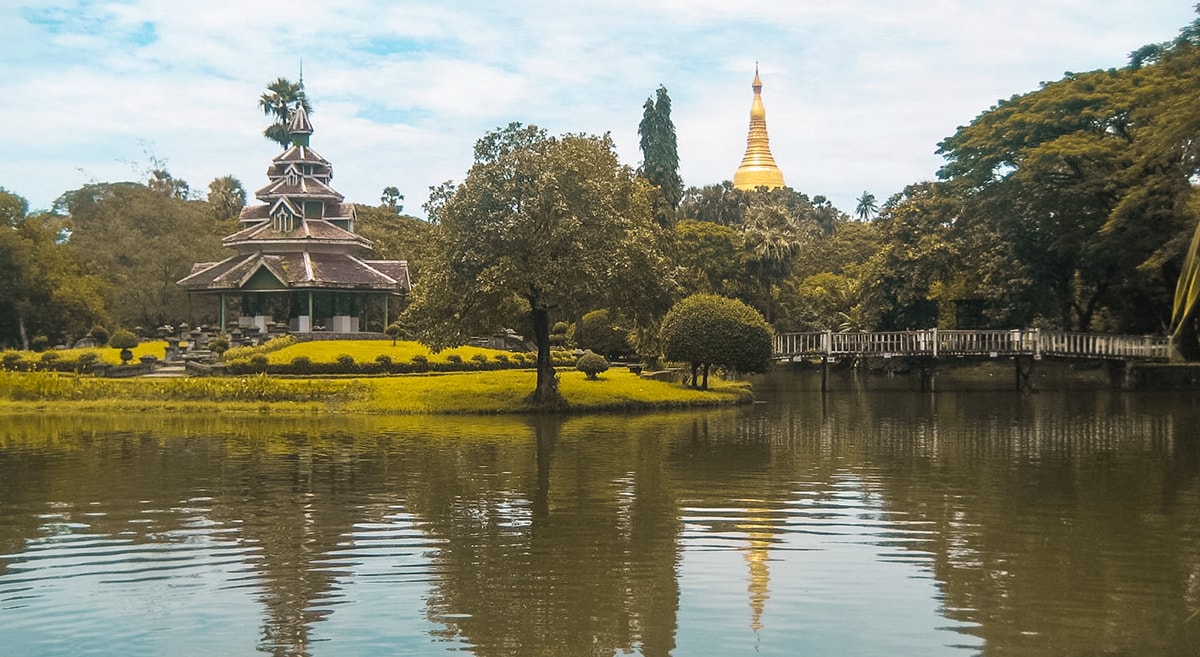 ---
How I Book Cheap Transport In Myanmar: 12Go Asia
---
LIKE IT? PIN IT!

Want more Yangon inspiration? Check out….
Disclaimer:  This post contains affiliate links. So, if you click on it and purchase something, I get a small percentage at no extra cost to you. As always all opinions are my own and your support is much appreciated.
---
Photo credit: "Yangon, Myanmar" (CC BY 2.0) by GregWalters