In a sleepy daze I had made it back to my bed in the early hours. Covered in the black Ostional sand I get up for breakfast made by Digna, by host mother. Spread out on the small table is some sort of puffy pastry, like a pastry kind of pancake. I cover mine with honey. The foods here in the village may all be homemade but they have a lot of butter/oil/fat used in the cooking process.
Walking down the dirt roads I head towards the 10 o'clock discussion. It was led by our project leader, Wade, focusing on sustainable development. Something I really enjoy about being on a volunteer project, particularly this one with ISV, is that everyone is quite like minded. Throughout your life you will come across others that have a similar mind front when it comes to the environment, but it is very rarely you are in room full of these people.
After soup lunch that I decided to pass on, was a beach clean-up along Nosara. This is the next beach across from Ostional. It is mainly where the poachers hunt, so we are only allowed to go there during the day. Since our arrival at Ostional a few days ago, there has been a fairly high wind, which is unusual for the area. This has resulted in a lot of rubbish had blown up on the beach. It is quite exhausting wandering up and down the beach, especially under the hot sun. We quickly gather as much rubbish as possible and head for shelter.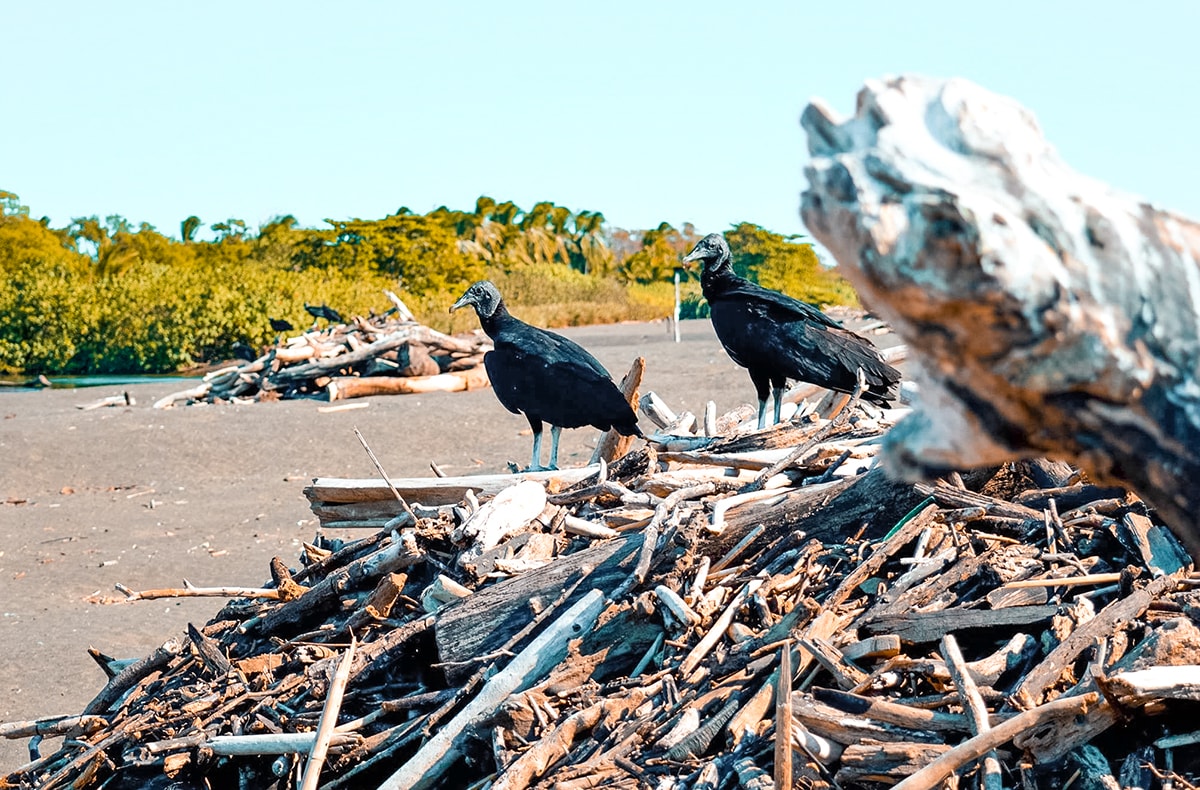 That afternoon I also had my first hatchery shift with my roommate Yan. Being one of the hottest parts of the day, we hide under the mesh which provides a small amount of shade. Sitting around on the scorching black sand definitely wasn't a highlight. I will remember to bring a towel for next time. We still haven't seen any babies hatch, so fingers crossed.
The next day/my birthday. . .
Waking up at 5 am for my morning hatchery shift I was greeted by my host mother "happy birthday". Getting ready and walking into the early morning darkness I meet up with Daniel. We stroll down the beach to begin our hatchery shift 6am-9am. Nothing exciting happens. With no technology to entertain ourselves results in torturing Daniel by singing at the top of my lungs. We even manage to rock out a jamming duet of hakuna matata.
When the shift was over it was back to the station for a quick refill of the drink bottles. Time to rehydrate before everyone sets off for a mangrove hike. We wander off through the swamp. Dodging spider webs, jumping trees and avoiding spikey plants, all in hope we would see a crocodile. Though, no luck on the croc hunt. Coming to a clearing and walking up a fairly large hill results in an awesome view over Ostional. In typical fashion, I fall on my ass on the way down. But, that was expected from someone as uncoordinated as me- which is why I gave up on dance lessons when I was five.
Cooling down back at the station we had cakes made by the lovely Emma! One cake vanilla, one chocolate, perfection! Of course what do you do after cake- eat more delicious food. So we head down the road to the pizzeria. Yes, the small sleepy beach town of Ostional has a pizzeria. While waiting it's a game of cards to keep busy.
The pizza was awesome and afterwards Wade, our awesome project leader showed us a video. It was on the Ostional turtle egg harvest. What happens is the locals harvest a certain amount of turtle eggs to provide income to the village. This has resulted in a couple of the species becoming endangered, though they, of course, argue it is not their fault. Being here to protect the turtles and raise the numbers makes it hard to watch and think of this kind of thing happening.
To get our minds off the video, we all walk back down towards the mangroves to a local ticos house. He makes a living selling homemade jewellery from cow bone, horn and coconut husks. I decided to purchase two different pieces, both made of coconut, a turtle bracelet and a tree of life necklace.
Today has been ridiculously hot. I have been rocking a continuous sweat sheen on my face and it was not pretty. We all decided to 'accidentally' fall in the ocean and not get out. Truth be told, we aren't meant to swim here because of the dangerous rips so we just fall in instead. The ocean is so warm and absolutely pristine, extremely salty though. For the afternoon we head to the station and chill in the cabana. I love the cabana it has an amazing view overlooking the ocean, perfect for playing card games and eating ice cream.
Seriously, I love it here in Ostional. There is not any other place in the world where I would rather spend my Birthday. After seeing the most beautiful sunset walking to work at 6pm I arrive to baby endangered leatherback turtles being born. They were meant to become extinct on this beach in 2014. Luckily, they still have a chance, even though the numbers are rapidly decreasing. I help weigh and measure the babies. Though, some were not completely ready yet as they still had their turtle bellybutton. We clear a path under nightfall and fill in the crab holes. I am the second person to release a baby.
Making our way back to the hatchery we discover sixty black turtle babies have surfaced. The second release of the night- very rare. We formed a V shape leading to the ocean and watch the little ones waddle into the water and be swept out with the tide. While this was happening fourteen more leatherbacks had hatched. At this stage it was eleven o'clock and I fell fast asleep.
I only arrived to Ostional four and a half days ago, but it has become my new home. Being constantly surrounded by amazing people, incredible sights and an assortment of wildlife, I am in heaven. I wish I was going to be living the simple village life for more than two weeks. There is no WIFI, no hot water, rice and beans the majority of meals and no working phone. Though, through the lack of modern technology I definitely now embrace the world and all the natural glory it bestows. It has become a norm to wake up to iguanas scratching on the roof, to have random dogs come up to you on the street, to sleep in a room covered in spiders and to constantly have bats flying past your head at night.
This is how I always dreamed of living and I never want it to end.