It the tenth day on the Annapurna Circuit. I will be hiking from Yak Kharka to Thorong Phedi, also known as base camp. This takes over 4 hours and a distance of 6 kilometers.
---
Its the tenth day on the Annapurna Circuit and we will be trekking up to base camp. Day ten will take us from Yak Kharka to Churi Ledar and Churi Ledar to Thorong Phedi (Base Camp). The total journey from Yak Kharka to Thorong Phedi consists of 6 kilometers of hiking over 4 hours and an elevation increase of 400 meters.
Though, I will go through my journey from Yak Kharka to Thorong Phedi, also known as base camp, in detail. That way, if you are planning your own Annapurna Circuit trek you will know exactly what to expect on day ten.
---
Day Ten: Trekking Yak Kharka To Thorong Phedi (Base Camp) On The Annapurna Circuit
---
Overview Of The Journey: Yak Kharka To Thorong Phedi
Yak Kharka (4050m) to Churi Ledar (4200m): 1 km hike which takes half an hour
Churi Ledar (4200m) to Thorong Phedi (4450m): 5 km hike which takes 3 and a half hours
---
Waking Up In Yak Kharka
The higher altitude wakes us up early, which is perfect as its best to get the majority of trekking done in the first portion of the day. This is because the weather can rapidly change in the afternoon and you don't want to be exposed to such elements at a high elevation.
We head up to the common room and dig into breakfast. I have a portion of Tibetan bread with scrambled eggs. Its the perfect way to start the day and give plenty of energy to hit the trail.
Packing up our bags and paying our bill we decide to be one of the first people off. It is only 7am, but our goal is to catch up with our friends who traveled onward to Churi Ledar yesterday afternoon. The goal for today is to make it to Thorong Phedi. This is the base camp to Thorong La Pass and is somewhere many people will leave directly to do the pass from.
---
Yak Kharka to Churi Ledar
Walking away from Yak Kharka the trail is extremely quiet. It seems like everybody is still asleep. We hike through relatively flat fields with the most amazing mountain views. Local horses roam around us and we even come across two horses play fighting on their back legs!
There are not many lodges here, but quite a lot of local homes. They appear nearly tent like nomadic villages, sort of like the yurts you would see in Central Asia. Though, even with the many buildings, there is not a stir around us as the world is still sleeping.
This portion of the trail is an extremely easy gradual uphill. Though, thanks to the altitude it is still necessary to take a breather every 10 minutes or so. The 150 meter climb over half an hour is barely noticeable, maybe these amazing views are taking our mind off it all.
Arriving in Churi Ledar we spot plenty of trekkers sitting out front enjoying the morning sunshine while having breakfast. There are only two lodges, as well as a tea shop there, so I imagine it can get quite busy during the high season. Ideally, this is where you should be sleeping if you plan to stay a night at Thorong High Camp, ensuring you stay within a safe elevation range.
We spot our friends sitting in the courtyard. They tell us they are planning to hit the trail in about fifteen minutes and will catch up to us. I am sure they will, considering I have the speed of a turtle. Though, they also trained for the Annapurna Circuit, joining the hundreds of locals which run around the parks in Pokhara every morning.
---
Churi Ledar To Thorong Phedi Base Camp
Out of Churi Ledar, we follow on the path now coming across locals on the trail, as well as their horses carrying goods further up the circuit. We follow the mountainside around, weaving in and out of passing trekkers. Soon enough our friends catch up to us and we pick up the speed.
We come across a large suspension bridge taking us over the river to the other side of the valley. The guidebooks all said to cross over using this suspension bridge. Though there are about 20+ people in view and none of them are taking the suspension bridge. Instead, they are continuing on the trail to the valley floor, crossing a small wooden bridge and then climbing a steep path which meets back up with the trail on the other side.
Now I don't know if the altitude is getting to us or we are just sheep and did not want to go against the crowds. But, we regrettable decide to follow everyone and continue on the trail to the valley floor. The small rocks do not make it an easy terrain to walk on and the trekking poles do not help at all. After inching down the trail, taking small steps to avoid slipping I am nearly at the wooden bridge. I am not sure how it happened, but I lose concentration and suddenly fall back. When you are trekking at such a high altitude, with minimal energy and not feeling strong, knockbacks like this are not fun.
I am helped back up by fellow trekkers and we begin the steep ascent back up the side of the mountain, so we can connect back up with the path. The climb is treacherous and the small rocks prevent getting a decent grip. For each step forward it feels like taking two steps back as you begin to slide back down the mountain.
Eventually, we reach the top where two tea shops are located. They are packed full of trekkers taking a much needed break after such a steep climb. Our friends stop in for morning tea, though we continue on the trail, planning to meet them at Thorong Phedi.
We follow the mountainside around through the valley. The difficult trails carved into the side of a mountain are not the easiest to navigate, though it is just a quick 15 minute walk to the next portion of the path.
This is one of the most dangerous spots we will come across today and certainly one of the more dangerous parts of the trail. This landslide zone has caused numerous injuries and at least one death throughout the years. You need to be careful that the path does not slip out below you, as well as watching out for falling rocks.
Knowing we would not be able to safely stop on the landslide zone we stop and have a quick biscuit stop before entering. These biscuits may be a couple days old, having been purchased in Manang. Though, they still go down a treat.
We enter the landslide zone trying to move as quickly as possible without having to take a break. Luckily the path is rather flat, though seeing the massive boulders fallen down on the other side of the cliff indicate what could possibly happen here. After about 20 minutes the landslide area finally ends and we arrive straight into the lodges at Thorong Phedi.
---
Snowy Afternoon At Thorong Phedi Base Camp
We decide to join the many other trekkers and book a room at Thorong Base Camp Hotel. To our surprise, we are greeted by a westerner working in the reception area there. Her name is Kate and she comes and works at this lodge for half the year.
She shows us to a room which costs $1.60 / 200NRS per night and has an attached bathroom. It is simple, but with fluffy blankets and a decent pillow, it will do the job.
In my opinion, Thorong Phedi is the perfect place to spend the night on the Annapurna Circuit. There are a couple bakeries here and they even make coffee from grounds! The lodges have an awesome vibe and the atmosphere inside the common room at Thorong Base Camp Hotel even felt like we were in a hostel!
At 2pm we watch a large storm roll in while eating pizza for lunch (the pizza is delicious as well). Soon we can barely see outside the windows as snow begins to fall around us. We go outside and watch it. For the first time on the Annapurna Circuit we have snow! I remember sitting at home googling whether you can get snow on the trail at May and all answers said it was unlikely.
---
Staying In Thorong Phedi Base Camp
I watch the snow surrounding us and completely blocking our view across the valley. I hope that it is going to settle on the ground overnight. Though, right now it is just melting as soon as it touches so it is unlikely to stay.
After not the best mac and cheese meal at the beginning of the Annapurna Circuit, we have avoided it so far. Though the pizza for lunch was amazing and with Kate working here the standards are incredibly high. We decide to risk it and order the Marconi and cheese, luckily for us it is authentic and not some vegetable concoction.
We spend the evening playing cards and planning the route out for tomorrow. I am not 100% sure whether I feel comfortable trekking over the pass at the moment. Though, James and I agree that we will see how we feel tomorrow. In all honesty, the lodge at Thorong Phedi is amazing and I could happily stay here a few more days. Unfortunately, money is running out quicker than expected, especially with me having to consume bottled or boiled water. The nearest ATM is in Jomson, at least a few days from here.
Up Next: THORONG PHEDI TO HIGH CAMP ON THE ANNAPURNA CIRCUIT- DAY ELEVEN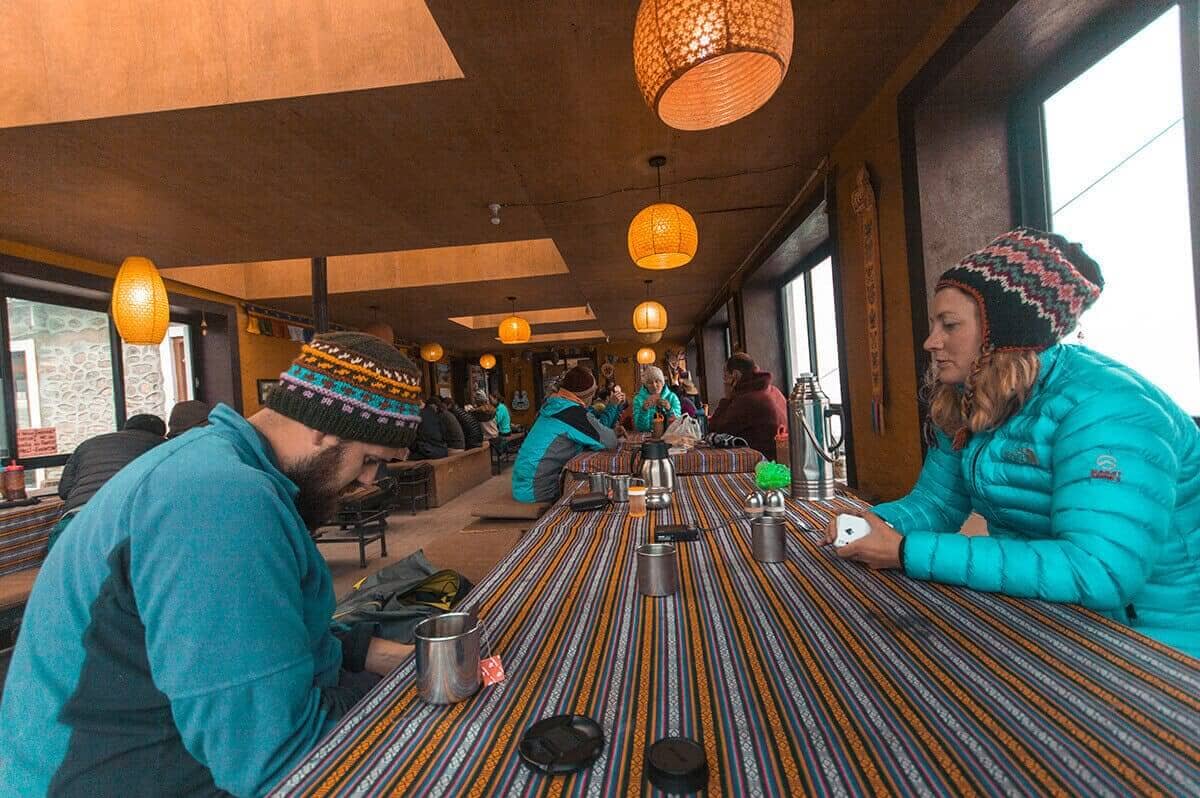 ---
LIKE IT? PIN IT!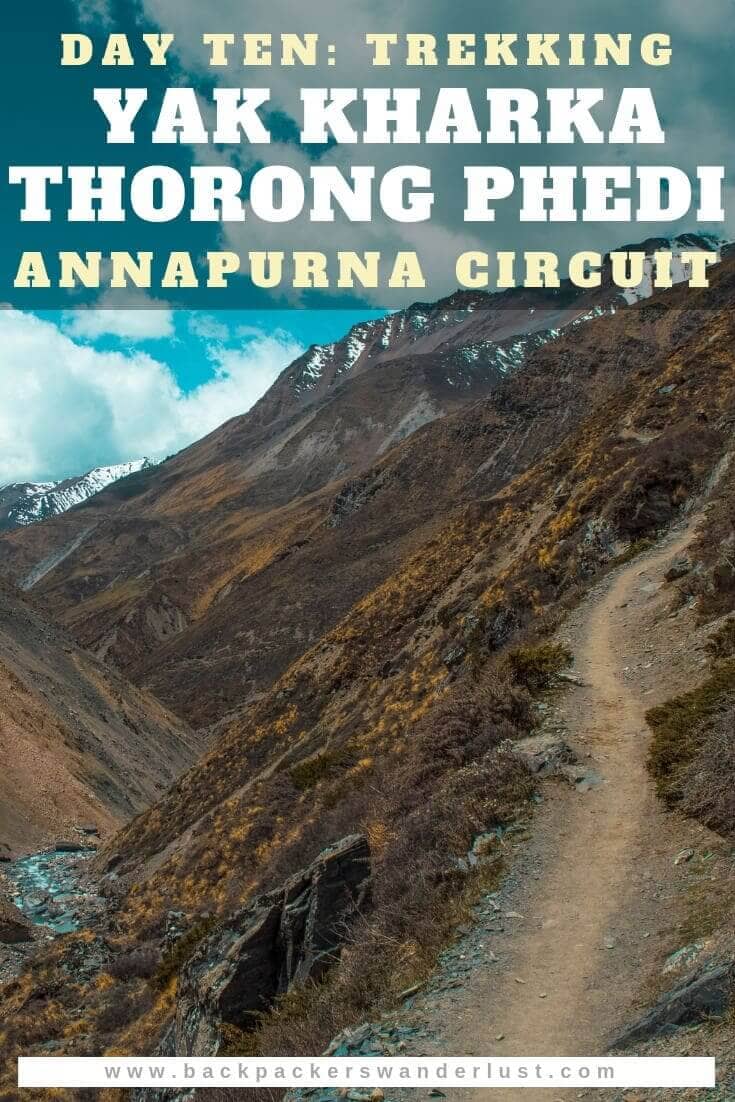 Want more Annapurna Circuit Inspiration? Check out….
Disclaimer: This post contains affiliate links. So, if you click on it and purchase something, I get a small percentage at no extra cost to you. As always all opinions are my own and your support is much appreciated.