Find out about my eighth day on the Annapurna Circuit. Today will be a bit more relaxing as we have a rest day in Manang. Though, we still do a short hike to a viewpoint as well as attend an altitude sickness talk.
---
It's the eighth day on the Annapurna Circuit and we are having a rest day in Manang to help us adjust to the altitude. Though, we will be hiking up to a viewpoint over Manang and attending a high altitude talk run by local volunteers to keep us busy.
I will go through how exactly I spent my Manang rest day in detail. That way, if you are planning your own Annapurna Circuit trek you will know exactly what to expect on day eight.
---
Day Eight: A Relaxing Manang Rest Day On The Annapurna Circuit
---
Waking Up In Manang
After an early night, I finally get a decent sleep on the trail, even waking up at 9am! This is likely because I am sleeping at a lower altitude than the previous night in Ngawal, as well as my body hopefully beginning to adjust to the altitude.
Heading out to the common area we have breakfast at 10am and enjoy the views out the massive windows. I chow down on scrambled eggs, potato and toast. There are so many different types of people staying here at the Alpine home. It is interesting to hear about their journey so far and how long it has taken them to get to Manang. There is even a father-son combination, the son being only 8 years old!
I am having Dehli belly issues this morning (don't worry it wasn't the food at Alpine home! Its the yak cheese). As a result, after breakfast, I jump back into bed and relax. Trying to sleep off the stomach cramps so I can go out and explore the rest of the day.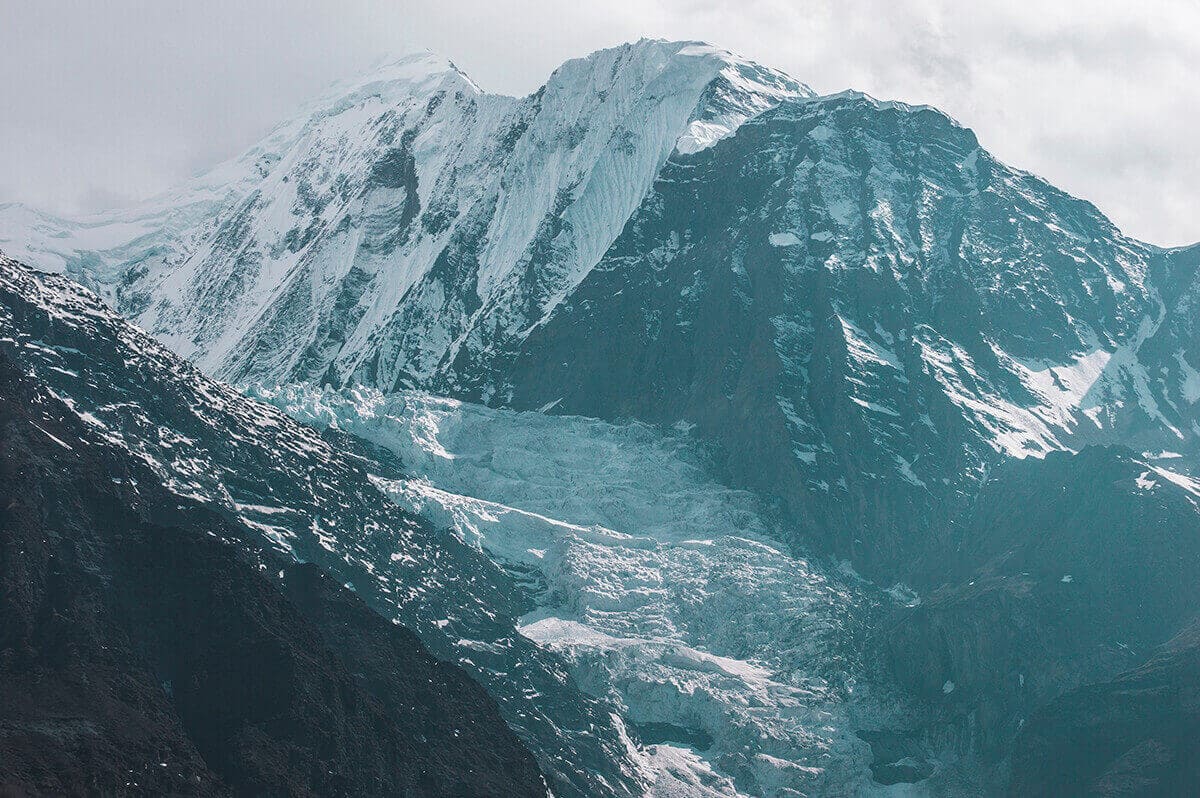 ---
Hiking To A Viewpoint Over Manang
After a bit of a relax we skip lunch and instead go for a walk to a stupa above the town. It is a couple of hundred meters up so we decide that is enough of an adventure for today.
The walk up is incredibly steep, in certain stages we are even having to drag each other up. I am sure it is quite a sight for the locals. Passing through paddocks and pushing against the wind we head further and further up until reaching the top.
The views of Manang village below are extremely beautiful. Also being higher gives us a greater view of the nearby mountains and Gangapurna glacier. We sit down for a while to take in these incredible sights. Though, unfortunately, with the wind blowing a gale we decide to carefully navigate our way back down the mountainside. If the wind was not so strong we would have happily spent an hour up there. Though we can barely hear each other and it is freezing, even with the sunshine!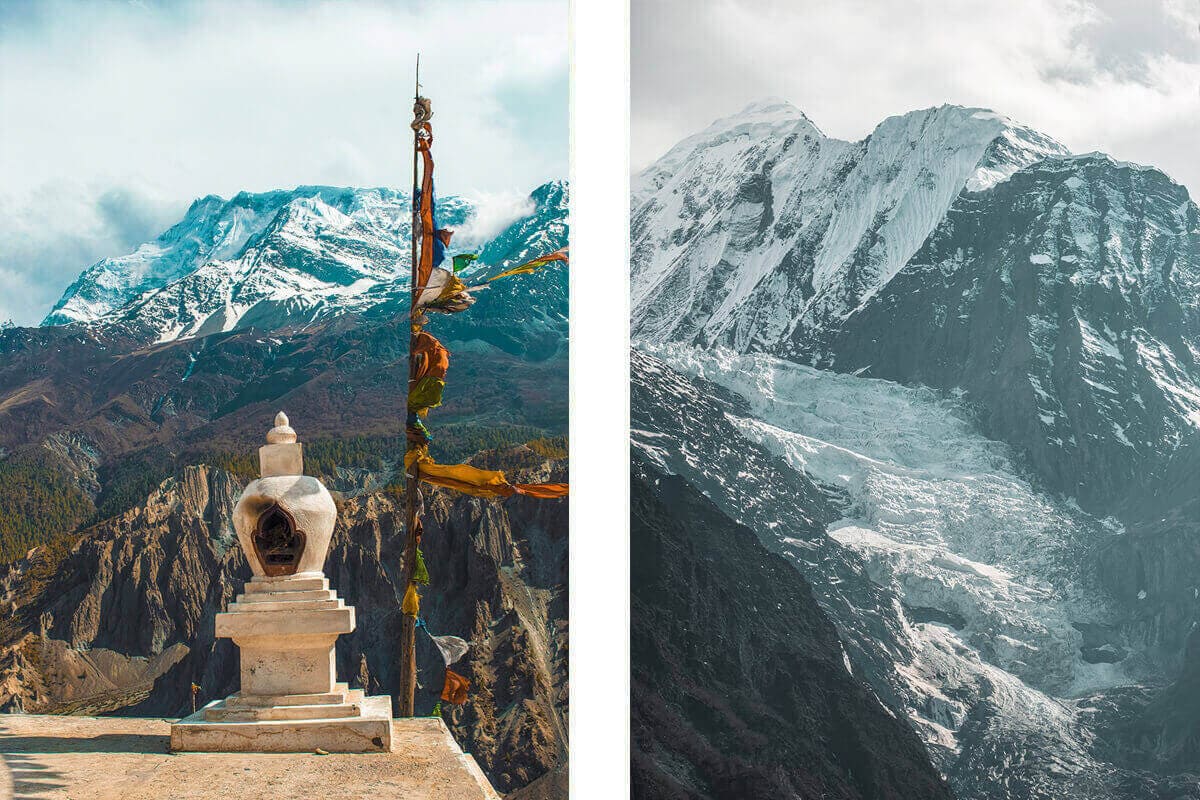 ---
Altitude Talk In Manang
In the afternoon there is a high altitude talk held in one of the buildings in the village. This is put on every day by The Himalayan Rescue Association and is an excellent way to fill in an hour or two.
Walking in the room it is pretty packed of all sorts of trekkers, some we have seen along the trail so far and others are new faces. We say hello and grab a seat in the crowds waiting for it to start.
As the name suggests the AMS (acute mountain sickness) talk is about exactly that. Some trekkers come up here on a whim and are quite unprepared. It is important to advise them of the symptoms and the importance of trekking with someone, as you usually won't recognize the symptoms yourself. We learn about a variety of things such as how to get help, what to do if you feel unwell and medication we should take.
To my surprise, James and I are the only people who have pre-purchased the emergency medications which we saw mentioned in the guidebook. These pills only cost us a couple of dollars from the pharmacy in Pokhara and could be the difference between life and death if we are in a bad situation.
These types of medications as well as more general pills such as paracetamol are available for purchase after the talk. Though that is not exactly what I am interested in.
What catches my attention is that they have a machine which will show your oxygen level and heart rate. It costs $0.80USD / 100NRS, so I decide to give it a try. This gives an excellent indication of how your body is adjusting to altitude and whether you are considered a dangerous level. Where we are in Manang the air hold 20-30% less oxygen than it does at sea level. This may not seem like much, but over the pass this number drops to less than half of that at sea level. This is when many people get into dangerous situations.
Testing mine, the oxygen level is 93 and I have a heart rate of 103 beats per minute. At an altitude of 3500 meters these results are good and to my surprise better than that of a lot of trekkers. I can certainly say I don't feel great and neither does my body while trekking, but it's amazing to know this plus size girl can do the unthinkable.
---
Another Evening In Manang
After the AMS talk, we head back to Alpine Homes for a bit of a relax. Jumping back on the WiFi I catch back up with life in the real world. In a society so connected through technology, it is nice to spend days hiking getting away from it all.
For dinner, I have a basic dish of cheese on toast. Playing cards with each other we laugh the evening away as well as planning the route for tomorrow. Now we would be heading off the road and onto hiking paths. That means no more cars, but instead traffic jams between horses and yaks. I am looking forward to more amazing scenery and seeing how the landscape changes at higher altitudes.
Up Next: MANANG TO YAK KHARKA ON THE ANNAPURNA CIRCUIT- DAY NINE
---
LIKE IT? PIN IT!
---
Want more Annapurna Circuit Inspiration? Check out….
Disclaimer: This post contains affiliate links. So, if you click on it and purchase something, I get a small percentage at no extra cost to you. As always all opinions are my own and your support is much appreciated.