Find out everything you need to know for backpacking Singapore on a budget. Learn about the best travel tips, money, important information, top places to see, and more in this backpacking Singapore guide!
---
The modern nation of Singapore is a must-visit for travelers in Southeast Asia. It's a relatively small nation with plenty of things to do, see and explore, but is unfortunately known for being on the expensive side. Though, don't let the prices keep you from venturing outside of the airport. While it may not be possible to keep to such a budget as Malaysia or Thailand, you can definitely cut down on cost which will help your experience backpacking Singapore on a budget.
After a few days in Singapore, it's easy to see how this place is more catered towards middle-aged travelers, for example, my parents would love it there. It's a melting pot of cultures which is showcased around its various areas, highrise buildings make up an impressive skyline and the transport system is an absolute dream. The locals are willing to help you without wanting anything in return (fairly unusual in Southeast Asia where scams are prominent). It's a place that certainly showcases the best of what it has to offer. Though explore a little deeper and you will find those unique factors which make a place for us backpackers. Whether that's eating with locals in Little India, celebrating the Chinese New Year in China Town, or marveling at the country's various architectural feats shimmering in the nighttime darkness.
Though, before I give away too many details about Singapore, it's time to get back to basics. I will cover everything you will never need to know about backpacking Singapore. From money, visas, when to go, accommodation, getting around and so much more before finally getting into where exactly you should go and do during your adventure traveling Singapore on a budget.
---
Backpacking Singapore On A Budget: All You Need To Know
---
What Is The Currency In Singapore
The local currency in Singapore is the Singapore Dollar.
Check online exchange rates.
---
Cost Per Day & Budget To Backpack Singapore
Being one of the most expensive countries in Southeast Asia you are best to budget when backpacking Singapore. Think about transportation, accommodation, food, and activities. It's super easy to overspend here, especially if you enjoy the finer parts of life.
As a minimum, your Singapore budget should be at least $65.00 per day. This will get you a hostel dorm bed, meals out at local joints, and using the well connected MRT system to travel around. Personally, I would recommend having between $85.00 – $100.00 per day. This increase in budget will allow you a more comfortable pod-style dorm room, trying out more foodie delights, and to enjoy some of the cheaper attractions such as the Cloud Forest at Gardens By The Bay or a trip up to the Marina Bay Sands view deck.
The biggest portion of basically anyone's budget for backpacking Singapore will be accommodation. Though if you're coming to Singapore for the theme parks you will need to have a lot more than the $65.00 per day budget. I personally left it out of my trip for this reason. Plus it's hard to splurge when that's a few days budget in Thailand.
---
Entry Requirements For Backpacking Singapore
Depending on your passport country of origin, you may not need a visa for backpacking Singapore. Countries such as The United States, United Kingdom, Australia, Canada, and New Zealand can all enter Singapore visa-free. The list of what countries require a visa is a lot smaller than those countries that don't.
Nevertheless, most backpackers like myself can only afford to spend a few days in Singapore max before moving on. So you do not need to worry about overstaying.
---
Best Time For Backpacking Singapore
Being a tropical destination the weather in Singapore can change at any point. Though the 'dry' season is from February to April. During this time you can certainly expect less rain, but still ridiculously hot and humid days. During this period, there is an influx of tourists as people come to visit, and as a result accommodation prices increase.
The wet season from September until January will certainly see accommodation prices drop a bit and crowds disperse. Though in all honesty, I wouldn't plan your backpacking Singapore trip around the weather unless this is where you plan to spend the majority of your time backpacking Southeast Asia. Personally, I have looked at Thailand or Cambodia weather and planned a few extra days in Singapore so the weather here was an afterthought.
I visited Singapore in February during my trip. The weather was fantastic the entire time, though I must admit it was ridiculously hot and humid. I found the weather the hardest to handle out of all the Southeast Asian countries I visited. Though the metro made it easy to get around which meant we weren't walking long distances in the heat. We also managed to time our trip with the New Year celebrations near our accommodation in China Town. This meant joining in with the locals celebrating with a huge parade down the main street.
---
Sleeping In Singapore On A Budget
Finding somewhere to stay in Singapore is the easy part, there are so many different options to choose from. Though choosing the perfect place to sleep in Singapore on a budget will certainly test your researching skills. With 5 star hotels with city views to rattling bunk bed overpriced hostels, it will definitely pay to read reviews and do a bit of research beforehand.
Personally, during my trip to Singapore I stayed in a variety of accommodations. This was due to a couple of sponsorships with Furama City Centre and Furama Riverside. Though we also stayed one night in a pod-style hostel.
Hostels In Singapore
There are plenty of choices when in comes to hostels in Singapore. From the standard bunk bed to pod style capsules. A lot of the hostels in Singapore are fairly modern and well equipped. Many of the beds even have a pullover curtain which is something that is certainly appreciated while traveling. Chinatown and Little India are the parts of Singapore where you will find more affordable hostel accommodation. As a result, they also have a great backpacking scene and are the perfect places to meet other travelers.
Hotels In Singapore
Singapore is the home of mind-blowing incredible futuristic hostels. Though you can find everything from Marina Bay Sands to a spot where I stayed at Furama City Centre or Furama Riverside. In all honesty, if there is somewhere you want to splash out on your trip and live a little bit more luxurious than usual I highly recommend doing so in Singapore. Imagine waking up at the beautiful rooms at Marina Bay Sands and going up to the incredible rooftop pool for a morning swim overlooking the city skyline.
Overall, on the lower end, you will want to spend around $50.00 per night for a bed in a shared hostel dorm room. For a hotel, you will be paying anywhere from $80+ depending on the location.
---
Getting Around Singapore On A Budget
In my opinion, Singapore is relatively easy to travel around. Though the ways of getting around may not be the cheapest, they are certainly efficient and fast. No doubt Singapore has one of the best transport systems in Southeast Asia. I used the City Mapper App to figure out which mode of transport would be the quickest and I highly recommend it for your trip.
MRT:  The MRT is no doubt the cheapest and could be one of the simplest ways to travel around Singapore. Even this small town Kiwi chick managed to figure it out, albeit with a bit of help. Even at the MRT station in the airport, there were friendly assistants to help us purchase tickets and even swapped our larger notes for smaller ones to use the ticket machines. Usually in Southeast Asia, we would be wary about such encounters, especially involving money, though Singapore is different. The MRT is relatively connected to all the main parts of the city. You may end up needing to walk a little bit or change trains, but the CityMapper App will tell you which train to change onto.
Taxi: Now this will be one of your more pricey ways to get around Singapore. We did use this a couple of times, though that was because we were transporting our luggage and were a decent walk away from the MRT Station. Due to the harsh laws in Singapore, it is extremely unlikely your taxi driver will try to scam you. All taxis run on meters, though there are various surcharges depending on the time of day.
Bus: I personally did not take any buses during my trip to Singapore as they didn't seem necessary to get where I wanted to go. Though the option is there if you wish to take one. If you get a Singapore tourist pass this will allow you access to the MRT and the bus links. The price varies depending on the amount of time you purchase one for and costs anywhere from $10.00 for 1 day up to $20.00 for 3 days.
Motorbike: Unlike many other Southeast Asian countries it is not common here for travelers to get around on a motorbike. This is due to the well connected public transport links. So, best to save that motorbike adventure for Vietnam or Thailand.
---
Food & Drink In Singapore
Singapore is known as being a melting pot of cultures and this is shown more than anywhere else, in the variety of cuisine available. Depending on where you travel to in Singapore you will come across various delightful eats. You can even find some great things to bring home as Singapore food souvenirs.
Head down to Chinatown to discover the best Hawker Centres. These are some of the cheapest spots to get a meal in Singapore and a popular option with travelers on a budget. Though it is also an experience in itself as you join the locals testing some of the best food the country has to offer. Some of the top delicacies on offer are chili crab, carrot cake, and char kway teow. These Hawker Centres are one of the cheapest ways to eat out in Singapore.
If you are feeling like a little bit of curry head across to little India. This is also one of the cheaper places to eat in Singapore, though remember this is Singapore and prices are a lot more than other Southeast Asian countries. For some reason, it surprised me that eating a meal in a restaurant there came to around $20.00 for 2 people, whereas this would usually be our daily budget.
If you are really wanting to get cheap there are plenty of 7/11's around Singapore and are the perfect place to grab a snack. They have microwaves in store allowing you to heat up the food, creating a quick and cheap meal on the go.
Now for your fancy night out head down to the River to grab one of the famous Singapore Sling. The ultimate way to enjoy this drink is no doubt at the Marina Bay Sands Hotel while their famous light & water show is going off in the background, or how about splashing out and visiting one of the rooftop bars in Singapore for some impressive views.
---
What Is Internet Acess Like?
Being such a technologically advanced country Singapore has absolutely fantastic internet! Hotels and hostels will have speedy free internet allowing you to keep up with your favorite shows and get in touch with your family back home.
---
Buying A Simcard In Singapore
I personally did not feel the need to buy a sim card while traveling in Singapore. First, off they are a lot more pricey than other Southeast Asian countries,  Singapore is such a well-connected country it is easy to get around, and lastly, it is super safe. Though if you are keen to get a sim card I highly recommend checking out this review of different sim cards to see which would be best for you.
Though before you go ahead and purchase a sim card definitely check with your accommodation provider whether your stay includes a 'Handy Phone'. The phone is android and preloaded with a few apps and the best part is unlimited data. Make the phone your own, download whatever apps you want to for your stay. You can even take it out with you when you go exploring so you will never get lost or not sure what to see/do. At the end of your stay, the phone gets wiped so any data stored will be deleted, ready for the next guests using that room.
Being first-timers in Singapore this is a major benefit for us. We were easily able to look at google maps, check out restaurant reviews, and find out information on many of the countries impressive sights!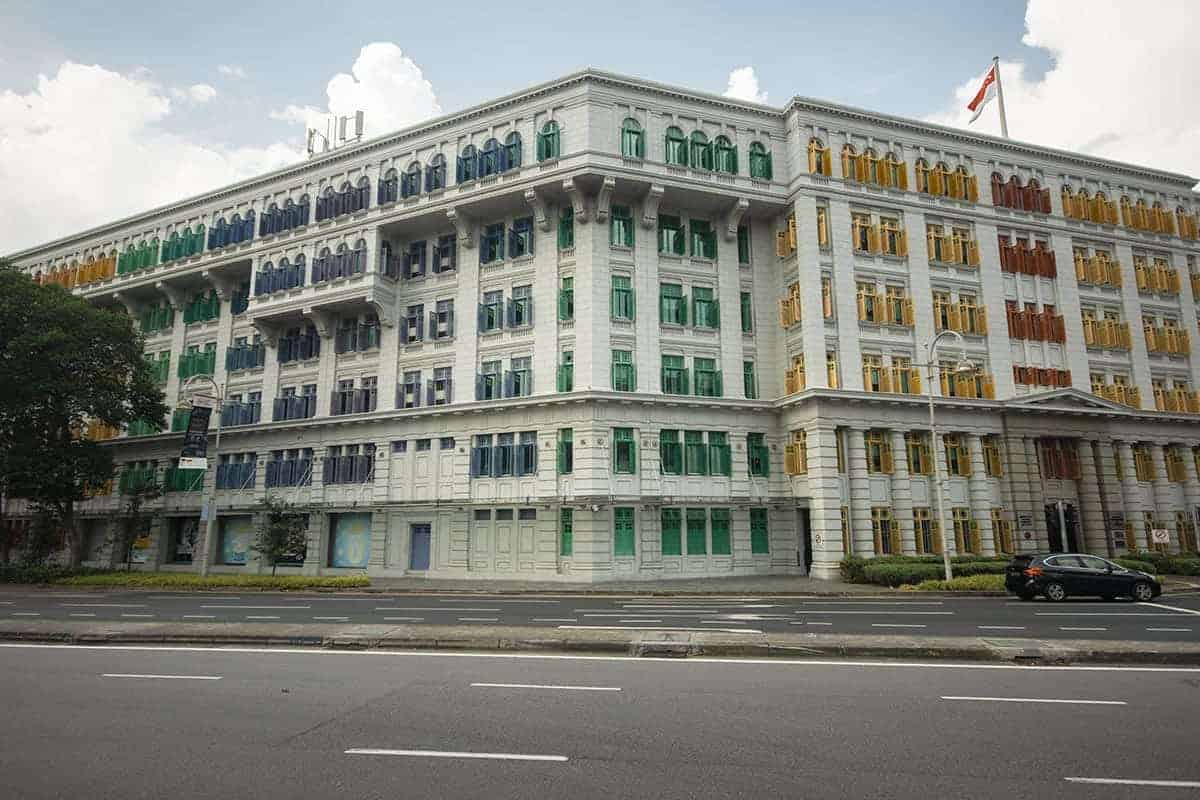 ---
Best Things To Do While Backpacking Singapore On A Budget
There are so many incredible things to do while you are backpacking Singapore. For this guide I will just list some of the more popular and touristic options, though if you are looking to get off the beaten track why not check out more unique things to do in Singapore.
---
Gardens By The Bay
No doubt one of the best things to do while backpacking Singapore on a budget is a visit to the impressive Gardens By The Bay. It would be super easy to spend all day exploring this impressive architectural feat! During the day checking out the amazing Cloud Forest and Flower Dome. Then in the evening, you cannot miss the night show. The price for entry varies depending on what attractions you enter. Though checking out the night show and walking around the park itself is free!
---
Chinatown
One of the best parts of visiting Singapore is checking out all the areas and the different cultural influences. I stayed in Chinatown and really enjoyed being right amongst a lot of the action. Though with the MRT you really aren't that far away from anything. Make sure you check out Pagoda Street for some shopping and cheap snacks. Seriously prices here were surprisingly cheap for touristy souvenirs! The Buddhas Tooth Relic Temple is also a must-see. If you are visiting at night it is amazingly lit up and is a photographer's paradise.
---
Little India
No trip to Singapore is complete without a visit to Little India. With easy access to the MRT it a perfect place to have lunch and wander the streets. There are some excellent restaurants to check out, especially if you're craving Indian food. There are also plenty of impressive mural designs and street art everywhere you turn. It certainly makes for some great photography opportunities.
---
Sentosa Island
For those who love a bit of adventure and that have a bit more of a budget, a trip to Sentosa Island is a must. This is where you will find Universal Studios. Though there is also a waterpark, skywalk, butterfly garden and so much more. Essentially it is its own tropical island with the slogan "the state of fun". Seriously you can even take a cable car to get there. Doing so will give you some amazing views of the island as well!
---
Marina Bay
Before you leave Singapore make sure you explore the area known as Marina Bay. Hire a bike or explore it on foot. It's a nice way to spend an afternoon enjoying the waterfront. Here you will find the popular Merlion which is no doubt drawing in a crowd. Check out the evening light and water show. Or, if you are really wanting to splurge go for a ride on the amazing Singapore Flyer. This is Asia's largest Ferris wheel and provides a mind-blowing view over the city. For more views head up to the viewing deck of the famous Marina Bay Sands or simply marvel at the amazing architecture both inside and out of this building.
---
LIKE IT? PIN IT!

Want more Singapore Inspiration? Check out….
Disclaimer: This post contains affiliate links. So, if you click on it and purchase something, I get a small percentage at no extra cost to you. As always all opinions are my own and your support is much appreciated.