Find out all you need to know about visiting Queen Hortense's Cave On Isle Of Pines. This impressive place is not just an incredible natural formation but also surrounded by history.
---
Isle of Pines in New Caledonia had been somewhere I had wanted to visit for years. Known for its incredible landscapes, abundant reefs, and impressive caves, no doubt I had to check out Queen Hortense's Cave during my adventures in this paradise.
This is no doubt one of the most popular things to do on the island, though surprisingly it isn't the easiest to get to unless you have your own transport. Luckily enough it is worth the journey!
The cave is a beautiful and mysterious place, surrounded by lush vegetation and filled with stalactites and a stream. It is also a sacred place for the local people, who believe that throwing a coin on the stone where Hortense slept and making a wish will bring good luck.
Queen Hortense's Cave is surrounded by lush vegetation and has a large opening with stalactites hanging from the ceiling. It is also home to various plants and animals, such as ferns, heliconias, birds of paradise, and bats.
I visited Isle Of Pines as part of a South Pacific Carnival Spirit cruise departing from Sydney. Originally I thought my highlight here would be the Natural Pool, though it actually turned out to be the Cave of Queen Hortense. We were fortunate enough to be able to hire a car for our visit so this meant we could tick off some of the best things to do on Isle of Pines.
So strap in as I let you know all about visiting Isle of Pines Cave of Queen Hortense. This includes where it is located, entry fees, why it is worth visiting, the history, how cruise ship passengers can visit, and what to expect.
---
Queen Hortense's Cave In Isle Of Pines: Why It's Worth Visiting & Travel Tips
---
Why Visit Queen Hortense's Cave
Queen Hortense's Cave is a fascinating and historical attraction on Isle of Pines, a beautiful island in New Caledonia. The cave is named after a local queen who hid there for several months during a tribal war in 1855. It is located in the north of the island and is surrounded by lush tropical vegetation.
Queen Hortense's Cave has a large entrance and a spacious interior, where you can see stalactites hanging from the ceiling and a flat rock that serves as the queen's bed. It is also a place of legend and mystery, as some people believe that it has magical powers and that you can make a wish by throwing a coin on the rock.
---
History Of Queen Hortense's Cave In Isle Of Pines
Queen Hortense's Cave is named after Hortense Vendégou, the daughter of Grand Chief Kaoua Vendégou, who ruled the island in the 19th century.
Hortense was a remarkable woman who played a significant role in the history and culture of the island. She was also the first Melanesian to speak and write in French.
The legend of Queen Hortense's Cave dates back to the mid-1800s when there was a violent conflict between the tribes on the island. Some tribes were opposed to the idea of having a female leader, even though Hortense was the heir of her father.
To protect her from harm, her father advised her to hide in the cave surrounded by lush tropical vegetation and crossed by a stream. Only two friends knew her whereabouts and brought her food and news at night.
Hortense stayed in the cave for a year, sleeping on a flagstone that can still be seen today. According to tradition, visitors can throw a coin onto the flagstone and make a wish.
After the conflict subsided, Hortense emerged from the cave and resumed her role as the princess of the island. Her father decided that she should learn French, so he sent her to Nouméa, where she attended a Catholic school.
She became fluent in French and learned to read and write. She also converted to Christianity and changed her name from Kanedjo to Hortense, in honor of Hortense de Beauharnais, the mother of Napoleon III.
Hortense returned to Isle of Pines and married Samuel Vendégou, her childhood betrothed and the future Grand Chief of the island. She used her knowledge and influence to help her people resist French colonization and preserve their land and culture.
She also promoted education and health among the islanders. She was respected and loved by both the Melanesians and the Europeans.
Hortense died in 1909 at the age of 69. She was buried in a mausoleum near her cave, which became a sacred site for her tribe. Today, Queen Hortense's Cave is one of the most popular things to do in Isle of Pines.
---
How To Get To Queen Hortense's Cave
Queen Hortense's Cave is located in the north of the island, near the airport. You can get here by renting a car, a scooter, or taking a taxi or a shuttle bus. How long you have on the island and how much you want to spend will decide which method you may want to use.
---
Driving
You can drive or take a taxi from the main village of Vao, which is about 15 km away.
The road is paved and well-maintained, but it can be narrow and winding at some points. You will pass by some scenic spots along the way, but you also need to be careful of the road conditions and respect the local traffic rules.
I decided to drive and had a wonderful time as it also allowed us to explore some of the other best things to do on Isle Of Pines. Though understandably hiring a car isn't to everyone's liking so you do have other options.
I booked my car rental through Edmond Transport which is the main car hire company on the island. They offer a variety of cars and we organised a pick up and drop off time down at the cruise ship port and it was all pretty straightforward.
---
Scooter
Hiring a scooter is another option to visit Queen Hortense's Cave. It is similar to hiring a car, but cheaper and more fun. You can enjoy the fresh air and the scenic views of the island as you ride along.
However, hiring a scooter also has some drawbacks. You need to wear a helmet and follow the traffic rules. You may also get wet or cold if the weather is not good.
Atchu Transport is the best company to contact regarding this.
---
Shuttle Tour
Taking a shuttle tour is another option to visit Queen Hortense's Cave. It is similar to booking a taxi but cheaper and more social. You can join a group of other tourists and share the cost of the transportation.
On the journey, you can also meet new people and make friends along the way. However, taking a shuttle tour also has some drawbacks. You need to follow a fixed schedule and itinerary, so you may not have enough time to explore the cave or other attractions. You also need to book your shuttle tour in advance and confirm your availability.
Edmond Transport offers an island circuit tour to cruise passengers. This would be a great way to see the highlights of the island including the Natural Pool and Queen Hortense's Cave. It is pretty affordable at $30.00 per person.
---
Entry Fee To Queen Hortense's Cave
The entry fee to Queen Hortense's Cave is 300 XPF / $4 AUD per person. We didn't have any local currency and were easily able to pay in Australian Dollars instead.
This fee is collected by the site's caretaker, who will also tell you the story of the cave. It is open daily from 8:30 am to 4:30 pm
---
How Can Cruise Ship Passengers Visit The Cave Of Queen Hortense
To visit the Cave of Queen Hortense, cruise ship passengers have a few options:
They can take a taxi from the cruise terminal to the cave, which is located in the north of Isle of Pines, not far from the aerodrome. The bus fare is about 500 XPF / $5.00 per person, and the taxi fare is about 2,000 XPF / $20.00 per ride. The drivers may also offer to wait for the passengers and take them back to the terminal for an extra fee.
They can rent a car or a scooter from the cruise terminal or from one of the hotels on the island, and drive themselves to the cave. The rental fee varies depending on the type and duration of the vehicle, but it may range from 5,000 XPF / $50.00 to 15,000 XPF / $150.00 per day. This option is the most adventurous and independent way to visit the cave, but it also requires more planning and responsibility. The drivers need to have a valid driver's license and follow the local traffic rules.
They can take a shuttle tour to the best sights on Isle Of Pines, including the Cave of Queen Hortense. The bus tour also stops at various viewpoints where you can take photos and admire the scenery. Edmond Transport offers an island circuit tour to cruise passengers costing $30.00 per person.
---
My Experience At The Queen Hortense Cave In Isle Of Pines
As I have said previously, I decided to hire a car for the day through Edmonds Transport. After getting off the cruise ship on the first tender boat and enjoying some time hanging on the nearby beaches before the crowds got there it was time to hit the road.
We met a worker at the designated drop-off point and did a bit of paperwork and then the car is all ours. We head off up the road and across the island. The first stop of the day is the one I am most excited about, visiting the Natural Pool, since we presumed this would be the busiest it would be best to hit it up first.
After an enjoyable couple of hours there, it just hit midday so we decided to venture on to our second stop the Queen Hortense Cave. It isn't too long of a drive, and we are soon at the carpark. There are only a few other groups of people around which is amazing considering the huge cruise ship at port.
We pay the entry fee and are shown to the start of the track leading to the cave. It is only a short 5-minute walk, but it is amazing being in the jungle checking out the incredible plants and flowers. We spot some huge snails on the ground, which I learned were a delicacy here.
We arrive at the mouth of the cave and are in absolute awe of its grandness, It stretches wide and deep, plunging into darkness. We cross over a small bridge and into the cave, the ceiling is covered in stalactites and it certainly is an incredible sight.
We use our phone torches to help navigate the way, it is very much needed. There is a well-trodden path that we follow leading us deeper and deeper into the cave until we cannot go no further.
Up to the side of us is a large sinkhole where the roof had caved in. Massive tree roots had grown down making their way into the earth. This creates the perfect photo opportunity as well as the perfect spot to stop and just marvel at the beauty.
We follow the stream heading back out of the cave. No doubt this is an incredible thing to do here in Isle of Pines, especially for those who enjoy learning about history and checking out unique landscapes.
---
What To Pack For Queen Hortense's Cave In Isle Of Pines
If you are planning to visit the Queen Hortense's Cave in Isle of Pines, New Caledonia, here are some tips on what to pack for your trip:
Wear appropriate shoes for the cave visit, as the place is damp and slippery.
You may also want to bring a torch to see the stalactites better.
Bring some coins to make a donation at the entrance of the cave, and to throw onto the flagstone where the queen slept and make a wish.
Bring a camera or a smartphone to capture the beauty of the cave and its surroundings. The cave has a huge portal with stalactites at the ceiling and is filled with lush tropical plants and a stream.
Dress in layers and bring a raincoat or an umbrella, as the weather can be unpredictable on the island. The average temperature is around 25°C, but it can get cooler or warmer depending on the season.
---
Where To Stay In Isle Of Pines?
Whether you are looking for a luxurious resort, a cozy bungalow, or a budget-friendly hotel, you can find the perfect place to stay on this island. Here are some of the best areas to stay in on the Isle of Pines:
Vao: This is the main village on the island, where you can find shops, restaurants, markets, and cultural events. You can also visit the Notre Dame de l'Assomption church, which was built by convicts in 1860. You can also explore the forest trails and discover the endemic flora and fauna of the island.
Baie d'Oro: This is the most popular area on the island, as it is home to a stunning natural swimming pool and a lagoon surrounded by coral reefs and tropical fish. You can also enjoy the white sand beach, the coconut grove, and nearby attractions such as Upi Bay and St. Joseph's Bay. The best accommodation option in this area is the Le Méridien Ile des Pins, a luxurious resort that offers bungalow suites, bedrooms, a restaurant, a bar, a spa, and a botanic garden.
Kuto Bay: This is another beautiful area on the island, with a long and wide beach of fine sand and clear water. You can swim, snorkel, kayak, or relax under the bugny trees that shade the beach. You can also visit the nearby Kanumera Bay, which has a sacred rock that is revered by the locals.
A luxe stay for those wanting to be in paradise. Rooms start from $400.00 per night including breakfast.

BOOK NOW

A slightly more affordable option in an equally amazing location. Rooms start from $270.00 per night including breakfast.

BOOK NOW
---
Other Things To Do In Isle Of Pines
Climb N'Ga Peak: If you are feeling adventurous, you can hike up to N'Ga Peak, the highest point on the island at 262 meters. The hike takes about an hour and is suitable for most fitness levels. You will be rewarded with spectacular 360-degree views of the island and its surrounding lagoon. You can see the different bays, beaches, and villages, as well as the nearby islands and reefs. The hike starts in Kuto, a village on the southwest coast of the island.
Visit The Natural Pool: The natural pool is a shallow lagoon that is surrounded by coral rocks and pine trees, creating a beautiful contrast of colors and shapes. The water is crystal clear and teeming with tropical fish and corals, making it a perfect spot for snorkeling and swimming. The natural pool is also known as Oro Bay, and it has a legend that says there is a giant serpent that lives in a taboo place here.
Sail On A Outrigger Canoe: Another way to enjoy the beauty of the lagoon is to sail on a traditional outrigger canoe over Upi Bay, a large bay on the east coast of the island. You can board a canoe at St. Joseph's Bay and glide along the calm waters, guided by a local boatman. You will see impressive rock formations, coral reefs, and marine life along the way.
Try Bougna: Bougna is a traditional dish of the Kanak people that consists of meat (usually chicken or fish), yams, bananas, sweet potatoes, and coconut milk wrapped in banana leaves and cooked in an underground oven. It is a hearty and flavorful meal that reflects the island's culture and cuisine.
Check Out The Beaches: Relax on one of the many beautiful beaches that dot the island, such as Kuto, Kanumera, or Nokanhui. You can enjoy the soft white sand, the warm turquoise water, and the gentle breeze. You can also rent a kayak, or a paddle board to explore the coast.
---
Any Questions? Let me know in the comments!
---
LIKE IT? PIN IT!
---
Want more New Caledonia Inspiration? Check out….
---
Disclaimer: This post contains affiliate links. So, if you click on it and purchase something, I get a small percentage at no extra cost to you. As always all opinions are my own and your support is much appreciated.
Related Posts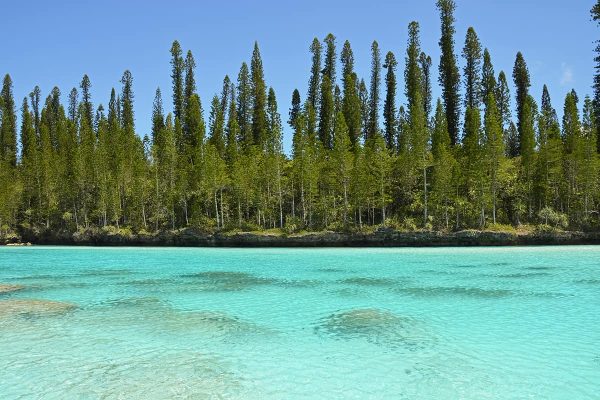 If you are interested in visiting Isle Of Pines Natural Pool then you have come [...]
Welcome to Lifou! This beautiful island is an absolute paradise and well worth visiting if [...]
Find out about my experience on a Carnival South Pacific Cruise. In this Carnival Spirit [...]