Where To Stay In Kerala? Come See The Best Resorts And Hotels in Kerala!
The Southern State of Kerala in India is home to many luxurious resorts and beautiful hotels. From the lower lying beach sides, the lush hill stations and the historic Fort Kochi.
There's no doubt you will find the perfect accommodation option if you are wondering where to stay in Kerala. So, let's check out some of the best hotels in Kerala so you can find the perfect place to stay!
---
Where to stay in Kochi? Best Hotels in Kochi
Kochi, otherwise known as Cochin, is the financial capital of Kerala with a population of over 2 million. This is where you will find an international and domestic airport and likely where you will begin your adventures within the state of Kerala.
It is one of the more populated tourist destinations in India and as a result caters for a wide range of travelers.  From one to five star hotels, hostels and the heritage homes there will be something to fit your budget.
Within Kochi, there are two distinct areas where you will find the majority of accommodation options. The first is Fort Kochi which is fairly touristy. The hotels and other accommodation in that area seem to cater more western in style being boutique hotels, this also goes for the restaurants and cafes in the area.
It is a lot more scenic and quieter on that side of town. It is also relatively easy to walk around. The second area is Ernakulam city where you can find some truly luxurious accommodation. Though, as the area is quite spread out you will need to be willing to take taxis to get between points of interest.
No matter where you are staying in Kochi it is extremely easy to get between areas, especially with Uber. We had an hour journey across town which costs us less than $5.00 / 350rs which we then split four ways.
---
Grand Hyatt Kochi Bolgatty
The Grand Hyatt Kochi Bolgatty is one of the latest additions to the city skyline. With amazing views out to Vembanad Lake and Fort Kochi, each room features floor to ceiling windows.
They also have placed great importance on the small details which can truly make your stay. For example, each room has a full-size desk, large television and bathtub, taking this 5-star hotel one step above the rest.
Being only a 45-minute drive from Cochin International Airport and 30 minutes from the amazing Fort Kochi you are in the middle of all the action.
Though, after a busy day of shopping and sightseeing, you can relax in the pool or enjoy dinner at one of the five restaurants on site making this one of the best hotels in Kochi.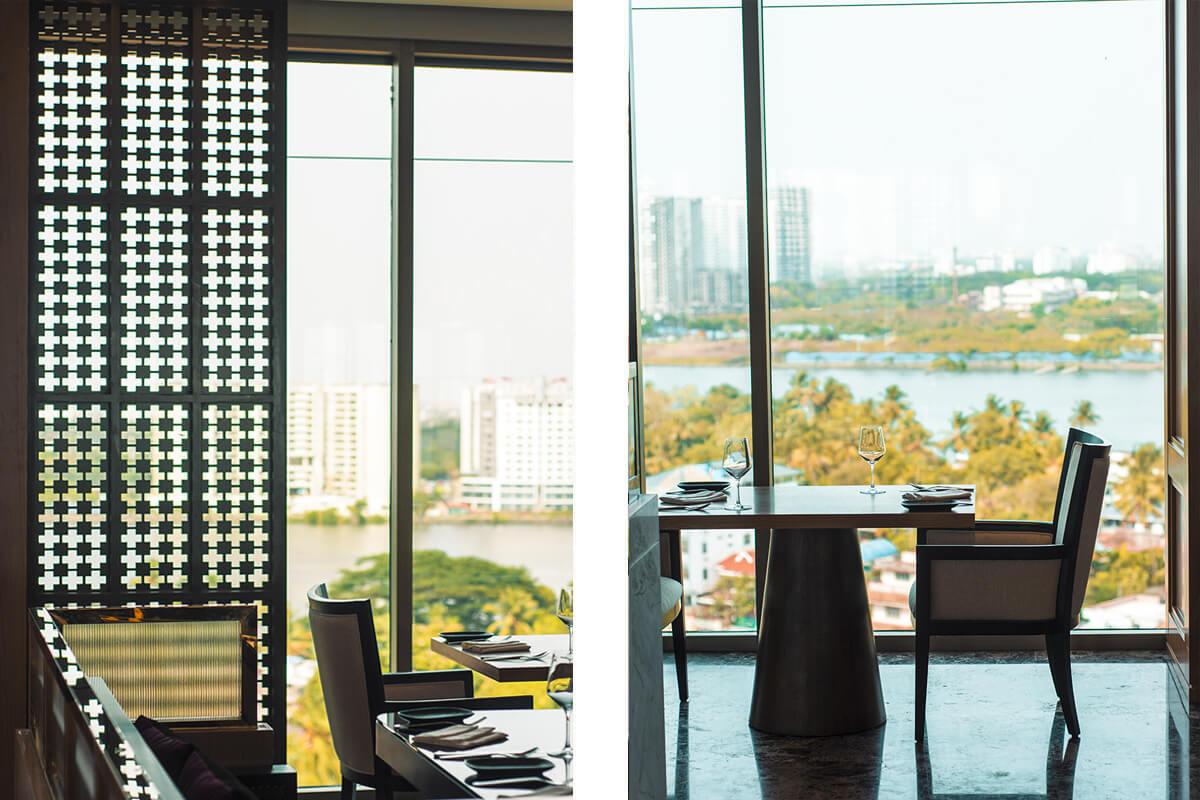 ---
Kochi Marriott Hotel
The Kochi Marriott Hotel is located in Ernakulam city so you never have to drive far to experience the best of Kochi. Oh, and the largest shopping mall in Asia, Lulu Mall, is just a couple minutes walk away, perfect if you're a bit of a shopaholic!
The deluxe rooms feature floor to ceiling windows, an open glass bathroom and amazing city views to make your stay perfect. Ideal for a variety of travelers there is nothing better than watching the sunrise from the comfort of your bed.
Make sure to check out some of their unforgettable dining experiences in one of their three individual restaurants! They also have all the amenities to make your stay special. Make sure to experience the Quan Spa which offers a variety of massage and beauty treatments.
Finish your day relaxing poolside or in the 24/7 on-site gym in one of the best hotels in Kochi.
---
Xandari Harbor
If you are looking for a comfortable stay in an ideal location I cannot recommend Xandari Harbor enough. Located just 10 minutes walk to the center of Fort Kochi it is in the prime location.
The century-old warehouses actually make up the property of Xandari Harbor. This boutique hotel oozes history and this forward conservation focused thinking has put it above the rest. Right on the edge of Kochi Harbor, you can watch the fisherman head out to sea in their colorful boats.
Featuring 16 rooms the emphasis here is on quality and not quantity making it one of the best hotels in Kochi. Each tastefully made up with large comfortable beds and waterside views.
All day dining is available in the on-site restaurant, 51. The menu takes on the history of the region, bringing together India and Mediterranean influences.
---
Ramada Resort Kochi
The Ramanda Resort Kochi features beautiful lakeside views and the perfect place to relax when exploring Kochi. This beautiful resort brings a bit of paradise into the city, with a tropical vibe and lush greenery all around in one of the most picturesque and best hotels in Kochi.
Staying in their cottages the views are incredible. The rooms are well equipped with all the amenities you could ever need. This includes an amazing balcony looking out towards the lake and pool.
The onsite Spa and Saloon is another must visit at the Ramada Resort Kochi which includes a large selection of holistic and Ayurveda spa treatments. I was lucky enough to receive one of their Ayurveda massage treatments and I cannot recommend it enough.
Make sure to explore the pool which is incredibly long, as well as checking out their amazing four on-site restaurants. There is even a dedicated Mexican restaurant, what more could you want!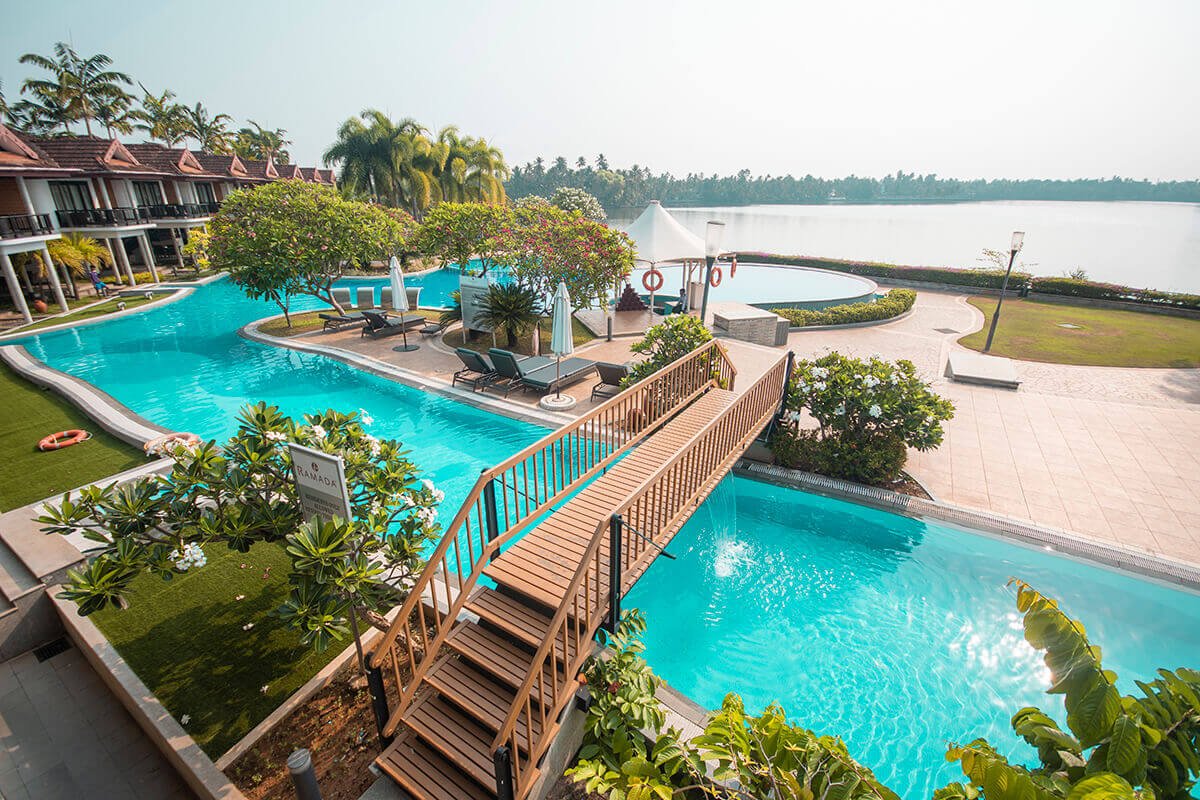 ---
Where To Stay In Kumarakom? Best Hotels in Kumarakom
Kumarakom is a beautiful lush area located among the famous Kerala backwaters. Embracing this gorgeous backdrop you can find many guesthouses, heritage homes and resorts along the Vembanad lakeside with the most amazing views. It is the perfect place to relax and embrace the countryside living.
---
Coconut Lagoon – CGH Earth
The amazing Coconut Lagoon is located on Vembanad lake, which is one of the largest in India. Thanks to it you will find a variety of wildlife which calls this place home.
Staying at Coconut Lagoon is an experience in itself as it is one of the best hotels in Kumarakom. From the first moment when you jump aboard the boat at their private jetty, its the only way to enter the property, to the amazing dining experience highlighting the best culinary delights from Kerala.
The rooms are also an experience as the guest cottages are actually built from the remnants of old mansions. Once family homes, they have since been reassembled at the property, allowing guest to truly experience what it what like to live in these amazing houses.
They are also placed around the property like they would be on the backwaters, among the many canals, giving you an opportunity to embrace this lifestyle.
There are plenty of opportunities at Coconut Lagoon to keep you busy throughout the day. This includes the open butterfly garden and bird watching, perfect for any nature lovers. You can even take a sunset cruise, experience Ayurveda or go on a canoe ride.
---
Where To Stay In Munnar? Best Hotels in Munnar
If you are a nature lover Mannar is a must visit. This beautiful hill station is famous for the endless tea plantations which are dotted around the area. Varying in altitude between 1500m and 2695m the temperature is a lot cooler and could be the perfect relief from the heat.
In Munnar you will find a wide variety of accommodation options. From plenty of homestay opportunities, gorgeous hotels with amazing views and friendly guesthouses. The destination is very popular with both international and domestic tourists, especially those on their honeymoon.
---
The Fog Resort & Spa
The Fog Resort and Spa is the perfect romantic hideaway when wondering where to stay in Kerala or Munnar. Nestled into the hill slopes among the fog this 5-star hotel is a true experience which makes it one of the best hotels in Munnar.
They offer a variety of rooms which have gorgeous views over the valley. I stayed in the Premium Valley View Rooms which feature a king bed, comfortable seating area and a beautiful balcony overlooking the mountain views.
They have a variety of activities on site as well as being able to organize outdoor trips to truly experience Munnar. Make sure to check out their amazing infinity pool which looks out over the valley!
---
Blanket Hotel & Spa
You will find Blanket Hotel and Spa located among some of the amazing tea plantations in Munnar. With views to the nearby Attukad waterfalls and flowing rivers, this is the perfect retreat amongst nature.
Offering 5 star luxury rooms with beautiful valley views they feature warm wooden accents mixed with golden tones oozing understated allegiance. With two individual restaurants as well as in-room dining you will in heaven with a wide variety of cuisine offered.
Being in Munnar there are plenty of activities in the area as well as some located on site. These include chocolate making, bird watching, tea tasting, trekking, cycling and cultural performances.
It is the ideal stay in Kerala whether you are wanting a little bit of quiet time or a bit of romance with that special someone, which is why it is one of the best hotels in Munnar.
---
Where To Stay In Alleppey? Best Hotels in Alleppey
Alleppey, also known as Alappuzha, is a must visit for anyone visiting Kerala. Just 70km south of Kochi this gorgeous area is the best place to experience a houseboat.
Whether you want to relax beachside or along the canal rivers you will find all sorts of accommodation to suit your budget in this Venice of the East.
---
Stay On A House Boat
If you are crossing off your Indian bucket list one of the things you must do is an overnight houseboat experience in Alleppey during your South India itinerary. See the best of the area in the comfort of your own boat and watch local life just pass you by.
Visiting local lake, rivers and through the canals, there is no better way to experience the Kerala backwaters. The journey will take you through some of the best sights within a portion of the 900km waterway network.
I stayed on a houseboat by Rainbow Cruises. The rooms were absolutely gorgeous and the included meals were delicious, showcasing the best of local sourced ingredients.
We docked just before sunset and walked alongside the river banks where we watched the sun set into the ocean. The crew on board were very knowledgeable about the local area and were keen to point out little details.
If you are in Kerala I cannot recommend experiencing a houseboat stay enough, it was one of the highlights throughout my whole trip.
---
Xanadri Pearl
If you are wishing to experience Alleppey, but are wanting more of a beach experience or perhaps explored the backwaters with Xandari Riverscapes, their sister property Xanadri Pearl is the perfect place to stay.
Maraikulam Beach, rated in the top five hammock beaches by National Geographic, it is the perfect place to relax and also why it is one of the best hotels in Alleppey.
With palm trees swaying in the ocean breeze and amazing white sand, you will experience the best of the area in this private hideaway. With 27 villas, some including private plunge pools you will be in paradise.
Featuring outdoor bathrooms with an open-air shower in a lush natural setting there is no better way to wash off the day.
The Xandari Pearl offers all-day dining in their restaurant which overlooks the beautiful pool. With only the freshest produce being used your taste buds will be in delight whether your meal is from the land or sea.
---
Where To Stay In Wayanad? Best Hotels in Wayanad
Slightly lower in altitude than Munnar, the area of Wayanad is another must visit when in Kerala. Offering a variety of coffee, cardamom, pepper, tea and rubber plantations there is plenty to see. Also, the adventure activities and endless, just as the mountain scenery.
There are plenty of hotels, resorts and guesthouses to choose from when staying in Wayanad, catering for a variety of budgets. Whether you are looking for a family getaway, some romantic quiet time or to meet some like-minded traveler there are plenty of options!
---
Vythiri Village Resort
Vythiri Village Resort is the ideal stay in Wayanad for a variety of travelers. This family-friendly property features 5 star luxury throughout their extensive grounds, catering perfectly for those looking for a romantic stay.
The rooms here are some of the best I have ever seen, featuring amazing mountain views and warm wooden accents. Luxury oozes from every corner, especially in their pool villa suites.
Make sure to check out the amazing infinity pool to watch the sunset. There is a zip line for the adventure lover and even a statement bridge connecting two sides of the property.
With plenty of indoor and outdoor activities, including a pool, you will have plenty of things to do throughout your stay! It is certainly one of the best hotels in Wayanad.
BOOK NOW
---
The Windflower Resorts & Spa Vythiri
Located high within the hill station of Wayanad, The Windflower Resorts & Spa Vythiri is the perfect stay if you are looking for relaxation. Watch monkeys play around the resort jumping from trees to trees in the undulating property.
The rooms here are beautiful are extremely spacious bringing the ultimate luxury mixed with local Kerala designs. Featuring large windows, high ceilings and warm interiors it is the perfect retreat.
Dine with a view in their onsite restaurant and test out some of their delicious food. The Wellness Spa offers Ayurvedic therapies which is something you must experience while in Kerala.
Head up to the pool located among nature and surround by Silver Oaks to relax. There are plenty of activities which they can organize. There's plenty to do in one of the best hotels in Wayanad.
---
LIKE IT? PIN IT!
Want more India Inspiration? Check out….
Disclaimer: This post contains affiliate links. So, if you click on it and purchase something, I get a small percentage at no extra cost to you. As always all opinions are my own and your support is much appreciated.
Backpackers Wanderlust was able to visit Kerala while partaking in Kerala Blog Express season 5, however, as always, all opinions are my own.