If you are looking for a hidden oasis surrounded by nature, you need to visit Rarru Cascades in Port Vila!
I will let you everything you may want to know for your trip including, how to get there, entry fees, what to pack, and what there is to do at Rarru Cascades.
---
If you enjoy jumping off high platforms, swimming under waterfalls, or even just relaxing in the calm river waters then a visit to Rarru Cascades in Port Vila, Vanuatu is a must!
Whether you are visiting Port Vila on a cruise ship. or staying for part of a holiday this spot is a must-do!
Located a short and easy drive outside of the city centre you will be transported to a jungle oasis in the middle of nature. This is no doubt fun for the whole family and a great way to experience some of the beautiful scenery of Vanuatu.
I visited Rarru Cascades as part of a longer tour while visiting Port Vila as one of our cruise ship ports. This meant we only had one day to experience the best of this island and a visit to the cascades did not disappoint.
So, make sure to wear your swimmers, bring along a picnic, and prepare yourself for the perfect relaxing adventure. Whether you want to join the adrenaline junkies jumping off the high platforms, or simply go for a dip there is something for everyone here.
However, before you visit Rarru Cascades there are certainly some things you will want to know, which is why I have written this guide.
In it, you will find out all you could ever need to know about visiting Rarru Cascades including how to get there, available tours, entry fees, what to expect, and more!
---
Rarru Cascades In Port Vila: Why It's Worth Visiting & Travel Tips
---
Why Visit Rarru Cascades
Rarru Cascades is a natural wonder that offers a refreshing and exhilarating experience for visitors. Located on the Rentapao River, about 20 20-minute drive from Port Vila, the cascades are a series of rapids and waterfalls that create stunning scenery and a fun playground.
While here you can enjoy the beauty of nature and the sound of rushing water as you walk along the riverbank or relax in one of the cabanas overlooking the river. Take a swim in the clear and cool water, take a shower under the waterfall, or explore the hidden caves behind the cascade.
You can have fun jumping from landings and rope swings, or floating along in inflatable tubes. There is also a wooden structure and a 5-meter jump for the more adventurous.
While here you can learn about the local culture and history from the friendly guides who will show you around and tell you stories about the cascades. It's a great way to support the local community that manages and maintains the cascades as a sustainable tourism attraction.
Rarru Cascades is a must-see destination for anyone who loves nature, adventure, and culture. It is a place where you can escape from the hustle and bustle of the city and enjoy a memorable day with your family or friends.
---
How To Get To Rarru Cascades In Port Vila
If you are in Port Vila you must go check out the Rarru Cascades. This idyllic spot is perfect for couples, families, and even solo travelers who want to hang out in nature.
---
Taxi
You can hire a taxi from Port Vila and ask the driver to take you to Rarru Cascades. The taxi fare may vary depending on the distance and traffic, but it should be around 5,000 Vatu / $45.00 for a round trip.
The taxi ride will take about 20 minutes from the city center. You can also arrange with the driver to wait for you while you enjoy the cascades, or pick you up at a later time.
---
Bus
You can take a local bus from Port Vila and get off at Rentapao River, which is near the entrance of Rarru Cascades. The bus fare is 300 Vatu / $3.00 per person. The bus ride will take about 30 minutes from the city center.
You can find the bus stop near the market or ask a local for directions. The buses are usually marked with a letter B and have a sign that says "Rentapao River". You can also ask the bus driver to drop you off at Rarru Cascades.
---
Tour
You can book a tour that includes Rarru Cascades as one of the destinations. Many tour operators offer different packages and prices, but they usually include transportation, entrance fees, and guides.
Some tours also include other attractions such as Blue Lagoon, Eden on the River, or The Reef Vanuatu Zoological.
If you are interested in booking a tour that includes Rarru Cascades then I recommend doing so through local operators. This is also the perfect option if you are visiting Port Vila as part of a cruise. Some local operators include:
---
Entry Fee To Rarru Cascades
The entry fee to Rarru Cascades is 1000 vatu / $8.80 per person.
This fee includes access to the changing rooms, toilets, and cabanas. You can also rent inflatable tubes for 100 vatu / $0.80 each. The entry fee is collected at the gate by the local landowners who maintain the site. You can pay in cash or by credit card.
---
How Can Cruise Ship Passengers Visit Rarru Cascades
If you are a cruise ship passenger who wants to visit Rarru Cascades this is definitely possible, and is exactly what I did when visiting Port Vila by cruise ship.
Personally, I recommend booking a tour with a local operator that includes Rarru Cascades as one of the stops. These tours will pick you up from the cruise terminal and take you to various attractions around Port Vila, including Rarru Cascades.
You will have some time to explore the cascades and enjoy the water activities. The tours also include lunch and refreshments.
If this sounds like something you would be interested reach out to the following tour operators:
Alternatively, for more of a private experience where you don't have to share a car with numerous other people, you can hire a taxi to take you to Rarru Cascades.
You can arrange with your driver to wait for you while you visit the cascades, or to come back later to pick you up.
A post shared by Tasha Amy | NZ Travel Blogger (@backpackerswanderlust)
---
When Is The Best Time To Visit Rarru Cascades
The best time to visit the Rarru Cascades depends on your preferences and the weather conditions. Generally, the cascades are open all year round, from 9 a.m. to 5 p.m. However, some factors may affect your enjoyment of the place.
The water level and flow: The cascades are fed by rainwater, so they may vary in intensity and volume depending on the season and rainfall. The wet season in Vanuatu is from November to April, and the dry season is from May to October.
During the wet season, the cascades may be more powerful and impressive, but also more dangerous and turbulent. During the dry season, the cascades may be more calm and gentle, but also less spectacular and abundant.y
The crowd: The Rarru Cascades are a popular attraction for tourists and locals alike, so they may get busy and crowded at certain times. The peak season for tourism in Vanuatu is from July to October when the weather is dry and sunny.
During this time, you may encounter more visitors at the cascades, especially on weekends and holidays. If you prefer a quieter and more peaceful experience, you may want to avoid these times or go early in the morning or late in the afternoon.
---
What To Do At Rarru Cascades
There are plenty of things to do at Rarru Cascades in Port Vila to keep you entertained. Whether you are down to get that adrenaline pumping or simply want to relax.
Why not enjoy the scenic walk along the Rentapao River, where you can see various rapids and pools of clear water. You can go for a swim in the main cascade, which is about 10 meters high and has a deep pool at the bottom. There's even a natural shower under the waterfall!
Have fun with the rope swing and the jumping platform, which allow you to launch yourself into the water from different heights. You can also use the inflatable tubes to float along the river.
Relax in one of the cabanas overlooking the river, where you can have a picnic or just enjoy the view. There are also changing rooms and toilets available for your convenience.
---
My Experience At The Rarru Cascades
So as I said earlier I visited Rarru Cascades in Port Vila as part of a tour from my cruise ship, the Carnival Spirit. This was just a tour I had found on Facebook, and in all honesty wasn't too sure what to expect.
Unfortunately, the day didn't start too well as the shared van we were meant to be a part of departed without us. Luckily, there was another which wasn't full so we joined in with them and headed to our first stop, Rarru Cascades.
We drove through the city, into the countryside, and towards a more remote area of the island. Thankfully it wasn't too long of a drive and we soon found ourselves pulling up to the parking lot of Rarru Cascades.
We jump out, swimmers underneath our clothing excited to reach the water. Though I must be honest it is a little bit of a walk until you reach the highlight, the waterfall up the top. Until then we were walking alongside calmer areas of the river leading down from the cascades.
Upon reaching the top, there was no doubt we were visiting on a day with a cruise ship at port. Many cruise passengers, like ourselves, also had the same idea and this place was less of a hidden oasis, and more of the number one thing to do in Port Vila.
Nevertheless, we find a spot to dump our day packs, and I decide to take and plunge by jumping off one of the platforms. It wasn't the largest one, but was about 5 to 6 meters high.
The water is perfectly refreshing and beautifully clear as I enjoy it with the many other tourists also visiting today. Some choose to take the plunge off one of the nearby rope swings, others enjoy just floating about on one of the inner tubes.
No doubt this is one of the best ways to cool off during a hot day in Port Vila. Plus, it's a great option if you are craving some fresh water, away from the salty ocean.
---
What To Pack For Rarru Cascades In Port Vila
If you are planning to visit Rarru Cascades, here are some tips on what to pack for your trip:
A swimsuit and a towel. You will definitely want to take a dip in the refreshing pool at the base of the waterfall or try the rope swing or the jumping platform for some adrenaline rush. A towel will come in handy to dry yourself after your aquatic adventure.
Water shoes or sandals. The trail to the cascades is not very long, but it can be slippery and rocky. You will also need to cross the river a few times, so it is better to wear shoes that can get wet and protect your feet from sharp stones.
Sunscreen and insect repellent. The sun can be harsh in Vanuatu, so make sure to apply sunscreen before you go and reapply as needed. You may also encounter some mosquitoes or other insects along the way, so bring some repellent to avoid bites.
A camera or a phone. You will want to capture the stunning scenery of the cascades and the surrounding rainforest, as well as your own fun moments. A waterproof case or a dry bag is recommended to protect your device from water damage.
A picnic lunch or snacks. There are some cabanas overlooking the river where you can enjoy a picnic if you bring your own food and drinks. Alternatively, you can buy some snacks from the local vendors near the entrance.
Some cash. There is an entry fee of 1000 vatu / $8.80 per person to access the cascades. You may also want to tip your guide or driver if you join a tour, or buy some souvenirs from the nearby shops.
---
Where To Stay In Port Vila?
Whether you are looking for a luxurious resort, a cozy bungalow, or a budget-friendly hotel, you can find the perfect place to stay at Port Vila.
If you want to be close to the main attractions, shops, restaurants, and nightlife of the city, you might want to stay in the downtown area. This is where you can find the Grand Hotel & Casino, as well as other hotels, hostels, and guest houses. You can easily walk or take a bus or taxi to explore the city.
Perhaps you want to enjoy the natural beauty and tranquility of the island, you might want to stay in the surrounding areas. This is where you can find Warwick Le Lagon – Vanuatu, Bluepango Guest House, and other resorts, villas, and bungalows.
You can relax on the beach, swim in the lagoon, or join a tour or excursion to see the nearby attractions.
If you want to experience the local culture and lifestyle, you might want to stay in a homestay. Here you can live with a local family and share their meals, activities, and stories. You can learn about their customs, traditions, and language, and make new friends.
Homestays can be found in various locations around Port Vila, such as Mele Village.
Hostel vibes in paradise, what more could you want? Private rooms with a shared bathroom start at $40.00 per night.

BOOK NOW

Enjoy living in an apartment with a kitchen where you can cook your own meals. Rooms here start at $60.00 per night.

BOOK NOW

Another lovely hotel that is surprisingly affordable. Rooms here start for around $85.00 per night.

BOOK NOW

A beautiful oceanside resort with incredible views. Private rooms here start at $140.00 per night.

BOOK NOW
---
Other Things To Do In Port Vila
Port Vila is a vibrant and cosmopolitan city that offers a variety of attractions and activities for visitors. Whether you are looking for culture, nature, adventure, or relaxation, you will find something to suit your taste in Port Vila.
Here are some of the best things to do in Port Vila:
Visit the Port Vila Handicraft Market: If you want to experience the local culture and buy some souvenirs, the Port Vila Handicraft Market is the place to go. You will find a wide range of handicrafts made by local artisans, such as baskets, mats, carvings, paintings, jewelry, and more.
Enjoy the lively atmosphere and interact with the friendly vendors. The market is open from Monday to Saturday from 9:00 am to 4:00 pm.
Explore the Vanuatu Cultural Centre: The Vanuatu Cultural Centre is a museum that showcases the rich and diverse cultural heritage of Vanuatu. You will learn about the history, traditions, languages, arts, and customs of the different islands and communities that make up Vanuatu.
You will also see exhibits of archaeological artifacts, musical instruments, masks, costumes, and more. The museum is open from Monday to Friday from 9:00 am to 4:30 pm and on Saturday from 9:00 am to 12:00 pm.
Enjoy the water activities: Port Vila is surrounded by beautiful blue waters that offer many opportunities for fun and adventure. You can choose from a variety of water activities, such as snorkeling, diving, kayaking, sailing, fishing, surfing, and more.
Take a boat tour or a cruise to explore the nearby islands and reefs. You will be amazed by the marine life and scenery that you will encounter in the water.
Relax at the spas and resorts: If you are looking for some pampering and relaxation, Port Vila has plenty of spas and resorts that will cater to your needs. Enjoy a massage, a facial, a manicure, a pedicure, or any other treatment that you desire. You can also relax in the pools, jacuzzis, saunas, or steam rooms.
Try the local cuisine: Port Vila has a diverse and delicious cuisine that reflects its multicultural influences. You will find restaurants that serve French, Chinese, Indian, Thai, Italian, and other cuisines.
Local dishes use fresh ingredients from the land and sea, such as laplap (a baked dish made with grated root crops and coconut cream), tuluk (a steamed dish made with meat and taro leaves), poulet fish (a fish cooked in coconut milk and lime juice), and more.
Visit the Blue Lagoon: The Blue Lagoon is one of the most popular spots for visitors to head. It is a natural swimming hole with clear turquoise water that is fringed by trees and bushes. You can jump into the water from wooden platforms or rope swings or just relax on the grassy areas around the lagoon.
The Blue Lagoon is open every day from 8:00 a.m. to 5:00 p.m. The entry fee is 500 vatu / $4.20 for adults and 300 vatu / $2.50 for kids.
---
Any Questions? Let me know in the comments!
---
LIKE IT? PIN IT!
---
Want more New Caledonia Inspiration? Check out….
---
Disclaimer: This post contains affiliate links. So, if you click on it and purchase something, I get a small percentage at no extra cost to you. As always all opinions are my own and your support is much appreciated.
Related Posts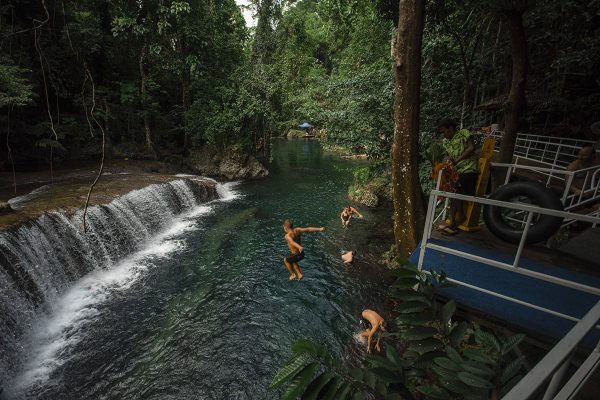 If you are looking for a hidden oasis surrounded by nature, you need to visit [...]
Find out about my experience on a Carnival South Pacific Cruise. In this Carnival Spirit [...]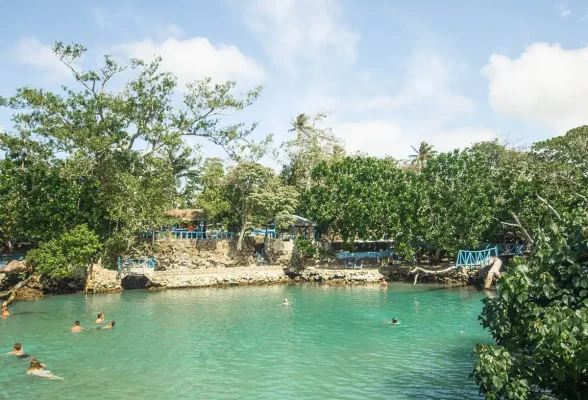 Whether you are visiting for a day or lucky enough to be staying here while [...]