While in Turkey I knew I had to try out some of the culinary delights this city had to offer. That is why I teamed up with Istanbul On Food on their Taste Of Two Continents Tour to discover the best Turkish food In Istanbul. On both the European and the Asian sides we would spend a full 6 hours eating, finding new favorite dishes and falling completely in love with Turkish cuisine.
After this experience, I now know where to find some of the best Turkish food in Istanbul and have discovered a new favorite cuisine. 
Why Istanbul On Food?
Istanbul On Food run a variety of food tours showcasing the best Turkish food in Istanbul. One of the most popular and the best one to immerse yourself in the food scene here is the 'Taste Of Two Continents Food Tour". This will give you a taste for both sides, from the European delights to the top Asian eats, discovering the best places in Istanbul.
What is truly amazing about the taste of two continents food tour is the length. For a whole six to seven hours you will be tasting the best Turkish food in Istanbul. Throughout this culinary journey you visit over ten different stops, allowing you to truly experience a wide variety of dishes, from the sweet to the savory.  The tours depart usually in the late morning so make sure to skip breakfast!
Included is the price of the tour is all food and drink, as well as bottled water, a wonderful English speaking guide who will passionately teach you about the amazing history of various dishes and return ferry transportation from Europe to Asia.
What I truly loved about our Istanbul on Food tour, well apart from eating some of the best Turkish food in Istanbul, was the small group size. In total for our tour there was 5 people. Though, they always aim to keep the groups small, usually between 2-7 people. This allows for a much more intimate experience.
The taste of two continents tour by Istanbul On Food runs no matter if it is rain or shine. I highly recommenced reading the forecast for the day, especially as it is a 6 hour long tour, the weather can change a lot within this time. Our morning started off beautifully sunny, though the last half of the tour it began bucketing down. The lack of a raincoat or umbrella mixed with slippery shoes did not make for the easiest experience navigating the streets between stops, so don't make the same mistakes as me and research what to wear in Turkey in advance.
No matter whether you are spending just a couple days or 5 days in Istanbul, you must get out and explore the amazing Turkish cuisine!
The Best Turkish Food In Istanbul
Traditional Turkish Breakfast
After meeting up and walking through the spice market we come through to the other side where an outdoor market is located. Here our guide Latif tells us it is one of the best places to purchase a traditional Turkish breakfast. He buys a bags of goodies as well as a handful of fresh simits from one of the many stands.
We walk a couple minutes to a beautiful tea shop hidden towards the side of the Spice Market. Once there we set up the breakfast and get ready to taste an assortment of the best foods in Istanbul. No visit is complete without trying a traditional Turkish breakfast, its one of the many fun things to do in Istanbul.
Presented in front of us is olives, menemen (a traditional Turkish dish of eggs, peppers, tomato and spices cooked in oil), two types of hazelnut spreads, pastrami, a soft cow cheese, simits (circular sesame breads), yogurt and honey and a strong aged goat cheese, as well as the typical Turkish tea. This gorgeous assortment is what a usual Turkish breakfast looks like.
Digging in we sample a little bit of everything with the soft simit. Some of my favorites include the thick yogurt with honey and the cows cheese. Though, hands down the life changing moment is the smooth hazelnut spread. The only way to describe it like nutella, but without the chocolate and preservatives.
Candied Fruit
After a relaxing ferry ride over to the Asian side of Istanbul we make our way through the streets and to an elegantly decorated sweet store called Şekerci Cafer Erol. This is home to all the best Turkish sweet treats, though we are here to try something more unusual.
A plate is brought out filled with a rainbow like variety of strange shapes. Taking one each we bite down trying to figure out what this strange thing was. For me it tasted solely like sugar, just an overpowering sweetness. They are an assortment of candied fruits including figs, tomatoes and orange peel.
To wash it down we each grab a cup of sherbet. This deliciously fizzy and sweet substance is the perfect refresher, great for a hot summers day. This traditional Turkish drink is usually made from fruits or flower petals, though we found such a wide variety of types throughout our stay.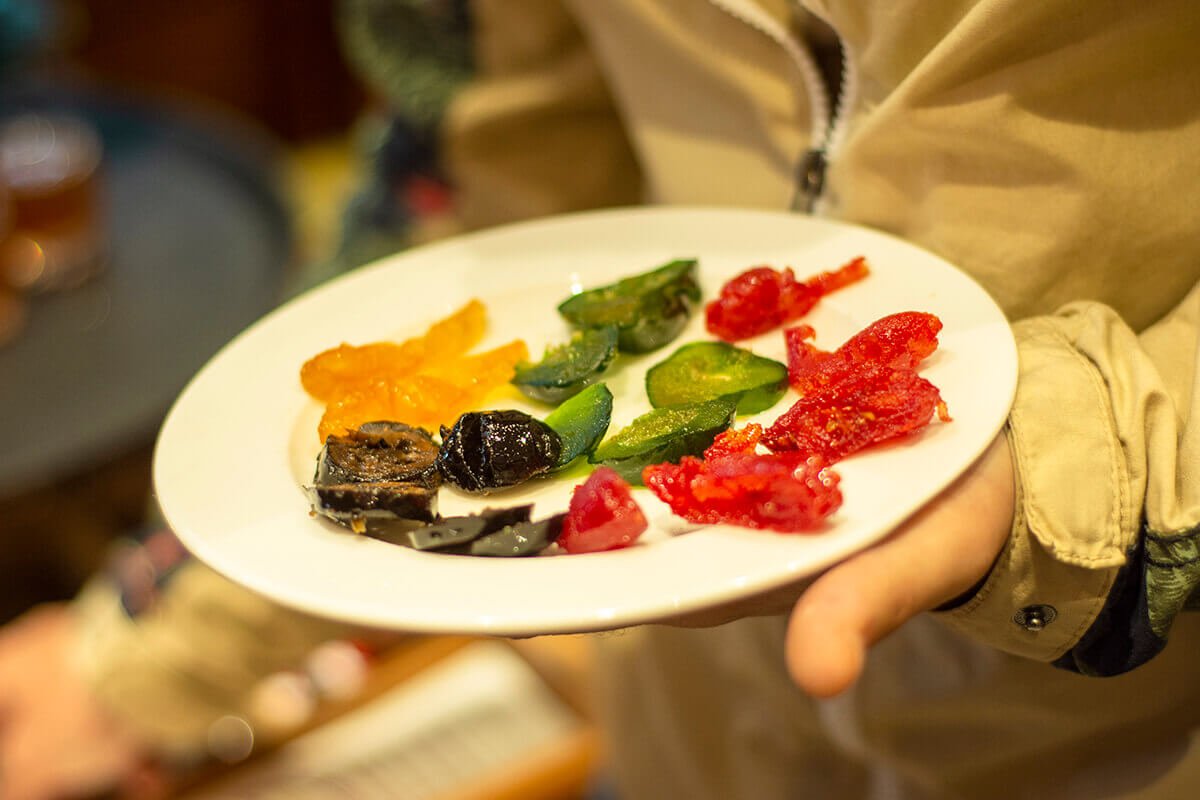 Feast at Çiya Sofrası
Heading further within the streets and away from the ocean we stop off at one of Istanbul's top restaurants, Çiya Sofrası. What makes this place so special is the owner-chef Musa Dağdeviren who has devoted his culinary masterpiece to showcasing recipes that feature the more unusual Turkish dishes. What is available changes depending of the season and they only use the freshest of ingredients, ultimately producing some of the best Turkish food in Istanbul.
We sit down around a table while a variety of delicious foods are brought out to us. Out of the numerous dishes brought to our table I have a delicious stuffed eggplant as as a pizza style piece of flatbread filled of tomatoes, herbs and spices, but without the cheese. Its amazing the amount of flavor they are able to get into each bite!
Iskender Kebab
One of the best foods in Istanbul is the famous Iskender Kebab. It is a must eat when here and is a must on your Turkey itinerary. This grand restaurant specializes is the Iskender Kebab and it is evident from walking in how passionate they are about their work.
The dishes are brought over and butter is splashed on top. The Iskender Kebab is made by mixing the thin slices of doner meat with tomato sauce and spreading it top of a bread. It is also served alongside char grilled vegetables, yogurt and of course plenty of butter! Alongside the Iskender Kebab we have a glass of Muslim wine. This non alcoholic beverage is a bit of an acquired taste which I thoroughly enjoy. For me it tastes similar to kombucha.
This famous dish honestly melts in your mouth. It is so tender and delicious, so there is no doubt this is one of the best foods in Istanbul.
Pickled Vegetables
Now I am not a pickle fan in the slightest so I did sit this one out. Though, pickles are quite a popular food in Istanbul.. Heading in out of the rain we are greeted warmly by the workers as they show us to a table set up in the middle. Inside the store all you can see is shelves of pickled goods and on the far side is a subway style counter with pick and mix pickles.
The gentleman behind the counter grabs a cup and starts filling with a variety of pickled items such as carrots, beetroot and so much more, then fills the cup with the juice. Very few can brave to stomach this concoction, but my partner James goes for it. The vegetables themselves are surprisingly tasty with a distinct crunch. The juice however was way too strong and very salty, a small sip and that was that.
Stuffed Mussels
Walking down the street we come across a bright red shop. Being on the water Istanbul has an excellent assortment of seafood and the mussels here are something not to be missed.
Although not usually a seafood person, the fried and stuffed mussels are really enjoyable. At Mercan we try two different types, fried and stuffed. With oil spitting the deep fried versions they are served with about half a dozen on a skewer. The result is a piece of golden fried goodness.
Though, the best of the two has to be the stuffed mussels. The meaty bits of the mussel are blended up with rice and pine nuts, as well as various herbs and spices,then served inside the shell. The blended mixture takes off some of the seafood taste making a really good tasty morsel.
Tantuni & Ayran
Trying a tantuni is a must do and is one of the best foods in Istanbul. This Turkish like burrito is made fresh in front of us with minced meat. The wrap is grilled over a large pan soaking up the leftover juices of the meat. The pancake style batter of the wrap is lite and has a great crunch.  The fresh vegetables inside perfectly balance the oily juices, resulting in a combination seemingly made in heaven.
Served on the side is a cup of ayran. Similar to an Indian style lassi, an  ayran is a yogurt based drink that is mixed with salt. This gives it an overall very savory taste. For me I was not much of a fan as I am more of a sweet drink type of person.
Baklava & Turkish Coffee
With the temperature dropping it is time for a hot drink as we make our way to a traditional baklava store to shelter for cover. The proud store owner points to all his pastry delights while our guide Latif explains the variations.
In Istanbul and basically all over Turkey you will find these stores, but not all of them are selling a high quality product. To tell you need to check whether you can see the individual layers of pastry in the baklava. These delicious layers covered in syrupy goodness make it a top food in Istanbul.
Turkish coffee is quite different to what we have back in New Zealand. Typically you would find lattes and cappuccinos, though I found Turkish coffee not milky in comparison. I am not a coffee fan either way, but Turkish coffee has the grounds in it which can give it a unique texture.
Kokoreç
The Kokoreç has to be one of the best foods in Istanbul! It is hands down a favorite food dish of my partner James, though that's once you can get your head around what it is you are eating.
The Kokoreç is lamb or goat organs wrapped in intestines and cooked over a spit roast. I know this may sound gross but it is actually really tasty. Once cooked its ground up and served on bread with chopped tomatoes, olive oil and herbs.
The texture is very similar to ground mince and its not chewy or fatty like I was expecting. Also, the taste is unbelievable, and the meaty flavors from the wood fire are strong but not overpowering. Its not surprising why the locals love it so much!
Pide
One of the most internationally famous Turkish foods is no doubt the pide, also known as a Turkish Pizza. This delicious delight is shaped different from a regular pizza and usually served without a tomato based sauce.
Walking into one of the best pide stores in Istanbul the friendly staff happily greet us and get to work. They show us how they shape the dough, fill it and the entire cooking process.
It is the charcoal goodness from the oven which truly makes the pide for me, giving it an extra smokey taste. The chefs cook up a delicious pide fill of mince, spinach and cheese. You cannot go wrong with this combination and pair that with a crunchy, flaky pastry you have a match made it heaven and one of the best foods in Istanbul.
Çiğ köfte (Raw Meatballs)
Ducking into a small fast food outlet we try the infamous raw meatballs which our guide has talked about numerous times throughout our tour. As probably most people would think, this was not a stop I was looking forward to. I highly doubt it was one of the best Turkish foods in Istanbul, but I am proved wrong.
The history of the dish is quite interesting. It was a popular food item back in the day with plenty of people selling variations on the street made of either beef or lamb. Nowadays to sell the raw meatballs they must be meatless due to hygiene regulations. Though, this did not stop the Turkish people, they then made a vegan version of the raw meatball which is made of ground walnuts, hazelnuts and potato.
This was hands down my favorite item we tried on our tour with Istanbul on food. It may seem a little bit unconventional, but its delicious bites of goodness and vegan and vegetarian friendly!
Turkish Ice Cream & Tavuk Göğsü (Chicken Breast Pudding)
Tavuk Göğsü is a rice pudding looking dessert and served alongside baklava and ice cream. Thinking it has to be sweet I am surprised after taking a bite. The stringy pieces inside are actually bits of chicken, giving an all too familiar taste. Dressed up as a dessert was not something I really enjoyed, though it is worth trying.
Luckily the Turkish ice cream saved the day for the last stop on our food tour with Istanbul On Food. What makes Turkish ice cream different from regular ice cream is how hard and chewy it is! You even need to eat it with a knife and fork! We had a variety of three flavors. chocolate, plain and pistachio. Of course chocolate is the favorite and it is the perfect way to finish off the day.
Book Your Food Tour With Istanbul On Food To Discover The Best Foods In Istanbul!
We honestly had such an amazing day tasting some of the best foods in Istanbul. Our guide Latif was excellent and showed us some of the top foodie spots in the city.
If you are interested in booking a food tour in Istanbul you can check them out here. They offer a variety of different food tours and it is excellent value for money.
---
Decided to explore Turkey? Book flights now with Skyscanner!
---
LIKE IT? PIN IT!
Want more Turkey Inspiration?
Check out….
Disclaimer: This post contains affiliate links. So, if you click on it and purchase something, I get a small percentage at no extra cost to you. As always all opinions are my own and your support is much appreciated.
Backpackers Wanderlust was a guest with Istanbul On Food on their Taste Of Two Continents Food Tour, however, as always, all opinions are my own.