The Backpackers Wanderlust 2017 Travel Year In Review
The year of 2017 has been a bit hectic, for both me personally and for Backpackers Wanderlust as a growing brand. This is why I have decided to create a "2017 travel year in review" post to keep you up to date as to what I have done and to keep you involved.
The first half of my 2017 travel year was spent exploring and essentially creating content. I photographed numerous moments throughout eleven countries and two continents. I hiked the highest trekking pass in the world, slept on numerous overnight buses and saw some of the most amazing sights of my life.
My trip was meant to finish in July after exploring India. Though, while in Nepal I got absolutely exhausted and craved a routine. Sleeping in a new bed every third night and having to constantly finding new places to eat and new things to do honestly got exhausting. Lying sick in my bed in Jomson, Nepal, I booked my flight home. Forgoing over $1000.00 worth of flights I had previously booked and forking out another $400.00 for a new flight back to my home in New Zealand.
Back in New Zealand I headed to my old full time job and begun working hard on Backpackers Wanderlust in my spare time. Essentially my days consisted of 8 hours at work, 1.5 hours driving back and forth, then 6 hours working on this travel blog. The dedication has certainly paid off as Backpackers Wanderlusts monthly page views have increased 3000% since arriving back in June.
I have traveled occasionally within the North Island of New Zealand during my days off. Though, honestly I have so much content I am yet to publish, I cant currently go on new adventures.
At the moment I am living and working in my home town of Taupo, New Zealand. Each paycheck is being saved, well the leftovers of what I am not spending on car upkeep and rent.  I am making a tiny amount from this blog each month, but it is nowhere near to support myself, though that is the ultimate goal.
[toc]
Lets check out where I went in during my 2017 travel year…..
---
Australia
January & June
I was in the Gold Coast twice during the 2017 travel year just for a layover. Traveling with Air Asia is my favorite way to get between New Zealand and Asia. They are affordable, have comfortable seats and I have had excellent experiences with minimal delays.
Though, they have a short layover in the Gold Coast when flying between Auckland and Kuala Lumpur, but it is the perfect amount of time to charge your phone!
---
Malaysia
January, May & June
Stepping off the plane in a foreign country with no knowledge of the landscape or the language certainly scared me a bit. Though, I faced my fears head on and managed to explore parts of Kuala Lumpur. Everyone I met was helpful and even though it was always crazy humid I managed to survive. Again, Malaysia was just a layover country to get to other destinations, but at least this time I managed to leave the airport and see the city.
I will defiately be returning to Malaysia at some point to explore the entire country!
---
Myanmar
January
I fell head over heels in love with Myanmar. No doubt it is the most beautiful country I visited during my 2017 travel year, though I am sure many would understandably argue this point. The colonial buildings, beautiful pagodas, friendly locals and unique experiences made my visit in Myanmar one I would never forget. Yangon was surprisingly my favorite place, there was just so much to see and do. Bagan was a close second.
---
Check Out: How Much Does It Cost To Travel In Myanmar?
---
I plan to return to Myanmar and explore the beaches and Lake Inle. There was so much I did not get to see in this amazing country so I promise I will be back!


---
Thailand
January, February, April & May
I spent quite a while in Thailand during 2017 and traveled as far north as Chiang Khong to as far south as Koh Lanta. From the gorgeous beaches, endless trips to seven eleven and lush nature Thailand was full of surprises. It had some of my favorite places such as Chiang Mai and Koh Phagan to some of my worse of this trip like Phuket and Koh Phi Phi.
I could easily imagine myself living here one day!
---
Laos
February
First of all Laos is such an underrated and gorgeous country! With amazing food and even better scenery hands down I would give Laos the trophy for the most naturally beautiful place I visited in 2017. My highlights were definitely Kuang Si Falls and Blue Lagoon Three. So, if you are are looking at other countries because of their paradise beaches, don't worry, because the landlocked country of Laos has equally amazing opportunities to work on your tan and swim!
---
Check Out: How Much Does It Cost To Travel Laos?
---
In my next trip around Asia I plan to explore the South of Laos around Don Det. This seems to be a popular destination for travelers and relaxing riverside in a hammock sounds like the perfect way to spend a day!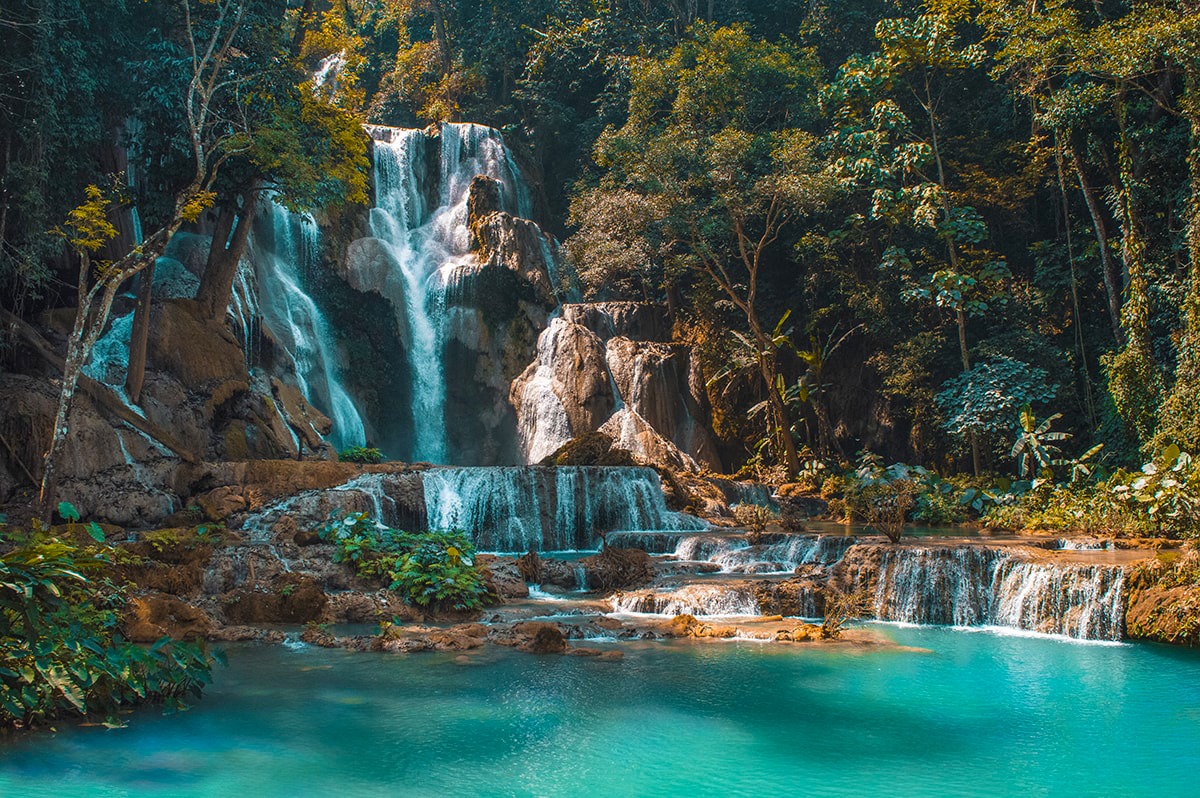 ---
Vietnam
February & March
First of all, I both loved and hated Vietnam in all honesty. I have heard so many positive things, so don't let my experience effect your decision on visiting, but it was just okay.Though, I was not a fan of the North, I felt like there were a lot of scams and I was viewed as just a dollar sign. There's only so much pestering you can take from the locals. The South had a much more relaxed vibe and I enjoyed my trip more towards the end. The major highlight of Vietnam was definitely the food, some of the best I had the whole trip!
I have decided if I go back to Vietnam, which I am 50/50 on, I would buy a motorbike and travel the length of the country at my own pace. This would allow me to get away from the tourist town, explore the countryside and get to know the locals a bit more.
---
Cambodia
March & April
Cambodia is a country that has so much more than what meets the eye. It is known as the 'dangerous' country in South East Asia, though apart from their driving, I was never in an unsafe position. My favorite beaches are found in the islands off Sihanoukville; think white sand, blue water and colorful fish. Cambodia is crazy cheap as well and Angkor Wat is a must see, even though they did put the tickets prices up a couple months before my visit!
I would do all of Cambodia over again and perhaps spend a while living in one of the basic beach huts in Otres Beach.
---
Singapore
May
I planned to go out and explore Singapore during our layover. Though, unfortunately the weather was horrible and the tour we were going to take would not let us join as our plane left 10 minutes before their recommended time. We spent our time exploring the massive Changi Airport and eating at seven eleven.
I am planning to go back to Singapore 2018 and explore the city by night, bring on Marina Bay Waterfront!
---
Indonesia
May
Thinking of saving $100.00 on a direct flight to Nepal I decided to book one with a stopover in Indonesia. This was fairly regrettable and a lesson learned for the future as the airport hotel I stayed at basically cost $100.00. Though, I was able to indulge in some delicious Starbucks in Jakarta.
I barely saw any of Indonesia so I will definitely be going back. I am not much of a city person so I hope to head to Bali and explore the further lying islands.
---
Nepal
May & June
Our start to Nepal was not the best, though heading out of Kathmandu this quickly changed. We ate to our hearts content in Pokhara and pushed our bodies to their limits hiking the Annapurna Circuit. Even going over the highest trekking pass in the world, Throng La Pass- it's higher than Everest Base Camp. We stayed in so many beautiful tea houses and met some truly incredible people.
I regret not visiting Chitwan National Park, though I am in talks of heading back there and doing the Annapurna Circuit again, though this time on bike!
---
New Zealand
June – December
I have spent the second half of the year living in New Zealand and simply working. This may not sound exciting or thrilling, but it is necessary for the bank account. I have done a little bit of exploring, but I haven't even had a chance to edit those photos yet!
---
Whats Coming In 2018?
In 2018 I have massive plans which a very small amount of people know about and I am going to leave it that way. Not much is confirmed and I will not be organizing too far in advance to keep my schedule flexible. Though, with a topped up bank account and hopefully earning money online it will give me more freedom to do what I love most; creating content to share with you!
At the beginning of the year I am heading to one of the Islands in the Pacific and will be working with a range of companies over there for my stay. Get ready for epic beach shots, island living and amazing snorkeling – oh and we purchased a GoPro!
A few months later I will be heading to a whole new continent which I am super excited to explore. I am not sure how long I will be visiting for as I have been way to busy to plan, but we will see where the world takes me.
---
Lastly, you may or may not have seen, but I am in the running to head to India to work with Kerala Tourism. If you have not yet voted for me I would appreciate your help. All you need to do is:
– Head to http://season5.keralablogexpress.com/registration
– Register using your name and email, click that you are registering as a voter
– Go to entries and search my name 'natasha' or ' tasha' or click http://season5.keralablogexpress.com/index.php/user/single_participant/2626
– Push vote!
Anyway see you all in 2018!
[spacer height="10px"]Want more travel inspiration? Check out….
[spacer height="20px"] BOOK YOUR FLIGHTS NOW WITH SKY SCANNER
---
Disclaimer:  This post contains affiliate links. So, if you click on it and purchase something, I get a small percentage at no extra cost to you. As always all opinions are my own and your support is much appreciated.[spacer height="20px"]
---